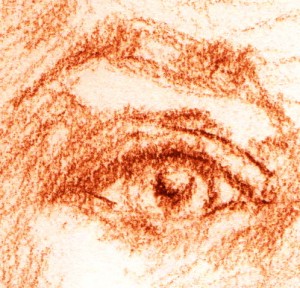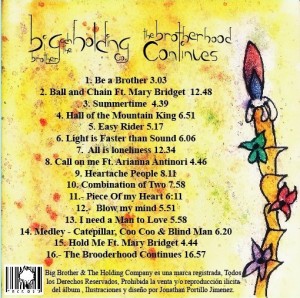 1990-1992 Riches Untold, Wealth Beyond The Dreams of Avarice.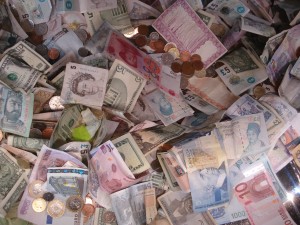 I had to find a place to hide all my money.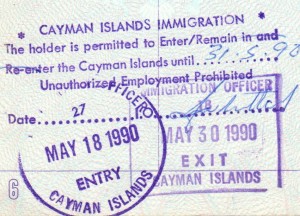 You're not going to take that seriously, are you ? OK, here's a joke: Did you hear about the musician who won the lottery ? She played gigs until the money ran out.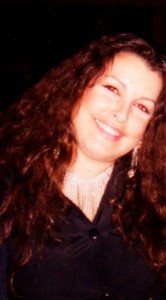 More truth than poetry in that one.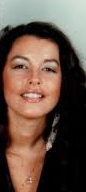 Michel Bastian and I did a lot of gigs together in Big Brother and also in The Sam Andrew Band.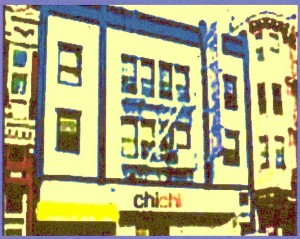 24 May 1990 Chi Chi Club San Francisco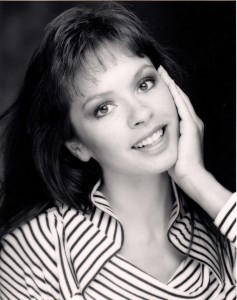 Elise Piliwale.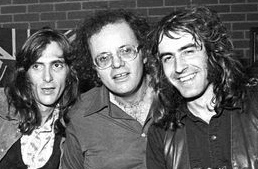 John Cipollina Nick Gravenites Pete Sears Ed Pearlstein took this photograph.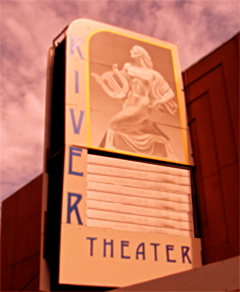 25 May 1990 River Theatre Guerneville California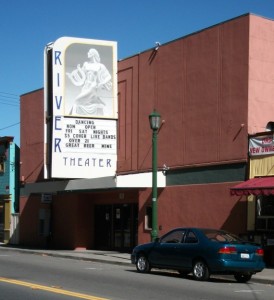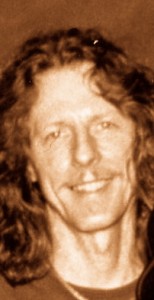 James always called me "mon jumeau malveillant," or, when he spoke English, "my evil twin."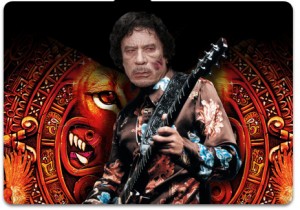 Der Übelzwilling.
Geminus maleficus papae.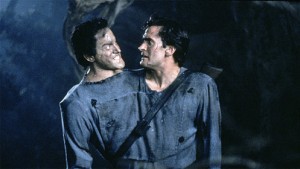 El gemelo malvado.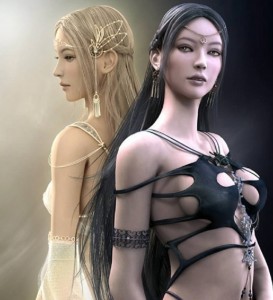 La cattiva gemella.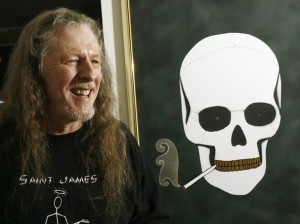 James very modestly called himself Saint James.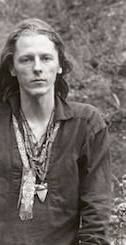 In the 1960s, he called himself The Archfiend of the Universe, a much more interesting appellation, not more accurate, just more interesting.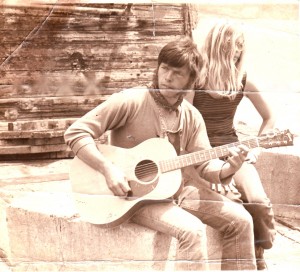 Joe Tate and Maggie Catfish.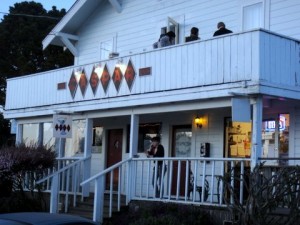 26-27 May 1990 Caspar Inn Caspar California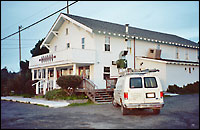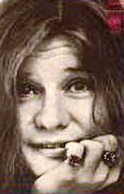 28 May 1990 Live Wire Grass Valley California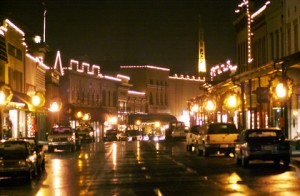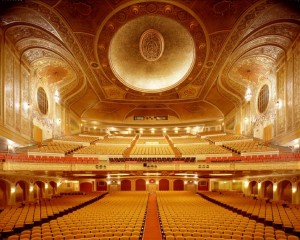 14 February 1991 Sam Andrew Band Paramount Theatre Seattle This is a beautiful old theatre.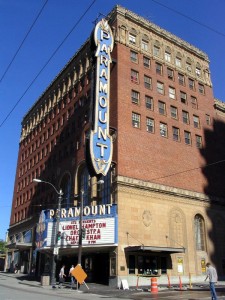 Our guitar player on this gig was Mick Taylor, and he did a great job. Veronica Vitti came and sang beautifully.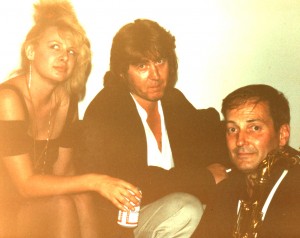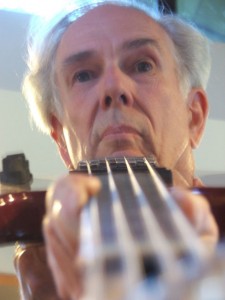 The stupendous Rob Moitoza played bass and Chris Leighton was on drums.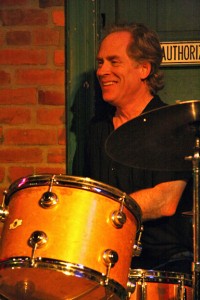 When Chris plays, I always feel like a Klieg light went on somewhere. It's like, "OK, we're in the big time now."
23 March 1991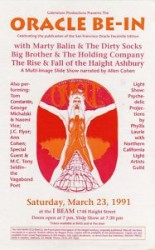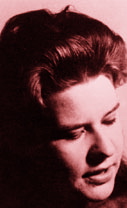 23 April 1991 I-Beam San Francisco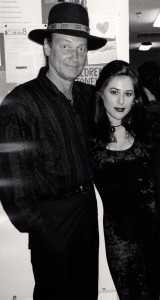 Kristina Kopriva, marevelous violinist, singer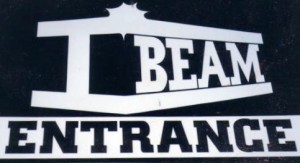 21 May 1991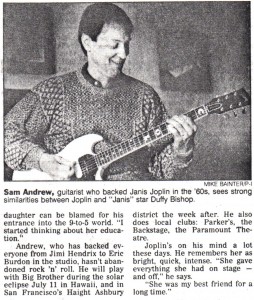 1 June 1991 The Cannery San Francisco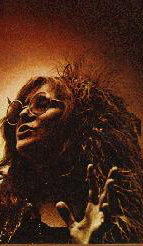 20 July 1991 I-Beam San Francisco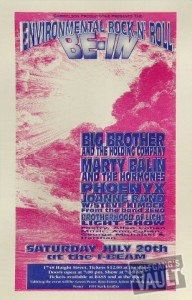 2 August 1991 Anna Bananas Honolulu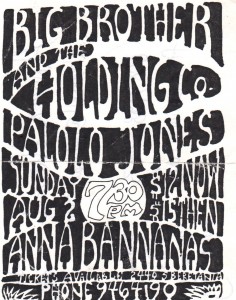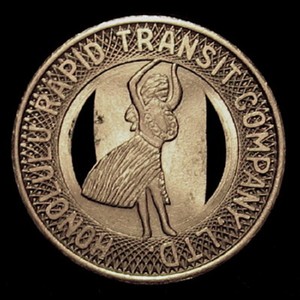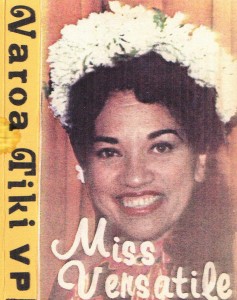 Elise's aunt Shirley Piliwale's stage name was Varoa Tiki. She was a very good singer and she played every instrument.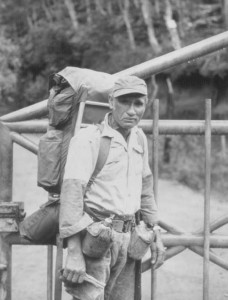 Silver Piliwale is Elise's grandfather. Many places in Hawaii are named Piliwale after him.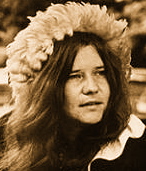 27 September 1991 The Queens of Denial Seattle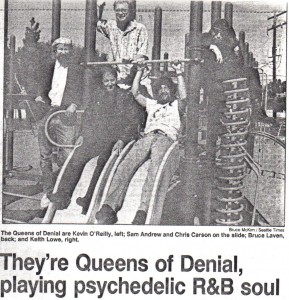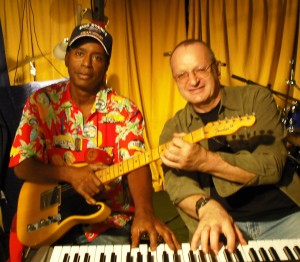 Icepack Jackson and David Cohen. Icepack, you're looking good. What is that ? A G 9 suspended ?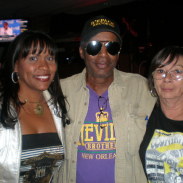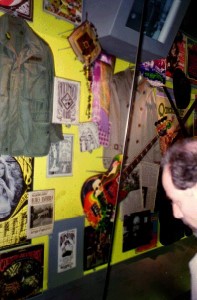 24 October 1991 Rock and Roll Hall of Fame Cleveland Ohio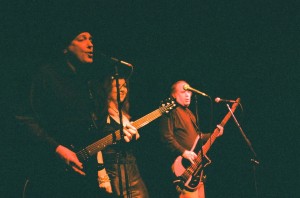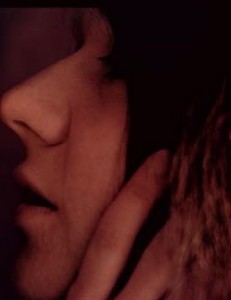 Janis.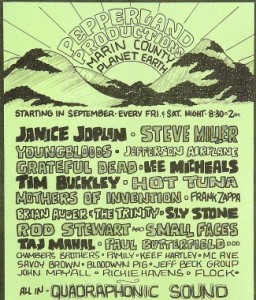 Nothing like misspelling a performer's name on a poster. It does make it extra collectible, I suppose.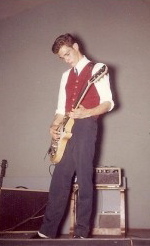 I once saw John Cipollina's name misspelled on a PROMO photograph.
25 October 1991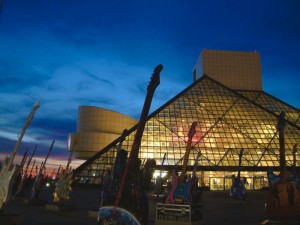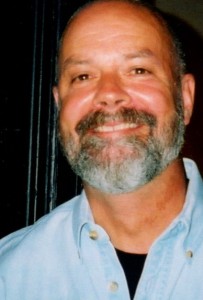 Todd Bolton.

7 November 1991 I-Beam San Francisco
In Tacoma with Chad Quist who did some beautiful playing with us, especially on the Hold Me CD.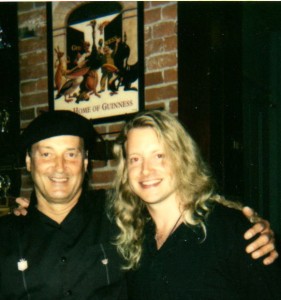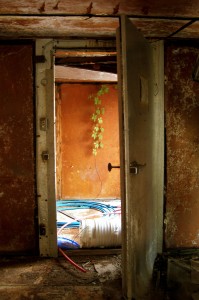 Cheryl Little Deer made this business card.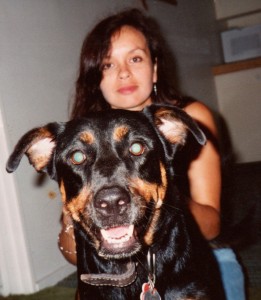 Elise Piliwale with Sheba.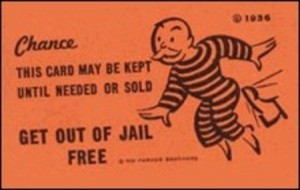 13 April 1992 Sam Andrew Band White Rabbit Austin
16 April 1992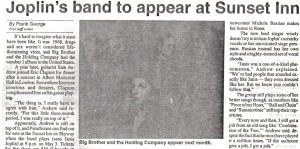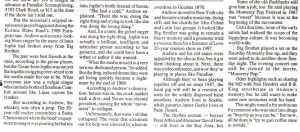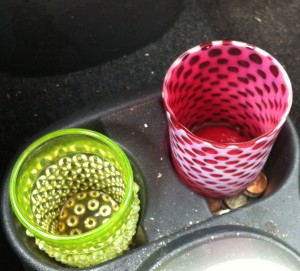 23 April 1992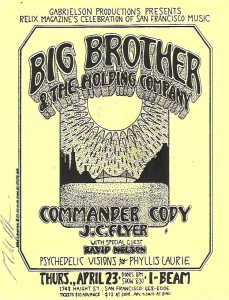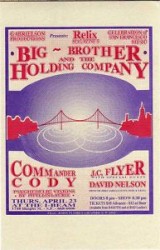 5 May 1992 Michel Bastian
12 May 1992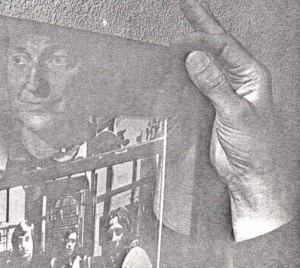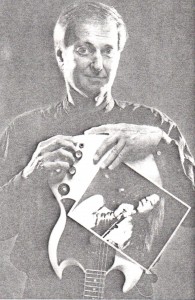 9 October 1992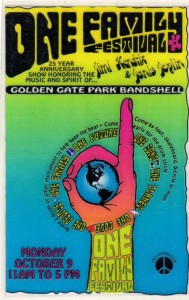 One Family Festival Golden Gate Park San Francisco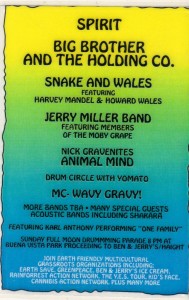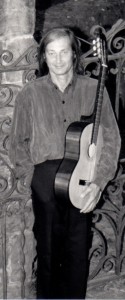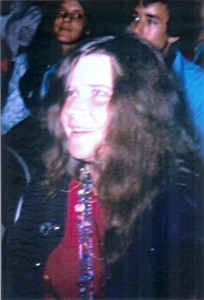 28 November 1992 An invitation.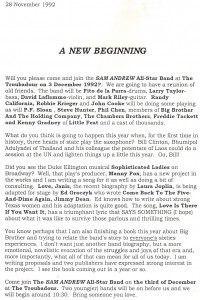 4 December 1992 Linda, an old friend of ours, introduced us to her husband at this event.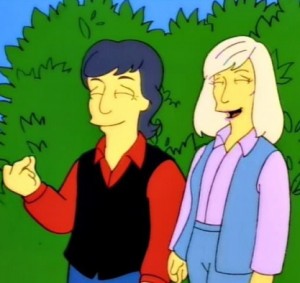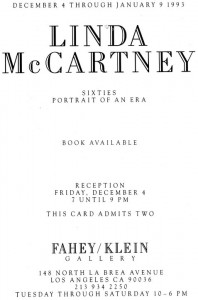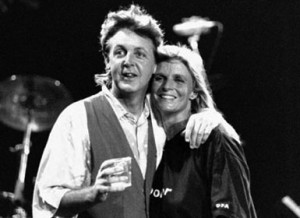 So, to celebrate the occasion, I threw a party at The Troubadour.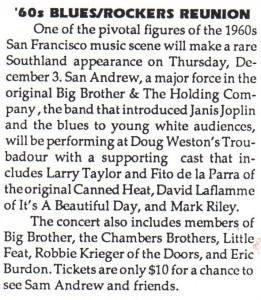 Adolfito de la Parra was the drummer. Goio Villanueva took this photograph.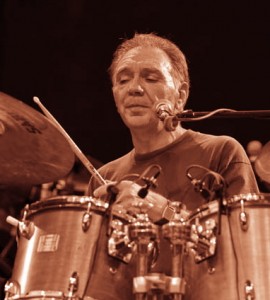 Larry Taylor played bass.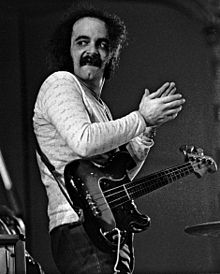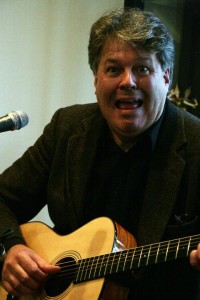 Mark Riley. And just to show you that he's not always that serious, he also plays with hairstyles.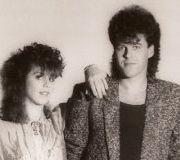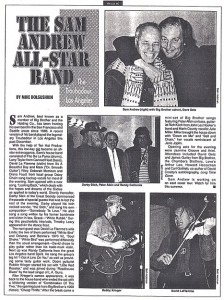 Our old road manager John Byrne Cooke came back for this one, and he made everything run smoothly.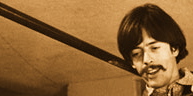 John's friend Debbie Green, seen here with Eric Anderson, invited us to stay at her house. I hope to do some playing with Debbie one of these days.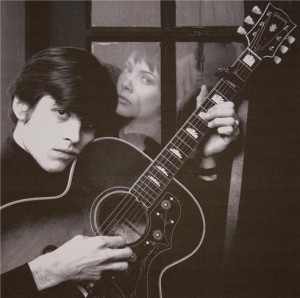 Lotus Mahon was with me this weekend which made everything extra special.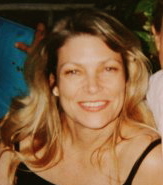 Linda and David LaFlamme came to the party. Elise and I were once at the Fillmore with some friends of ours, Marion and Christo, both physicians, and when It's a Beautiful Day began their set, Marion started to cry. Their music meant so much to her.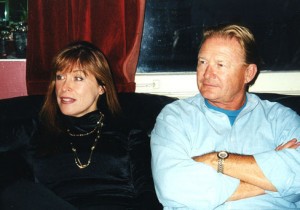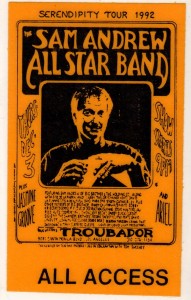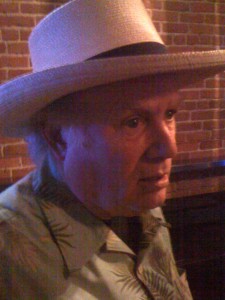 Lester Chambers was there with his brothers.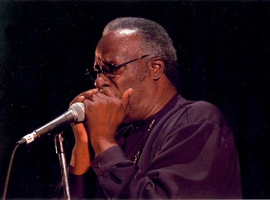 Deborah Morrison sang back up with us.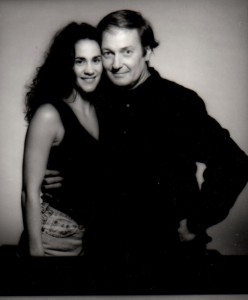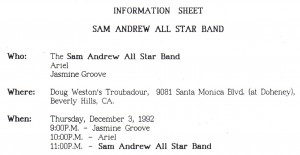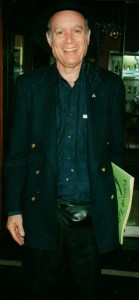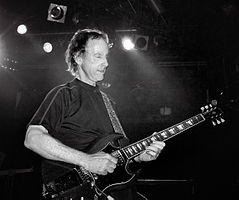 Robby Krieger played.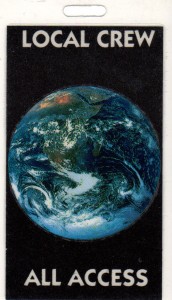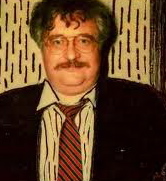 Carl Gottlieb was there…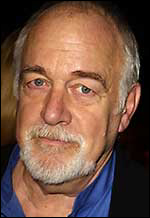 … and Howard Hessman.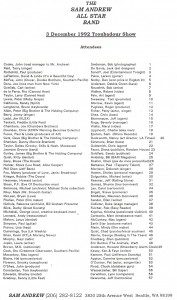 And a cast of thousands.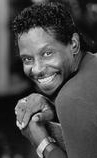 Willie Chambers.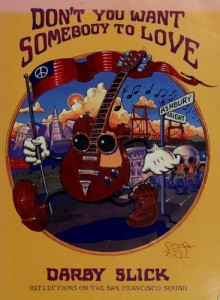 Darby Slick was there. Hey, he wrote a book and a song.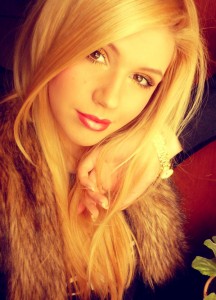 And she sang it.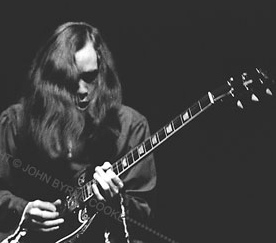 Peter Albin playing my guitar. John Byrne Cooke took this photograph.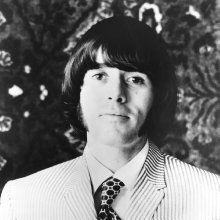 31 December 1992 Pescadero California This was a fun gig. We had Peter on bass and Spencer Dryden on drums.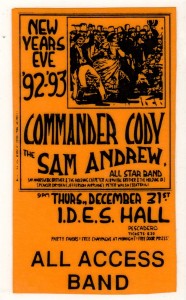 Rich Kirch played guitar.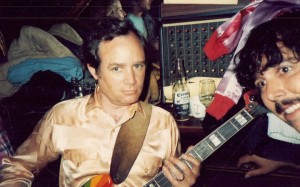 Peter Albin and James St. Pell.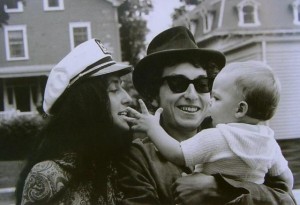 They weren't there. Well, maybe in spirit, because a lot of their friends were there.
A lot of her friends were there also, asking the eternal question: Can a blue man sing the whites ?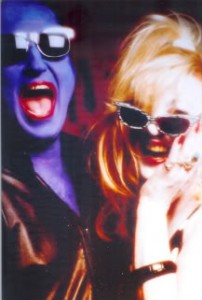 Kathi McDonald.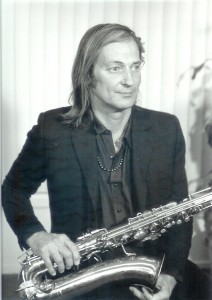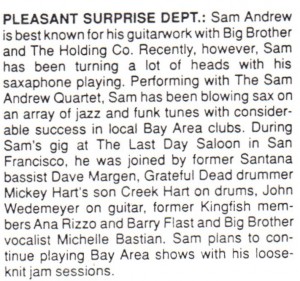 Thank you and I'll see you next week.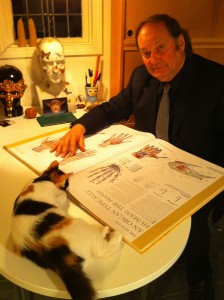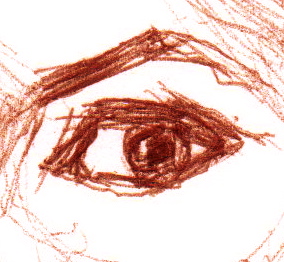 __________________________________________________________________________