1969 to 1972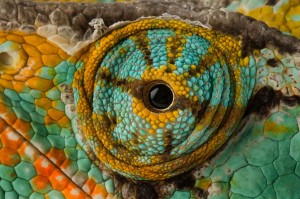 Big Brother is watching you.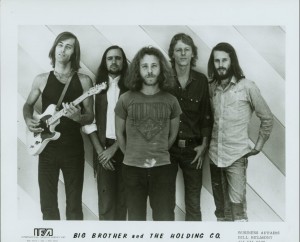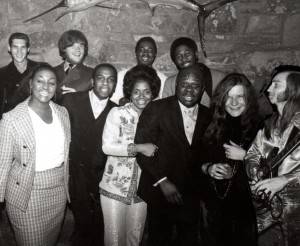 December 1968 At a Stax/Volt party in Memphis with Janis Joplin, Carla Thomas, Rufus Thomas, Al Jackson, Jr., Steve Cropper, Duck Dunn and Booker T. Jones who is now a San Rafael resident.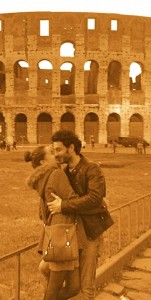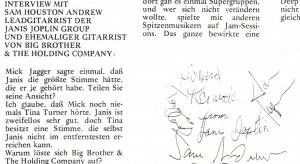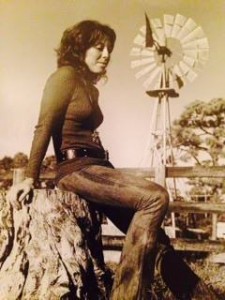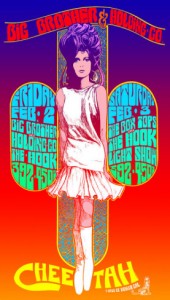 2-3 February 1969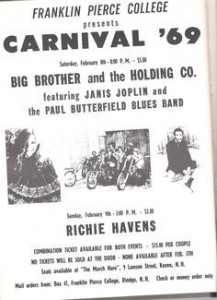 9 February 1969 Franklin Pierce College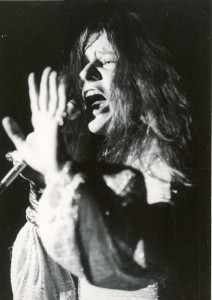 7 March 1969 Dale Burkhardt attends a Kozmic Blues Band show and snaps this one.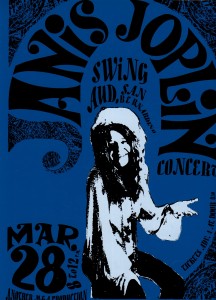 28 March 1969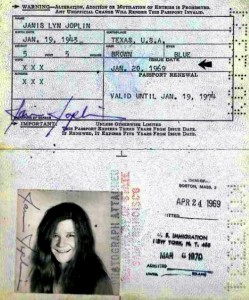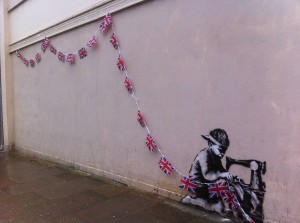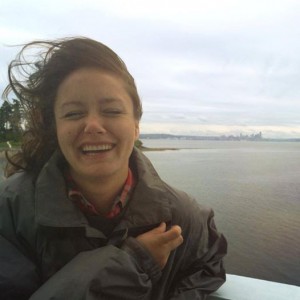 The Kozmic Blues Band played at The Royal Albert Hall, so to celebrate, I took a bath.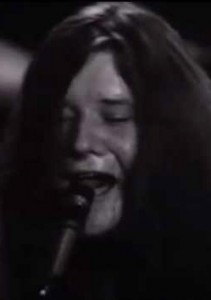 Queen Victoria baptised the Royal Albert Hall in 1871.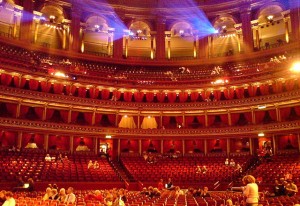 The acoustics in this Hall were originally so bad that people said it was the only place where a British composer could be sure of hearing his work twice.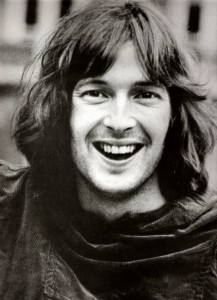 Eric came to see us.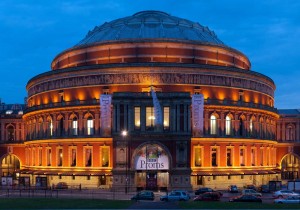 I thought about the people who had spoken and played in this space: Winston Churchill, Wagner, Verdi, Elgar, Rachmaninoff.
Suzy Creamcheese took me out to Hampton Court and gave me the royal tour.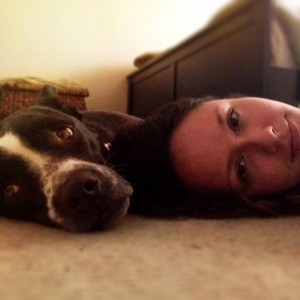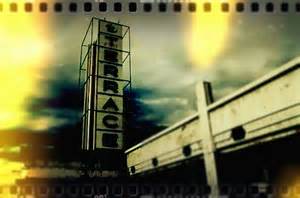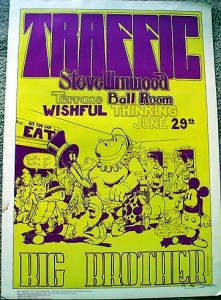 29 June 1969 Terrace Ballroom Salt Lake City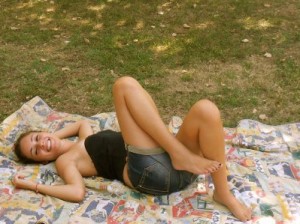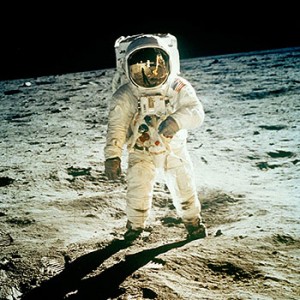 20 July 1969 Snooky Flowers and I watched this event live on television at the Chelsea Hotel, NYC.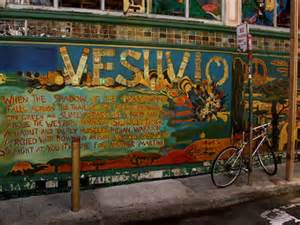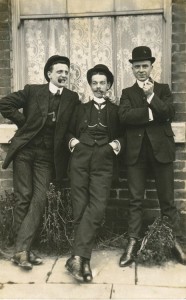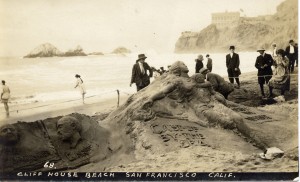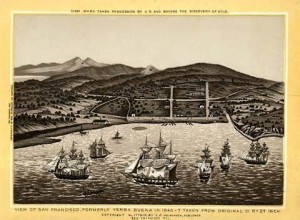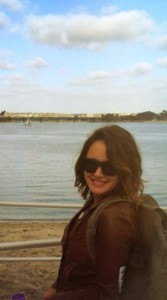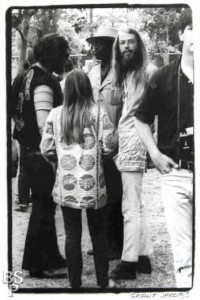 8 August 1969 660 Great Highway with Tyrannosaurus Rex and Tongue and Groove.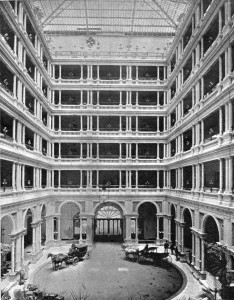 The Palace Hotel still looks much like this.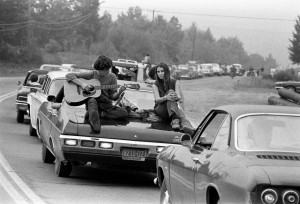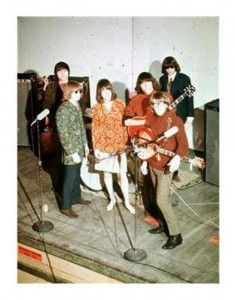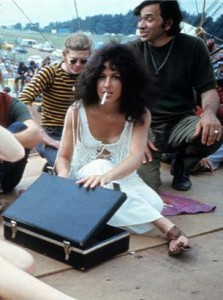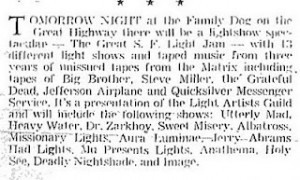 25 August 1969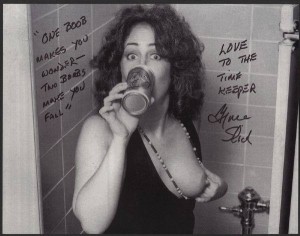 27 August 1969 Saratoga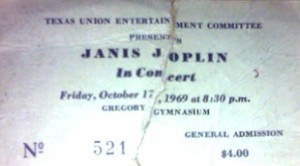 17 October 1969 Austin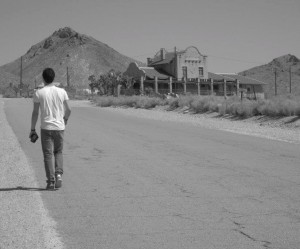 On the road again.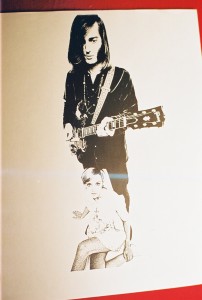 18 October 1969 Hemisphere Arena San Antonio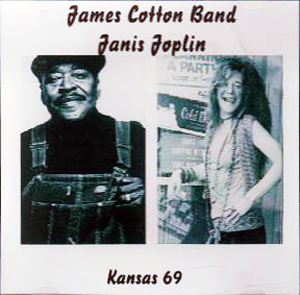 I'm listed as playing on this recording, but I've never heard it.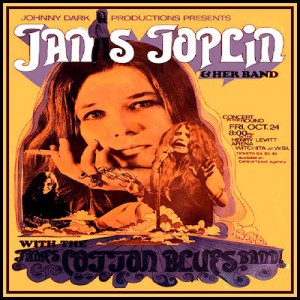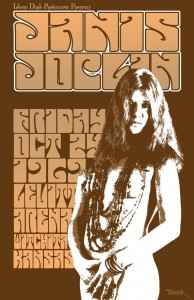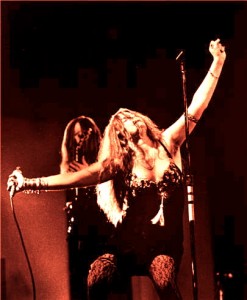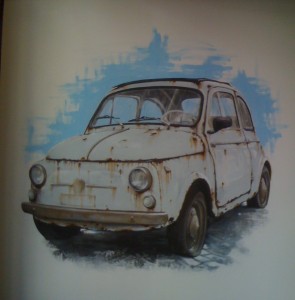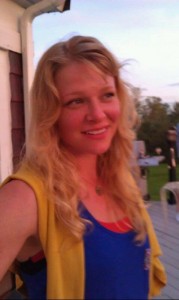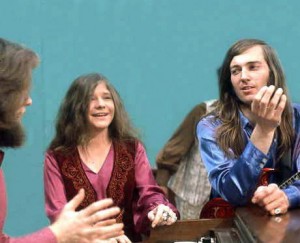 With Janis and Richard Kermode.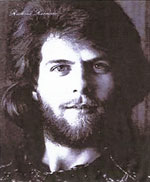 Richard came out of that Hammond B3 jazz scene in Buffalo. He was a good musician.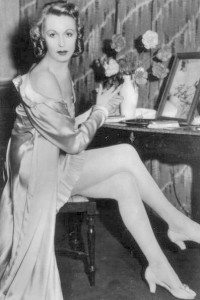 15 November 1969 This was a huge California demonstration against the war in Viet Nam.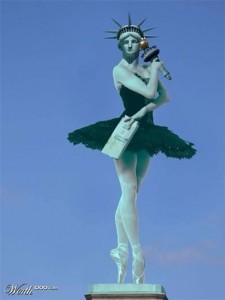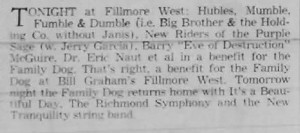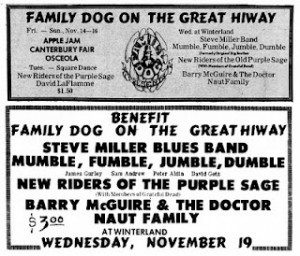 19 November 1969 Fillmore West Steve Miller had to cancel this show so Big Brother played it billed as Mumble, Fumble, Jumble and Dumble.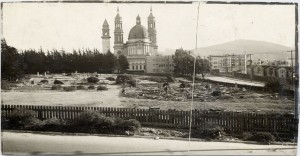 Saint Ignatius Church, Fulton & Parker (Stanyan), San Francisco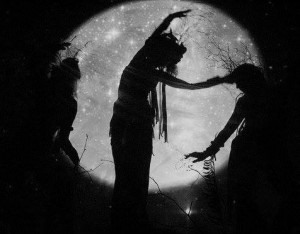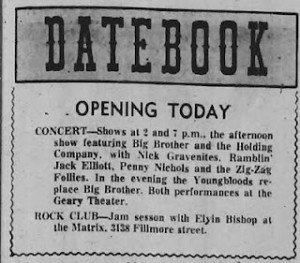 29 December 1969 Geary Theatre 415 Geary Boulevard San Francisco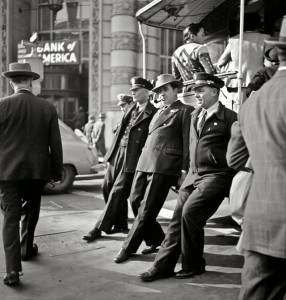 I've done this many times. Turning the cable car around so it can head back up the hill.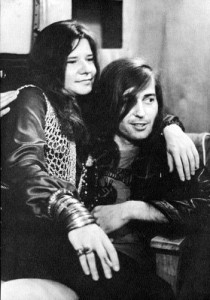 Janis said, "I don't look good in this photo, but I'm putting it on the album cover just for you."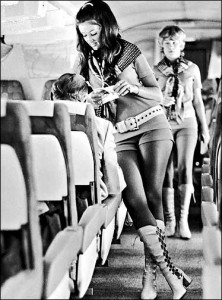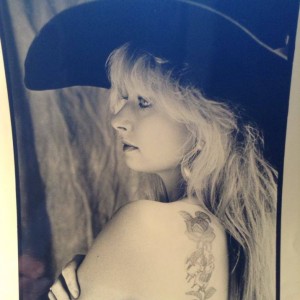 And now begin the 1970s, which Gary Trudeau called "a kidney stone of a decade."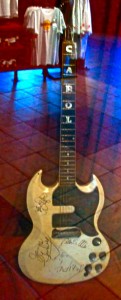 I used the 1970s to go back to school and learn some technique, but there is no denying that those years were an intermission between the high flying 60s and the conservative, athletic, jingoistic 1980s. Photo: Anthony Edman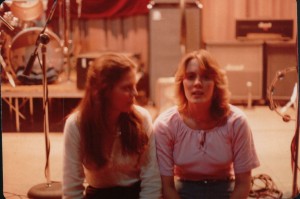 7 February 1970 Encore Theatre Burlingame California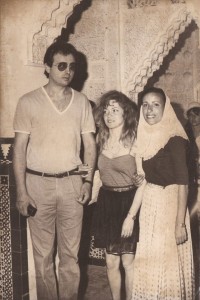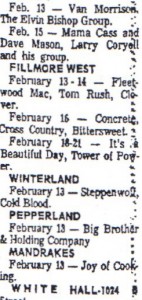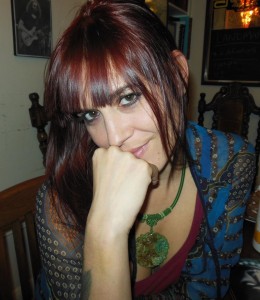 13 February 1970 Pepperland San Rafael California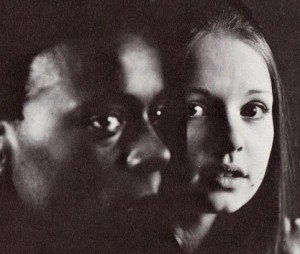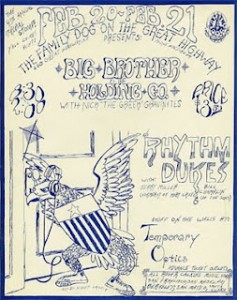 20-21 February 1970 Great Highway with the Rhythm Dukes Jerry Miller Bill Champlin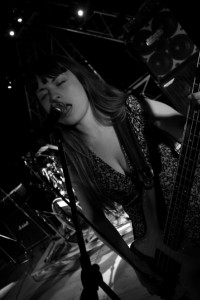 m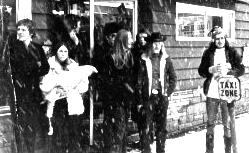 27 February 1970 Alaskaland Civic Center Fairbanks Alaska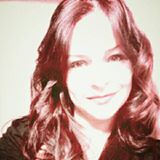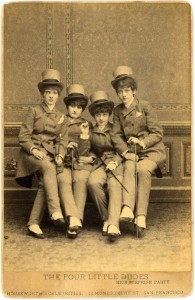 5-7 March 1970 Keystone Korner San Francisco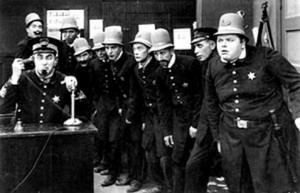 They had some wonderful shows at the Keystone, which was right across the alley from the North Beach police department.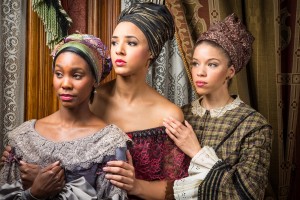 13-14 March 1970 New Orleans House Berkeley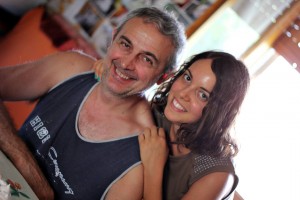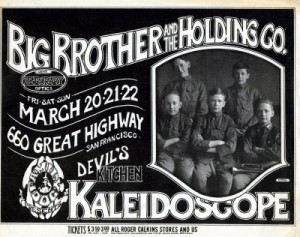 20-22 March 1970 Family Dog at the Great Highway Kaleidoscope with the Devil's Kitchen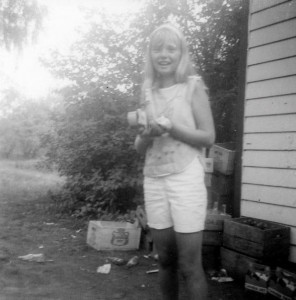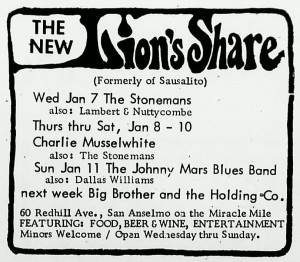 28-29 March 1970 Lion's Share San Anselmo California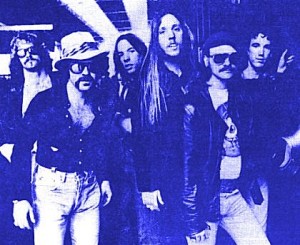 Hey, there's John McFee.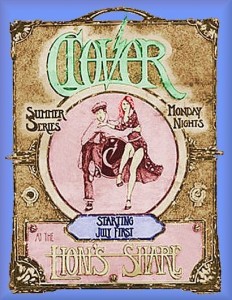 Alex Call was the singer in this band. Huey Lewis was the harmonica player. I always liked John McFee who is now a Doobie Brother.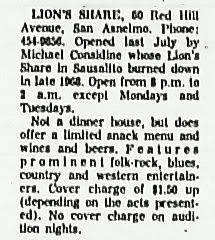 The owner of the Lion's Share, Mike Considine, didn't like to advertise, so there are very few posters and handbills from this venue.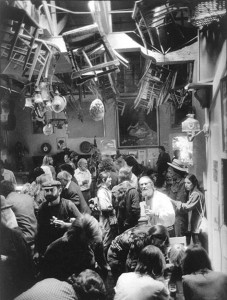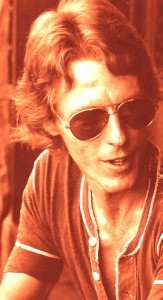 James Gurley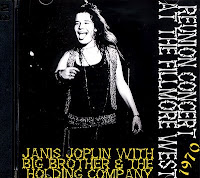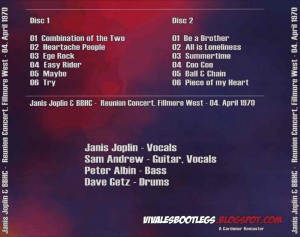 4 April 1970 Fillmore West Janis joined us for this one.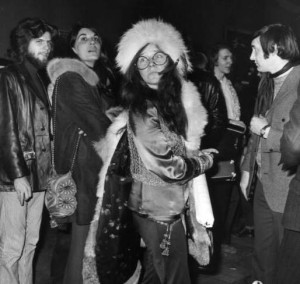 My overheated imagination sees mistrust here, matters gone awry, loss of faith, paranoia, alienation, loneliness. Am I being carried away ? Probably. Was it a weird time ? It certainly was. Richard Kermode Linda Gravenites Janis George Ostrow Bobby Neuwirth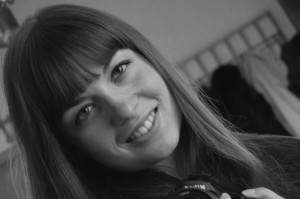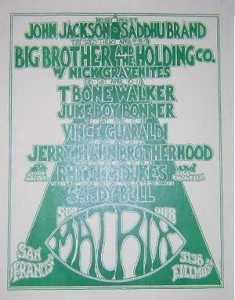 7-9 April 1970 Matrix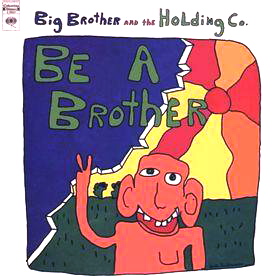 12 April 1970 Winterland Kathi McDonald Mike Finnegan David Shallock Nick Gravenites We had a GOOD band.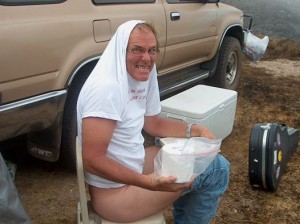 Greg 'Cornholio' Douglass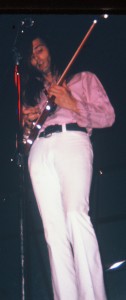 23-24 April 1970 Inn of the Beginning Cotati California.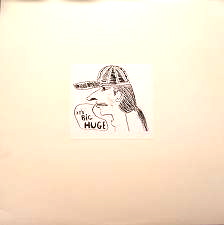 James Gurley. He's big, huge.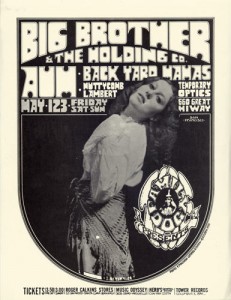 1 May 1970 Family Dog Great Highway San Francisco I think this is a Randy Tuten poster.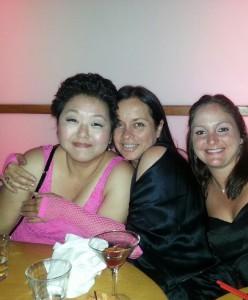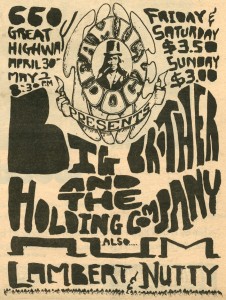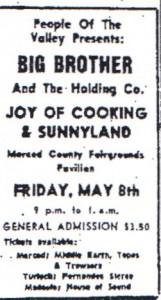 8 May 1970 Merced Fairgrounds Merced California
The 1970s were a time of molting, of lying in wait. There didn't seem to be any guiding theme, so I kept my head down and studied.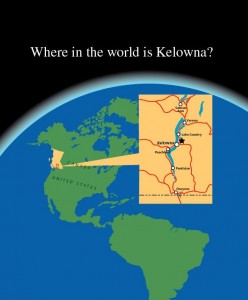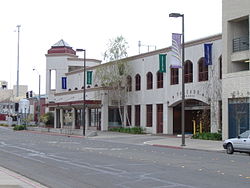 15 May 1970 City Center Kelowna British Columbia Kelowna is a vacation spot in British Columbia, on the east side of the Okanagan Valley.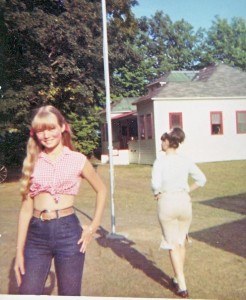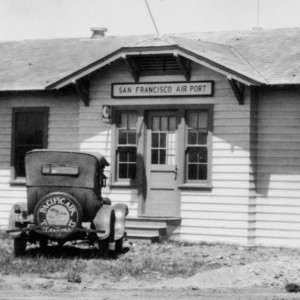 16-17 May 1970 Strawberry Mountain Fair Mission British Columbia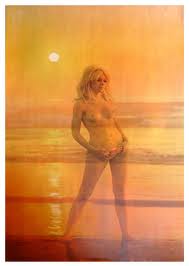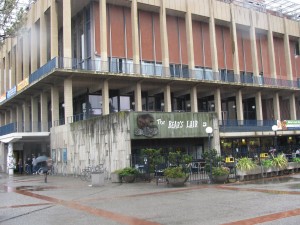 20 May 1970 Pauley Ballroom University of California Berkeley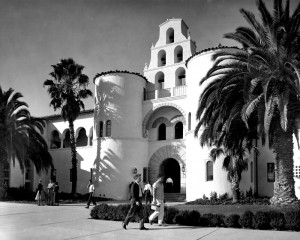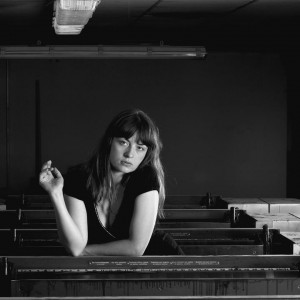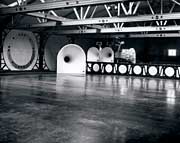 21 May 1970 Pepperland Bermuda Palms San Rafael California Big Brother Full Tilt Grateful Dead With the amazing Meyer sound system.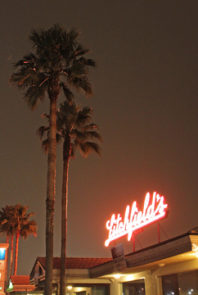 The event is memorable for many reasons.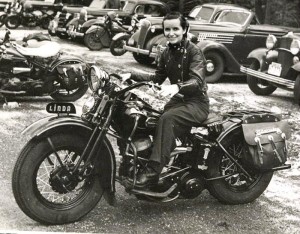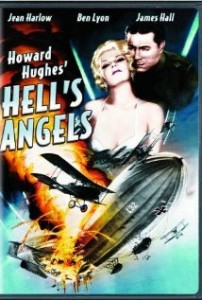 This is a Hells Angels party to begin with, so the money will be straight and the sound system excellent. There will also be more drugs and alcohol than would seem to be prudent.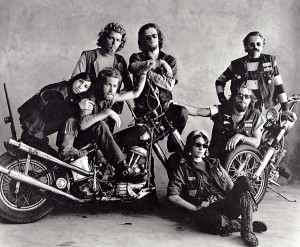 This will be the first time that Janis' old band and her new band will be at the same venue, so everyone is a little on edge.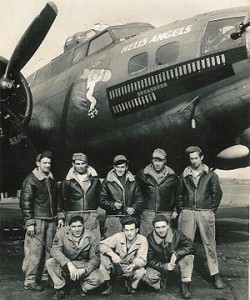 Not exactly a battle of the bands, but not exactly not one either. Janis gets into a fight with an Angel and he punches her. She breaks a bottle over his head.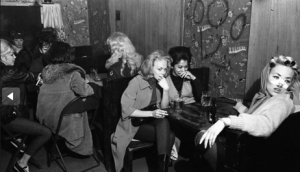 This is the peace and love crowd.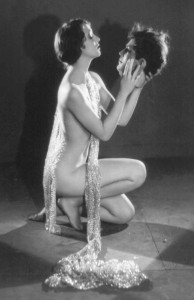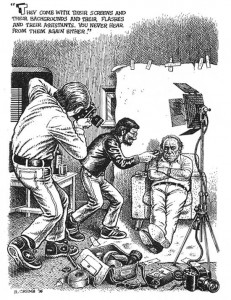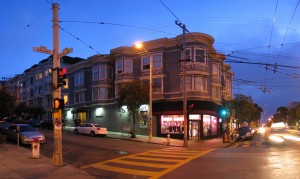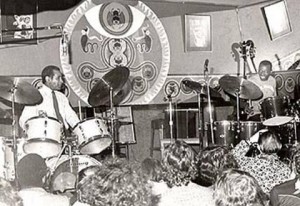 22, 23 May 1970 Keystone Korner San Francisco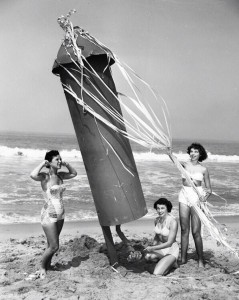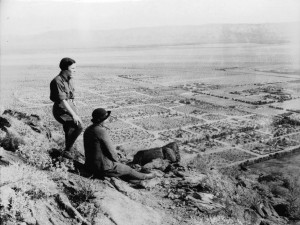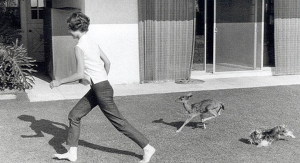 29 May 1970 Santa Monica Civic Auditorium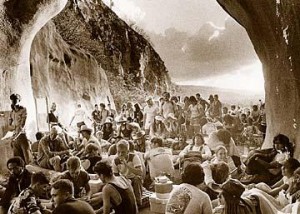 9 June 1970 Diamond Head Crater Festival Hawaii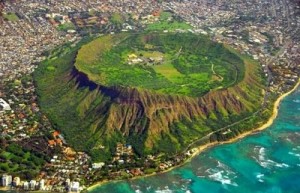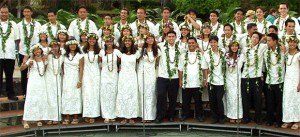 8 June 1970 The Andrews Amphitheater Hawaii This place is used for commencement exercises for the University of Hawaii.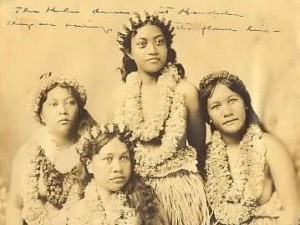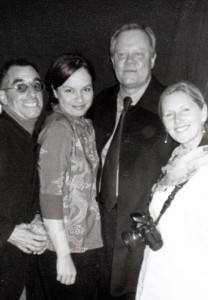 My wife Elise Wainani Piliwale is Hawaiian. Here she is with Grant Jacobs, Richard Hundgen, and a photographer who has a lovely smile.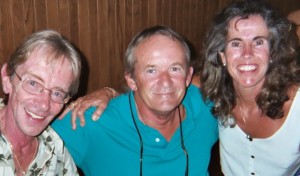 Colin and Wayne, the equipment managers that we had at that time, forty years ago, decided to jump ship and become Hawaiian. They are there still and doing very well.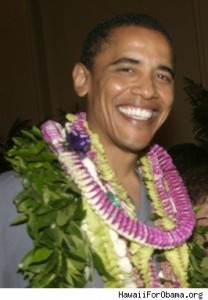 And of course our President was born in Honolulu in the same hospital, Queens Hospital, as my wife. Either there or in Kenya, I forget which. Depends on whom you ask, someone who actually knows something, or someone who is incredibly ignorant and backward… like Fox News.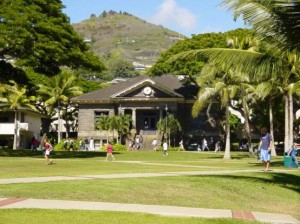 President Obama went to Punahou High School.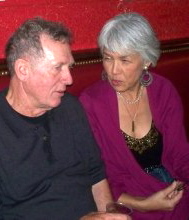 Jonelle DeNike is Hawaiian and she went to a Catholic high school in Honolulu.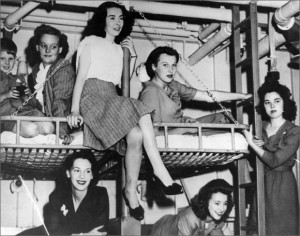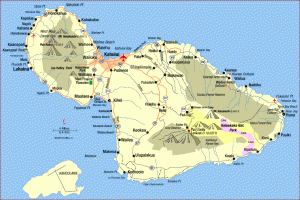 10 June 1970 Kahului Armory Maui Hawaii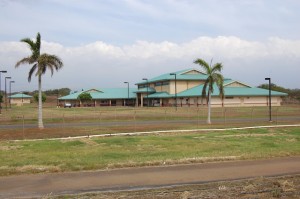 Also called the Pu'unene Armory.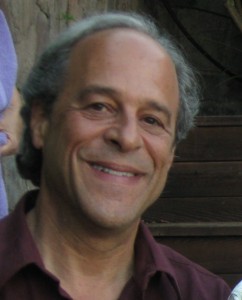 Steve Keyser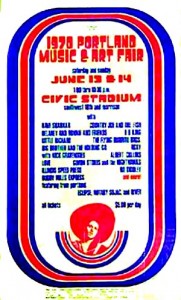 13-14 June 1970 Portland Music & Art Fair Portland Oregon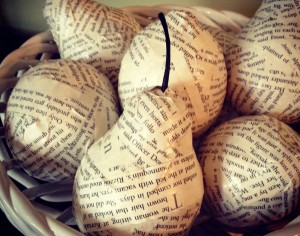 17 June 1970 Convention Center Las Vegas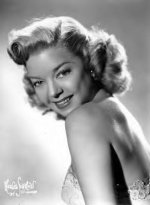 19 June 1970 Terrace Ballroom Salt Lake City I have a cassette tape of this gig. We played a lot of different songs. This was probably our most adventurous period for repertoire.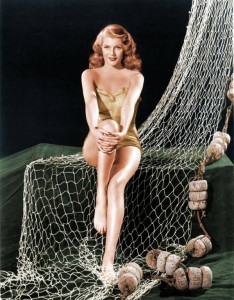 26 June 1970 Junction Night Club Kelker Colorado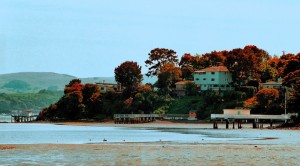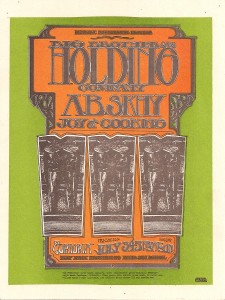 3-5 July 1970 Euphoria San Rafael California Another Randy Tuten poster.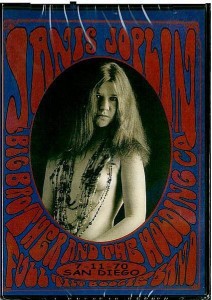 11 July 1970 Sports Arena San Diego with the Full Tilt Boogie Band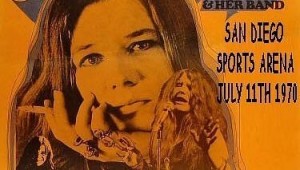 It was something else to have Big Brother and Full Tilt in that same small airplane coming back from San Diego.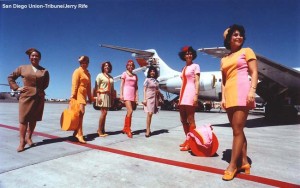 The airlines used to lay off the flight attendants when they got married or reached a certain age. This was so they wouldn't have to give them seniority and the pay that goes with it.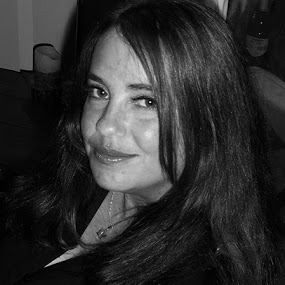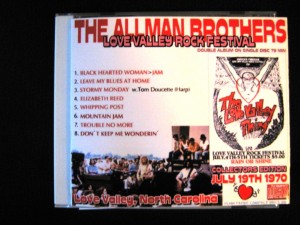 17 July 1970 Love Valley Festival Love Valley North Carolina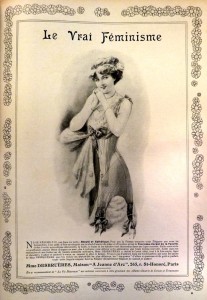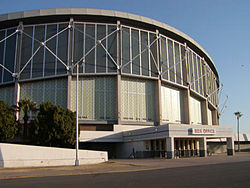 31 July 1970 Phoenix Veterans Coliseum Arizona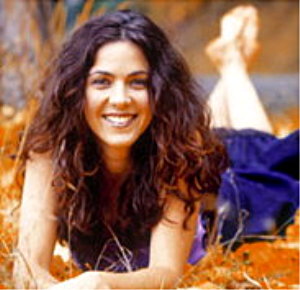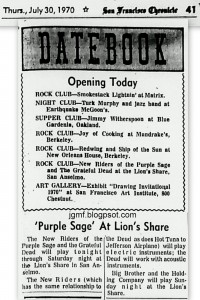 2 August 1970 Lion's Share San Anselmo California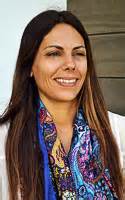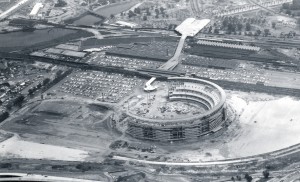 6 August 1970 Peace Festival Shea Stadium Flushing Meadows New York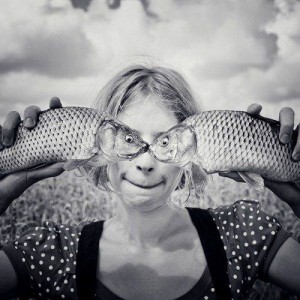 I need you, darling, like the fish needs the sea. Please don't take your sweet, sweet love from me.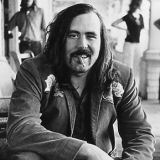 George Frayne, one of my favorite people. Good artist too.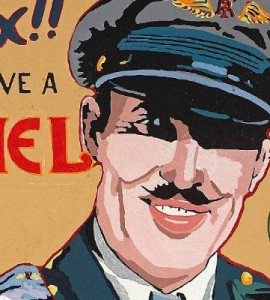 13-15 August 1970 Fillmore West San Francisco Commander Cody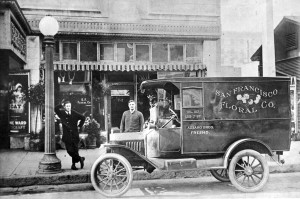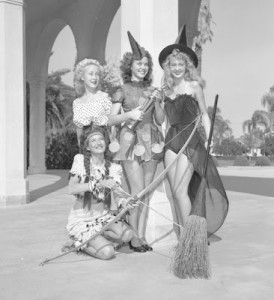 18-19 August 1970 The Matrix San Francisco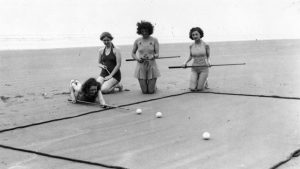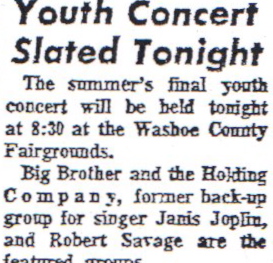 26 August 1970 Washoe County Fairgrounds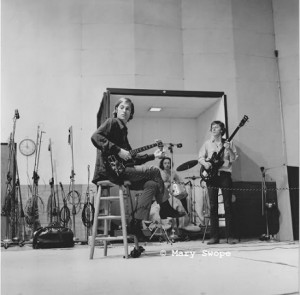 28 August 1970 Sing Auditorium San Bernardino Mary Swope took this photograph.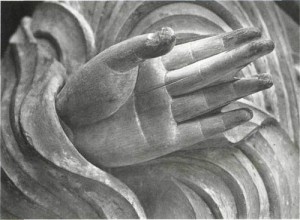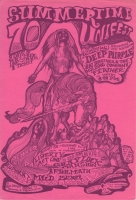 25 September 1970 Saginaw Auditorium Michigan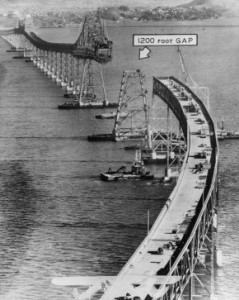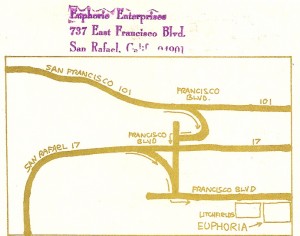 3-5 October 1970 Euphoria San Rafael California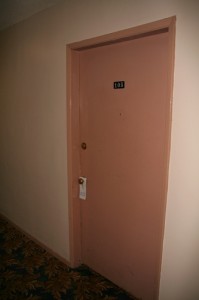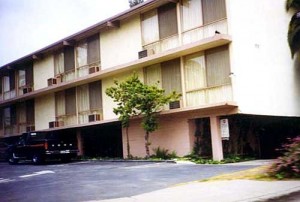 4 October 1970 The Landmark Hotel Hollywood A British writer, Howard Sounes, just interviewed me from the very room. He mentioned all of the scrawlings on the bedroom closet wall.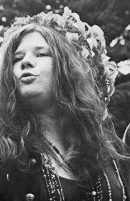 6-7 October 1970 The Matrix Blues for an old friend.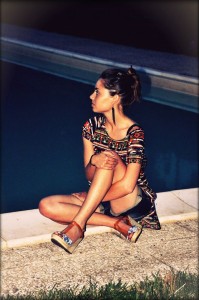 The 1970s began this way. The USA, up to this time a manufacturing giant, always expanding and growing, now became a service economy devoted to finance and collecting information, analyzing, digesting, contracting. Self help books proliferated, the computer began to become important.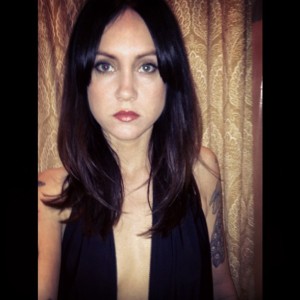 American society turned inward after the tumultuous events of the 1960s.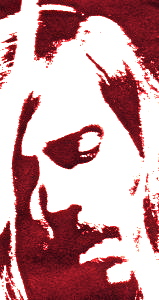 23 October 1970 Basin Street West
We substituted for Sarah Vaughan ? I wonder how that worked ? I can't remember, but I do know that Combination of the Two doesn't sound a lot like Over The Rainbow.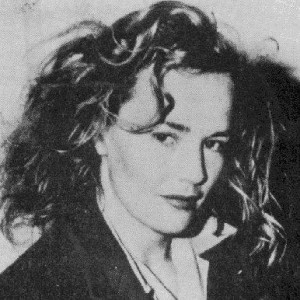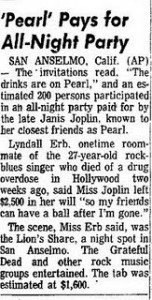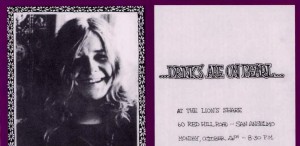 26 October 1970 Lion's Share The Drinks Are On Pearl. Janis left $ 2,500, a lot of money then, for us to have a party in her honor. We did it right. Music and dancing all night. Lots of stories of past glories.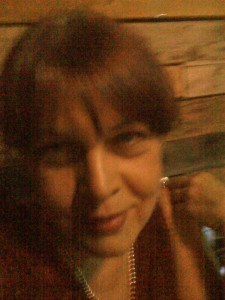 Margaret Gurley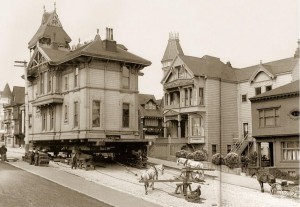 27-29 October 1970 The Matrix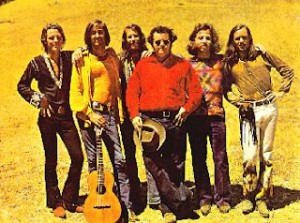 With James Gurley, David Shallock, Nick Gravenites, Dave Getz and Peter Albin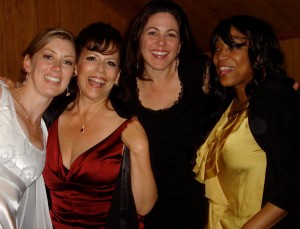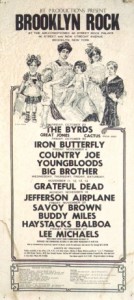 30 October 1970 46th Street Rock Palace Brooklyn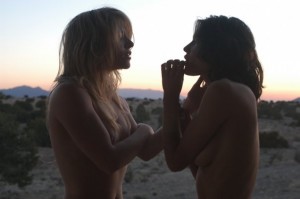 Photo: Baron Wolman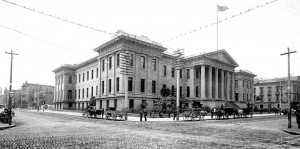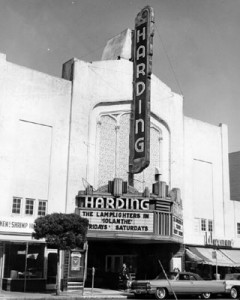 2 November 1970 Harding Theatre Divisadero Street San Francisco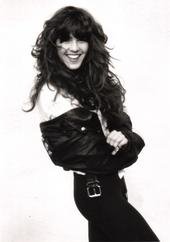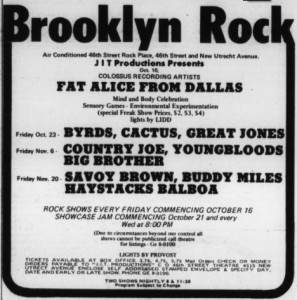 6 November 1970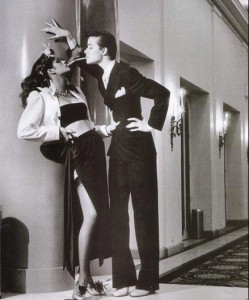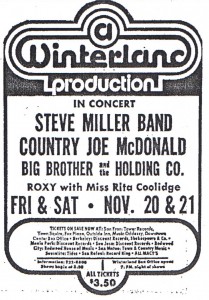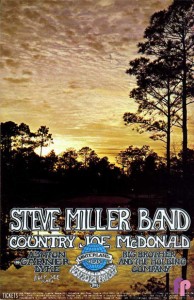 20-21 November 1970 Winterland San Francisco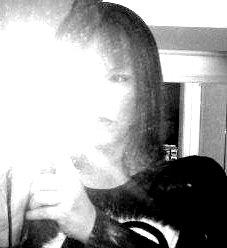 5 December 1970 The Birmingham Palladium Detroit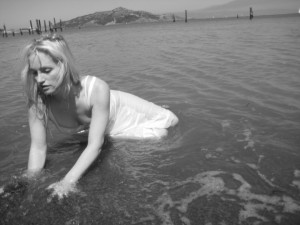 We looked everywhere for this white SG standard.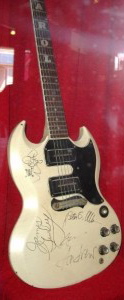 We all signed this one. I was with Carol Cavallon when I bought this guitar on 48th Street across the street from Manny's in New York. Photo: Anthony Edman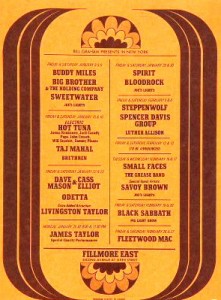 8-9 January 1971 Fillmore East Buddy Miles Sweetwater I loved the way Buddy looked when he played the drums.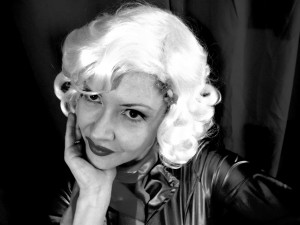 All right, we're heading into the rough waters of the 1970s now.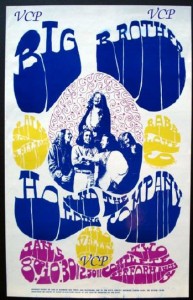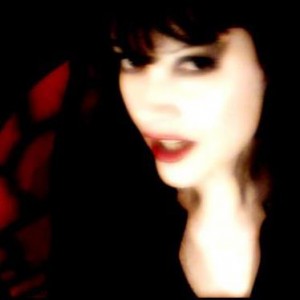 Strange, hard, weird times.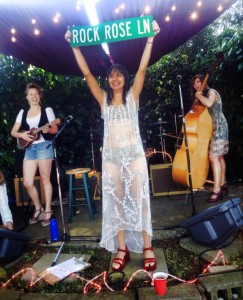 17 January 1971 Syria Mosque University of Pittsburgh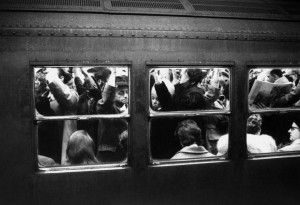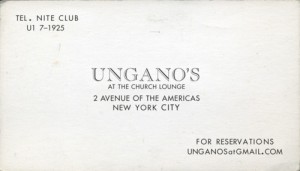 18-19 January 1971 Ungano's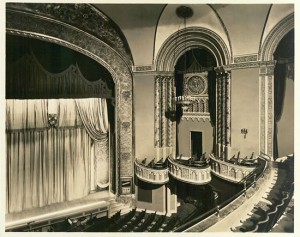 20 January 1971 Capitol Theatre Port Chester New York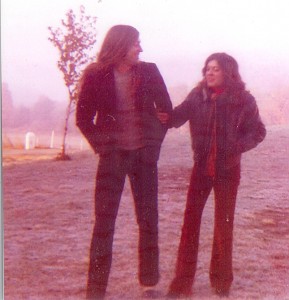 With Carol Cavallon in Putney Vermont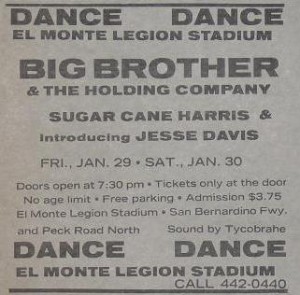 29-30 January 1971 The names El Monte and El Segundo always make me think of Reuben and the Jets, Frank Zappa.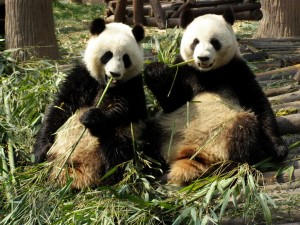 4 February 1971 Inn of the Beginning Cotati California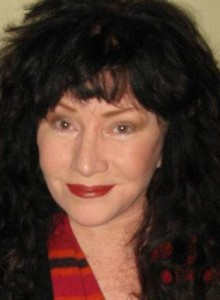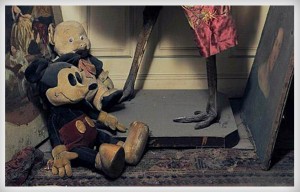 13 February 1971 Pepperland 737 East Francisco Boulevard San Rafael California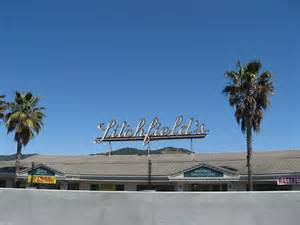 Whitey Litchfield, millionaire construction magnate, created Litchfield's Bermuda Palms in the late 1940s. This was California's Las Vegas.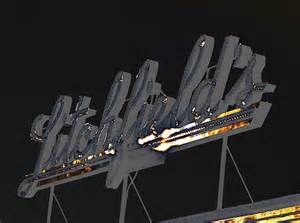 I mentioned before that I had played tenor saxophone in numerous big band rehearsals here, little dreaming at the time that Duke Ellington, Count Basie, Lionel Hampton and many other stars of the 1940s had played in that very same room.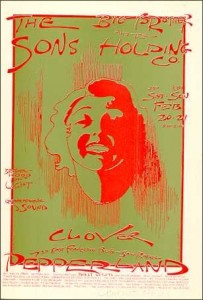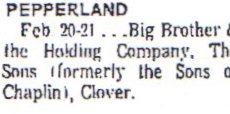 20-21 February 1971 Pepperland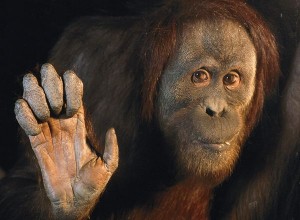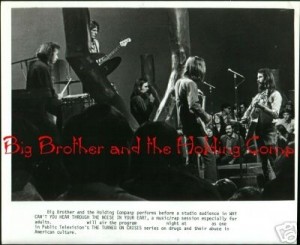 23 February 1971 Broadcast of television series The Turned On Crisis including an episode with Big Brother: Why Can't You Hear Through The Noise in Your Ear.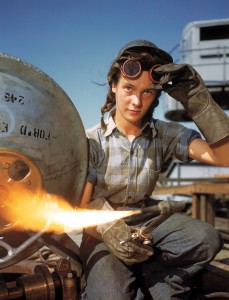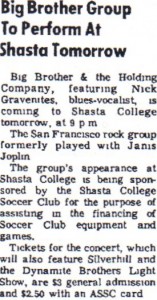 6 March 1971 Shasta College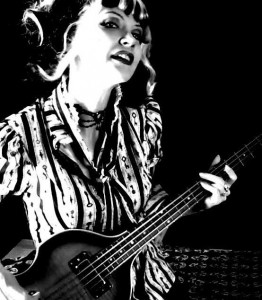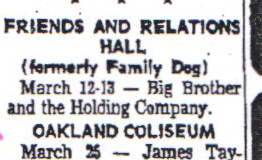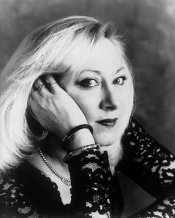 12-13 March 1971 Friends and Relations Hall Great Highway San Francisco with Kathi McDonald.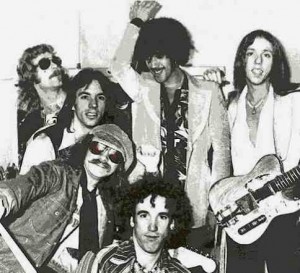 Also on this gig: Clover I see Alex Call Huey Lewis John McFee Sean Hopper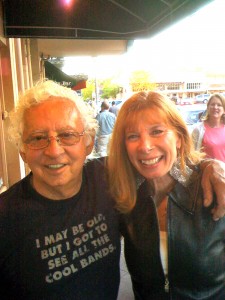 25 March 1971 The New Monk was in Berkeley where Shattuck and University make a T. 2119 University. It was a funky place. Freddie Herrera bought it in August of 1971, and it became the Keystone Berkeley in March 1972.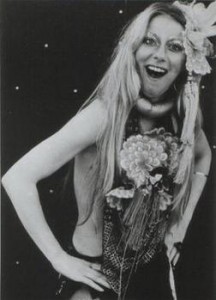 9-10 April 1971 Friends and Relations Hall Kathi McDonald, one of the best singers ever… and the funniest.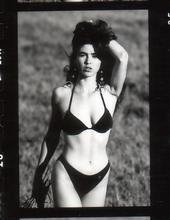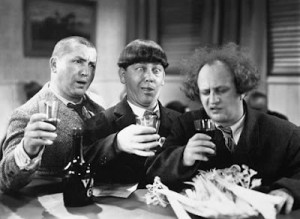 15 April 1971 Inn of the Beginning Cotati California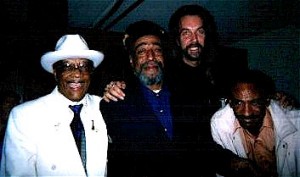 19 April 1971 Friends and Relations Hall Hubert Sumlin Snooky Flowers Rich Kirch Freddie Roulette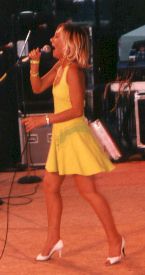 22-23 April 1971 Bimbo's San Francisco
24 April 1971 Peace Rally Golden Gate Park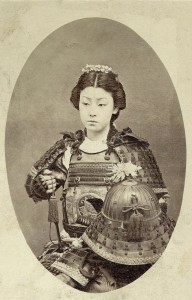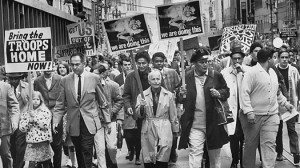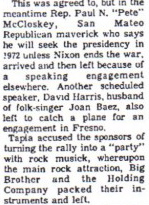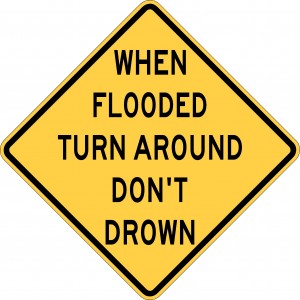 Think about some of the things that had happened to usher in the 1970s. The Watts riots in 1965, the Republican triumph in the 1966 midterms, the Newark riots, the 1968 campaign, the assassinations, Chicago, Nixon winning by the largest landslide ever in 1972, the Manson family, Kent State, the construction workers' riot, George Romney, George Wallace, George McGovern, Nelson Rockefeller. The nation was exhausted, afraid and began to retrench and turn to the right.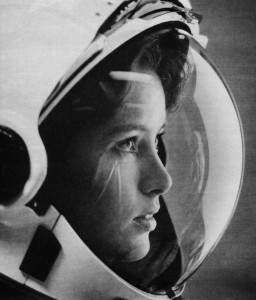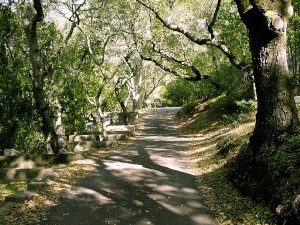 26 April 1971 Sonoma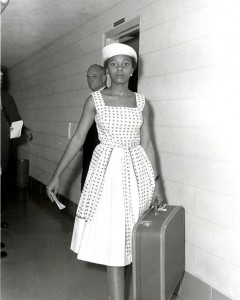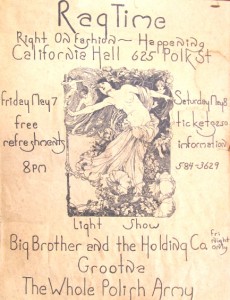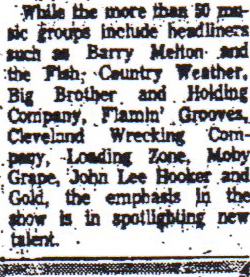 7 May 1971 California Hall San Francisco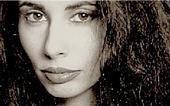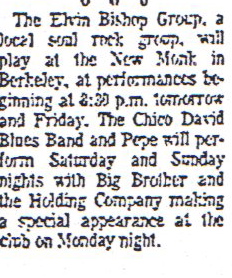 17 May 1971 New Monk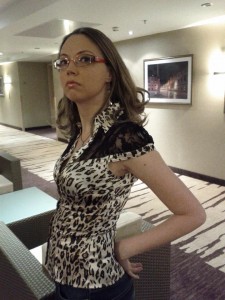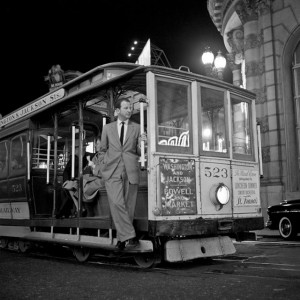 21 May 1971 Keystone Korner San Francisco
28 May 1971 Selland Arena Fresno California with B.B. King and Elvin Bishop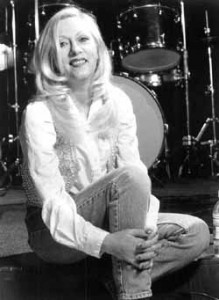 10 June 1971 Fox Theatre Long Beach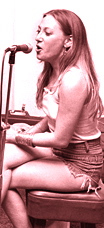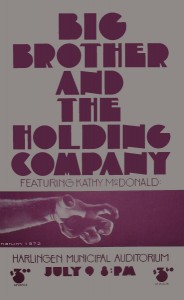 9 July 1971 Harlingen Texas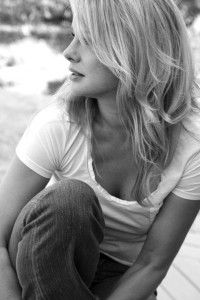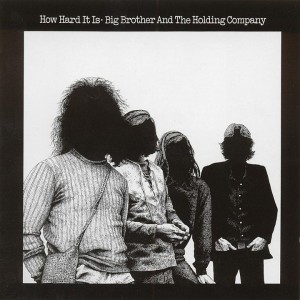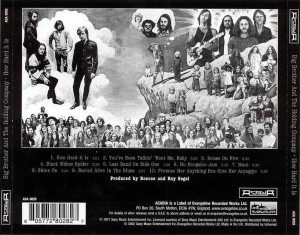 August 1971 Release of How Hard It Is. The title is significant.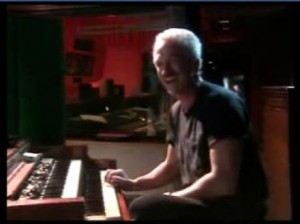 We had a great B3 player on this album, Mike Finnegan, who can sing as well as he can play. He recorded Buried Alive In The Blues with us and we should release that someday. It's definitely the best version of that song.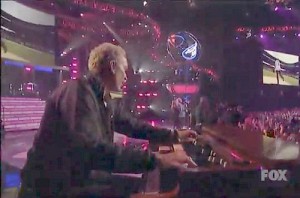 Mike went on to play with everyone, including Joe Cocker performing here on American Idol, another of Rupert Murdoch's panderings to the lowest common denominator. But, as Mike says, "A gig is a gig."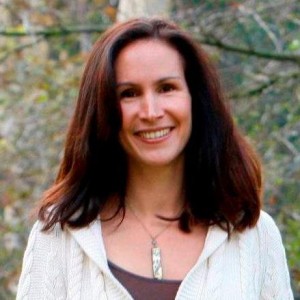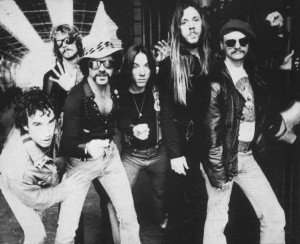 9 October 1971 Monterey Fairgrounds with Clover who were lucky enough to have John McFee on the guitar.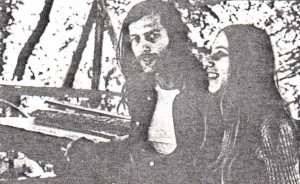 7 November 1971 Trying to guard Kathi. Can you hear me barking ?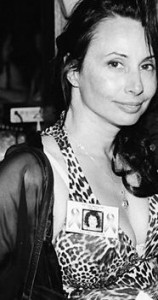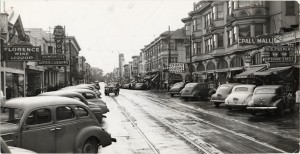 12 November 1971 Winterland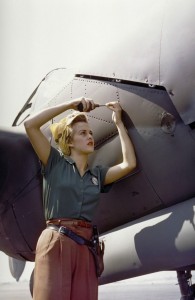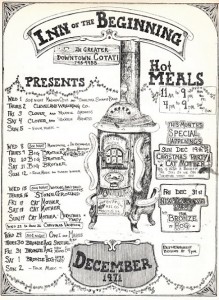 9-11 December 1971 Inn of the Beginning Cotati California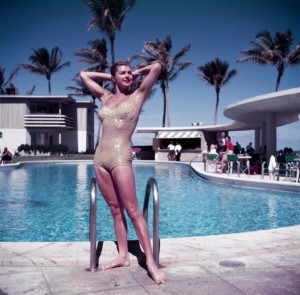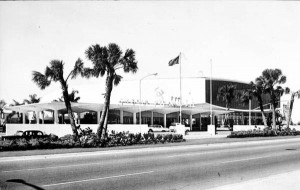 30 January 1972 Curtis Hall Tampa Florida with Lee Bittner Kathi McDonald Mike Pendergrass Peter Albin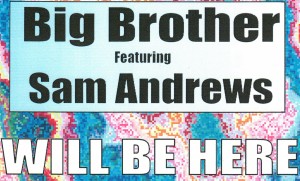 13 February 1972 Mama Einstein's What do you want ? I was the only one left.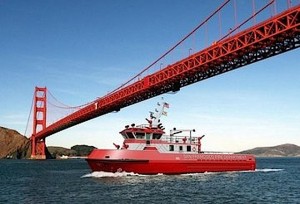 15 February 1972 Valentine's party The Boathouse Harding Road San Francisco You know, out by Lake Merced.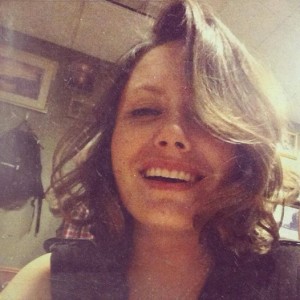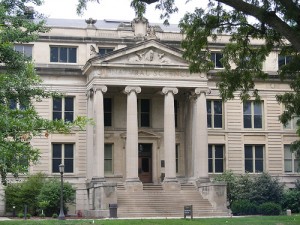 19 February 1972 University of Iowa Iowa City with the Allman Brothers Vivid memories of partying with these guys. They had a couple of revolvers from the Civil War. Confederate, of course.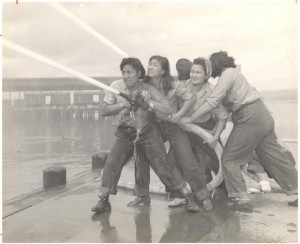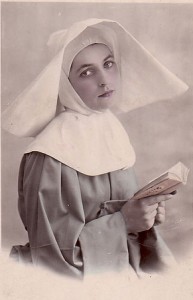 26 February 1972 American Legion Hall Merced California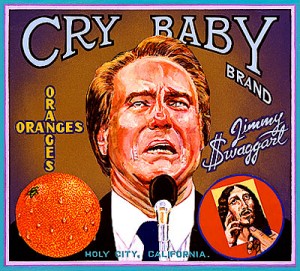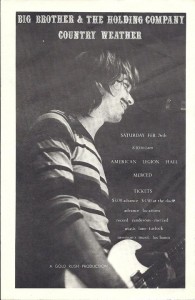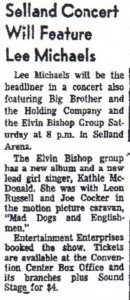 19 March 1972 You have to watch these rock writers all the time. Kathi was our new singer, not Elvin's.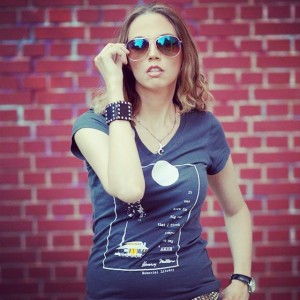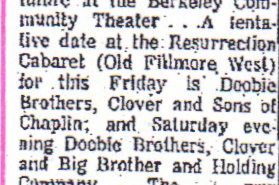 13 April 1972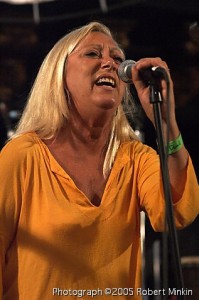 Kathi and I went out partying in an old farmhouse, deserted, crackly, in the middle of a cornfield. It seemed as if we were there for days.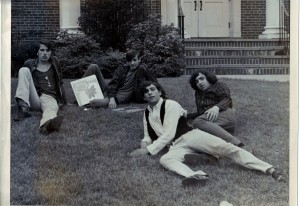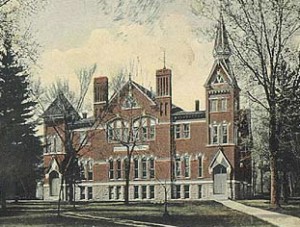 25 April 1972 Iowa Wesleyan Fayetteville Iowa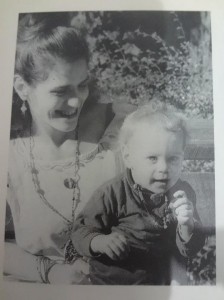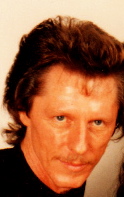 29 April 1972 Upper Iowa Mt. Pleasant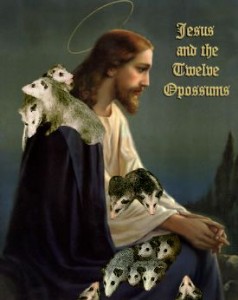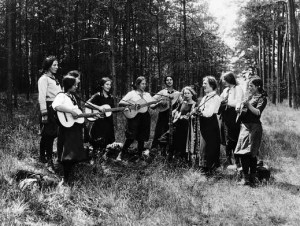 1-2 May 1972 Ace Beer Garden Iowa City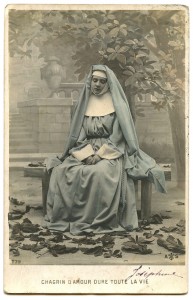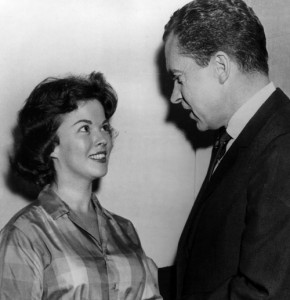 June 1972 Pioneer High School Whittier California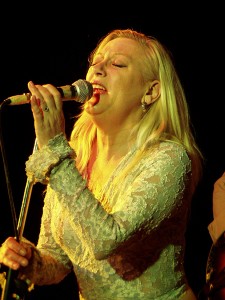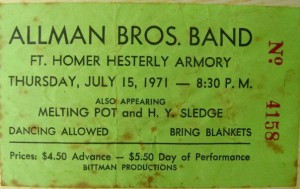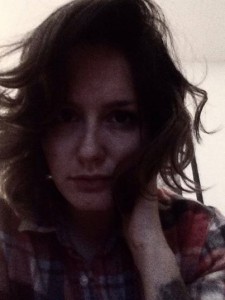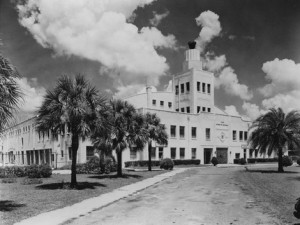 2 June 1972 Fort Homer Hesterly Armory Tampa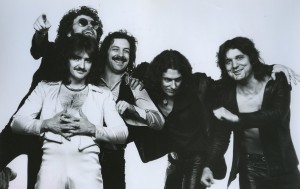 June 1972 Schererville Illinois with Blue Oyster Cult. These guys were fun to hang with. They were hysterically funny.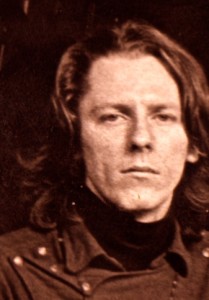 June 1972 Catholic High School Niles Illinois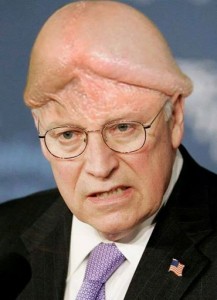 June 1972 Romeoville Roller Rink Romeoville Illinois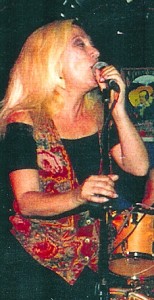 15 June 1972 Hersey High School Arlington Heights Illinois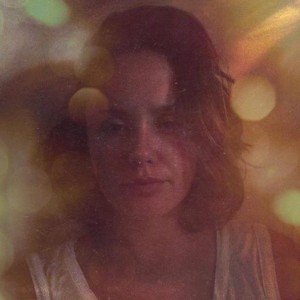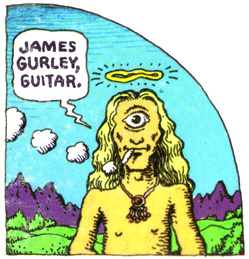 June 1972 Grande Ballroom Detroit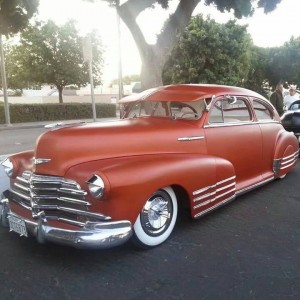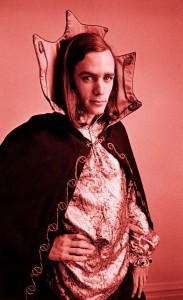 June/July 1972 Louisiana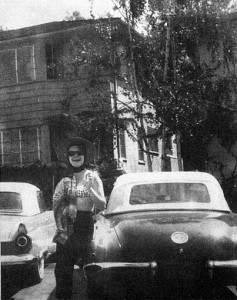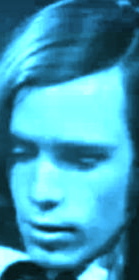 July 1972 Miami Spirit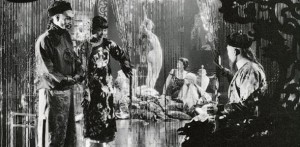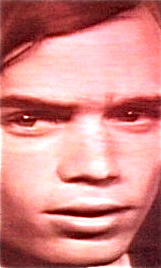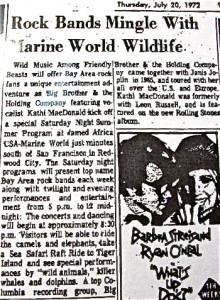 22 July 1972 Marine World Redwood City California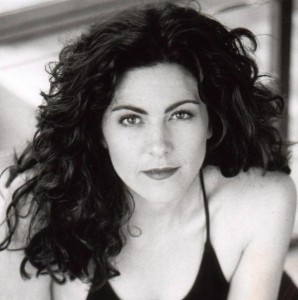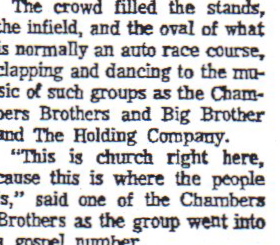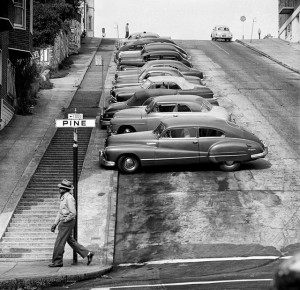 4 September 1972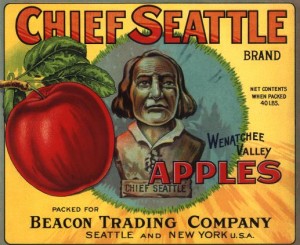 17 September 1972 A slice of life in the 70s. If you read between the lines, this pretty much says it all.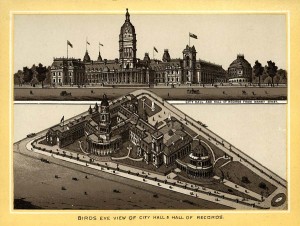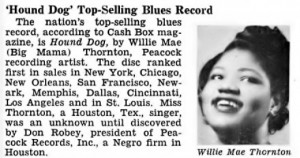 9 October 1972 Berkeley Folk Music Festival with Big Mama Thornton Earl Collins Silver String Macedonian Band Frontier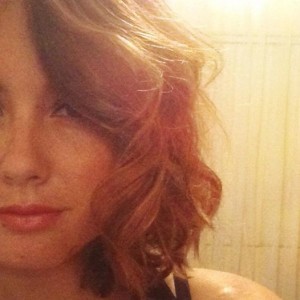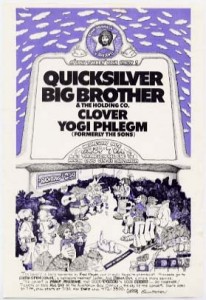 24 November 1972 Marin County Civic Center Auditorium Quicksilver Clover Yogi Phlegm A Cold Turkey Rock Party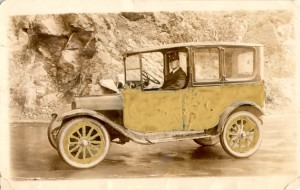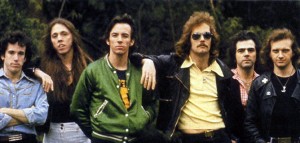 Clover ! Johnny Ciambotti John McFee is there. Mitch Howe Alex Call Huey Lewis Sean Hopper Good band. Alex has a beautiful voice and he writes great songs.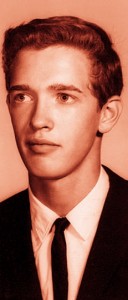 And, talking of Marin musicians, this is one who has been an inspiration to me for years: Terry Haggerty.
Somewhere in my personal effects I have a Local # Six Musicians' Union directory from the 1950s. Terry's father is in there along with Paul Desmond and many other noteworthy players from that era. If I can ever find that directory, I'm going to give it to Terry.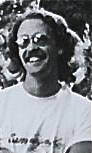 Terry and David Shallock came to my house in Fairfax one day, and they did a smokin' version of Frosty, the Snowman. It was so great to hear that. Especially in August.

It's the whole person, though, you know ? Terry is a great guitar player, one of the best, but it's as a human being that he shines brightest.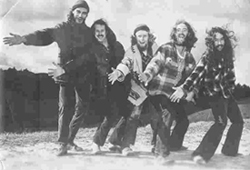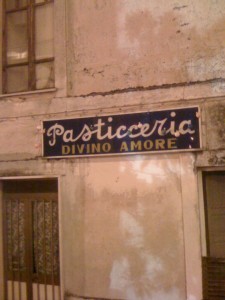 See you next week?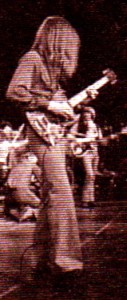 Sam Andrew
__________________________________________________________