17 October 2010]
Now I have Janis' door at my house and have put several coats of gesso on it. I laid the guitar down there, so you can see the scale of this project. Paul Reed Smith gave me the guitar and Jim Granger gave me the door. Thank you and blessings to both of these people.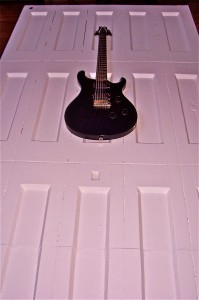 Annie Herrero, isn't she beautiful?  If you want to know anything about art, Annie is at Riley's Art Supply on Fourth Street, San Rafael, California, and she is a veritable fount of information, gently dispersed, complete and recondite. Annie is standing here in front of a painting that she began in Monte Castello (Umbria), Italy. See how she has incorporated depth into her work? I want to learn this lesson.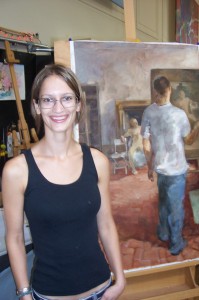 Big Brother at our studio in Mill Valley, California, 27 August 1987. We are practicing for our début at New George's, San Rafael, which recently reopened (October 2010) by the way. Michel Bastien is the vocalist. There's James Gurley, of blessed memory, on guitar.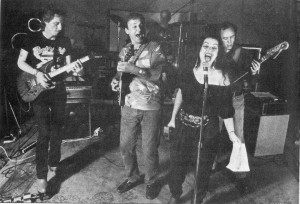 Jo Qatana Adell, who hated my Freudians screwing in the light bulb joke. I stumbled when i was telling that one. You can't stumble when you tell a joke. Comedians must be perfect at all times in their articulations. That's the best school for enunication.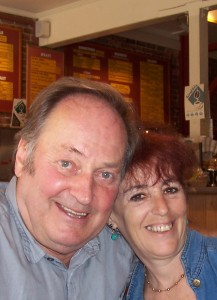 Dale Burckhardt and James Gurley.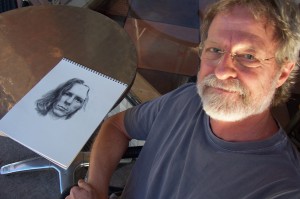 This is what one eats on the road. Let's see, rice cakes and butter. And some seedless grapes. Not bad. Probably in the upper 95th percentile of healthful eating while traveling. This is a hotel room in Bratislava, don't ask me what country. It's on the Danube. It's to the east of Vienna, maybe thirty kilometers. Elise and I vistied the museum in Bratislava. I wanted to learn about bars in Bratislava since I love beer. It's a great place with lots to offer.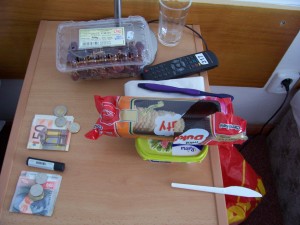 Irving Penn took this photograph at the heliport in Sausalito, California. Double pyramid composition, Jerry and I at the top. Pigpen and Janis at roughly the same spot. James and Bob Weir. Peter and Bill Kreutzman, or whatever his other innocuous name is. Penn was a major photographer of the 20th Century, and it was an honor to be photographed by him.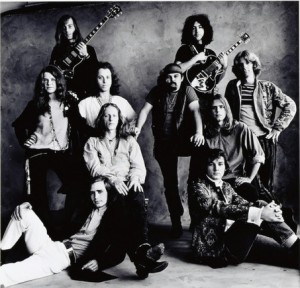 Go to Dale Burkhardt's Facebook page and read his comments about this photograph which he took. It's worth it. This is Janis' penetrating gaze of intelligence and it could be unsettling for people who thought she was a mere singer.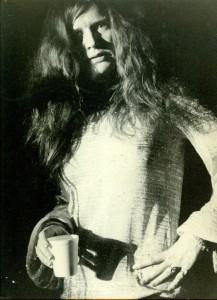 Clark is from Springfield, Illinois, and Jen is a Houstonian, but they are now both people from, ahem!, MARIN COUNTY, ladies and gentlemen. These people are as good and real as you could want.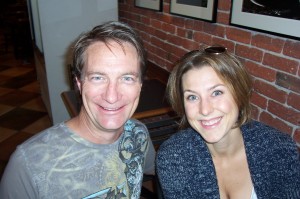 Lauren and Judge Murphy. I played many gigs with Judge not so long ago. My prayers and positive thoughts are with Judge and with Lauren who has given a lot of her time and herself to Judge. Lauren has a clear intelligence and she is very sane.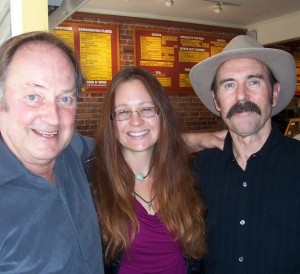 Susan Zelinsky. I took a photograph of her when she was 18 or so. She said, "Hey, save that, for when I am famous." One of these days, I will find that snap, because she was as cute then as she is now. Susan writes a lot of songs, and they are all good. She is now seeing to it that her band learn the forty songs or so in her little set. Can you tell I love her?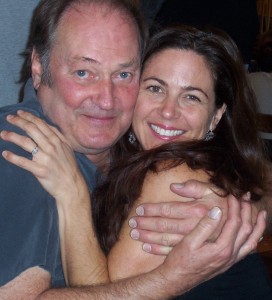 Annie Herrero's painting of, I hope this is correct, her aunt and her grandfather. Annie has "excavated" this painting, meaning, that she has dug out some of the old paint as she goes and has substituted new hues. This technique represents to her the shedding of old layers and the taking on of new feelings and identities.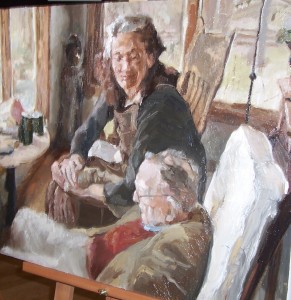 Elise's beautiful photo of a building in Randers, Denmark. This was across the street from our hotel. It was just such a magical moment, late one night after a gig, and who better than Elise to capture it?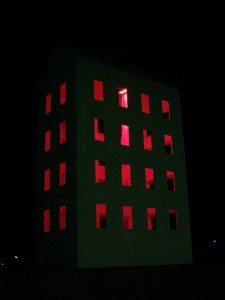 Across the street from the Aroma Café.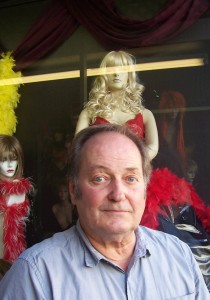 Anie Herrero's first oil painting. I like the three dimensionality of the fish.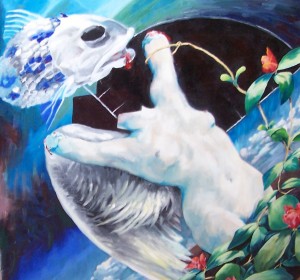 Elise on the Danube. Isn't she darling? This is downstream from Vienna and the river is heading on its way to Bucharest and then on down to the Black Sea. This was taken on her *!?** birthday (some time ago she says). I posted a baby photo of Elise on the last thing I wrote, and you can see here that she has the same spirit of positiveness, loveliness and giving all that she had then.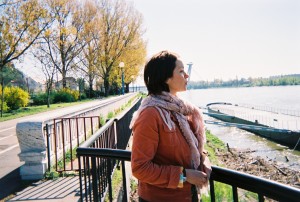 Rozman on the left. My friend from Malaysia.This is a man who enjoys life.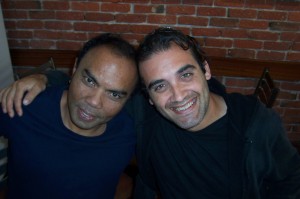 This is Annie's monochrome painting. The colors here are raw Umber and white. I am going to steal this idea, and do Big Brother in bed, a famous shot, with the same quiet treatment as Annie has done here.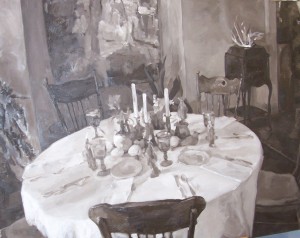 I am thinking over how I am going to do this monochrome painting.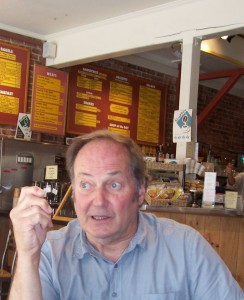 All right, for example, I just finished this painting of Ben Nieves. Is he going to like it? Is he going to think that it is too dark? Is he going to think it is too orange? Well, thank god, that I don't charge any money for these things and would never dream of taking a commission. But, OK, I'll admit it, I worry anyway. I did a painting, maybe a year ago, of Big Brother as Mount Rushmore, and I didn't quite catch Ben in that one. so this was supposed to set that to rights.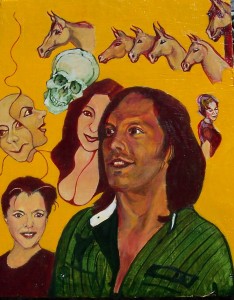 Ann Angel's new book about Janis! It's a beautiful artefact, so well done, every page pleasing to the eye. Ann writes a sweet story, accurate and sympathetic, and you can see how much care the publishers at Abrams Books put into this.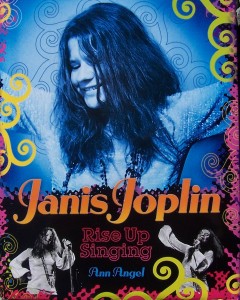 Joe Healey, brother of Bo Healey. Joe is a European now. He has lived in Köln, now, for something like twenty years, and he has accomplished miracles there.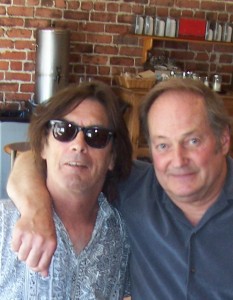 Yes, I might do a monochromatic painting based on this, to echo Annie Herrero's very sedate interpretation of her living space. This was our living space. And, oh, yes, can't you tell, we loved each other?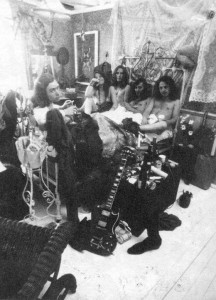 My friend Dario Da Rold looking at my anatomy book. Dario has a keen appreciation for the subleties of the human body. He's Italian. Matter of fact, Dario comes from Belluno, a town that is very near to Vicenza, where we will play on 27 October 2010. I know Dario will be there in spirit.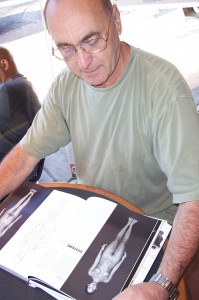 Sam Andrew
Big Brother and the Holding Company
__________________________________________________________