6 March 2011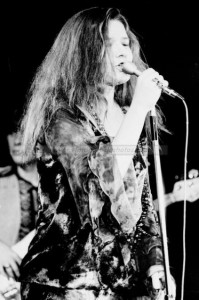 Todd, the owner of George's. He is a cancer survivor. Go, Todd!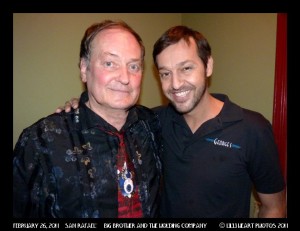 Lynn Asher and Don Bassey. Isn't she beautiful? Don is a bass player, so he has a good name for it. He should have played with Count Basie.
(Rim shot.)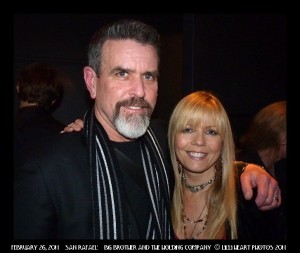 Bananas At Large music store to Marin. They should have people autograph the wall here, the way they did at Manny's in New York.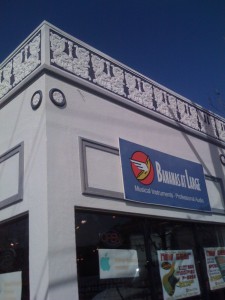 Elise and Dario da Rold who comes from Belluno, Italy, not far from Vicenza. Dario is a chef e il mio professore italiano.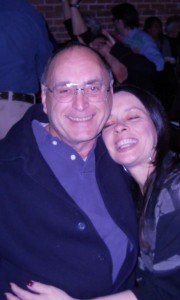 Dario owns this lovely building and he used to have a restaurant Villa Romana on the ground floor. The Grateful Dead came there every day.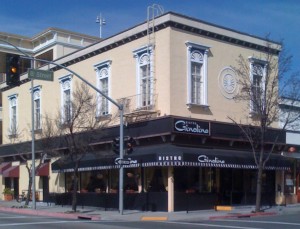 Snooky and Lilli Heart who took many of these excellent photographs.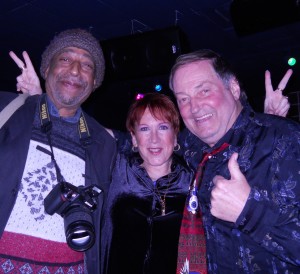 Barbara Sansone, Dave Rodrigues and Steve Sodokoff.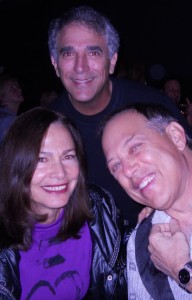 Tamra Engle, Trina Baucom, Etelka Garami, Elise Piliwale. Tonja Salmon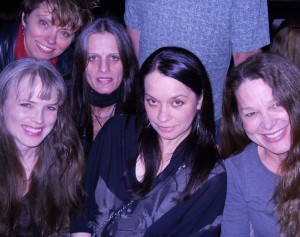 Elizabeth. Isn't she beautiful? She has that Ingrid Bergman beauty.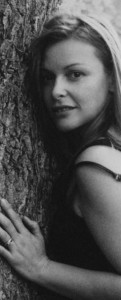 Janis and Dick Cavett who had a crush on her. He used to chase her around the couch. What a guy.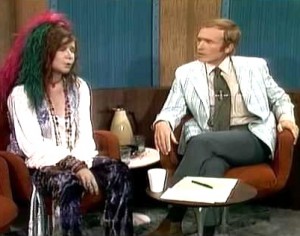 This is what we performers have to put up with. Look what a terrible camera angle this is. These women are beautiful and John Byrne Cooke is handsome but it's difficult to tell that here. Maria Muldauer, Joan Baez and Mimi Fariña.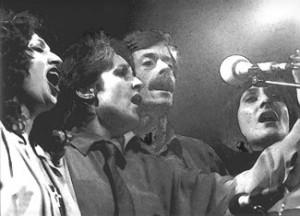 The San Rafael Public Library, one of the many that Andrew Carnegie created around the country. Carnegie was breathtakingly ruthless in his business practices. He ground people into little pieces. Then he retired and tried to do good the rest of his life. I have visited his libraries all over the country and have enjoyed them all so much. Life is complicated.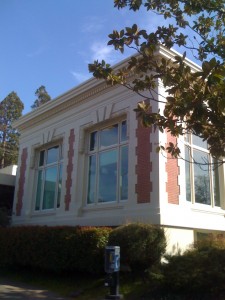 Lilli Heart took this photograph of Terry Fowler and me. James Gurley, Terry Fowler and I shared one woman, not at the same time, I hope. Cheryl Little Deer. Beautiful, confused, alive. Terry was the responsible grown up who picked up the pieces when she died. Terry is a good man and a real friend.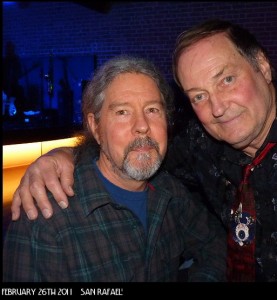 Elise in her Habana de Cuba phase. I will say more about how we are both Island People, but I see it here unexpectedly and delightfully.
Elizabeth at the table. This is some kind of longing for forgotten ancestors here in this photograph that I don't even now how to express.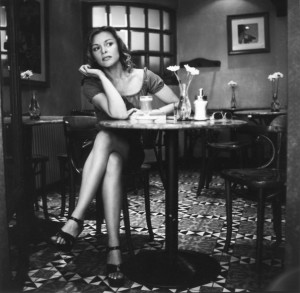 Dave Richards' portrait of Big Brother.

Elise headshot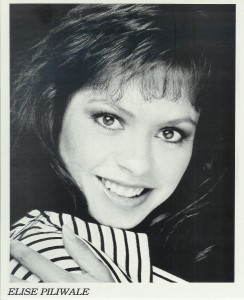 Chad Quist, Tacoma, Washington. Chad was always so talented. I knew him when he was even younger than this, and he had it all together then. All the guitar chops, compositional skills, knowledge, stage presentation, the whole thing. Chad was on top of it.
Senatus Populusque Romanum. LAuren sent me this. This is the way the Romans saw themselves. The Senate and People of Rome. Romans are witty, fast, liable to break out into song at any minute. They still have that pizazz that made them masters of the world once. It's always fun when there's a Roman around. La dolce vita romana.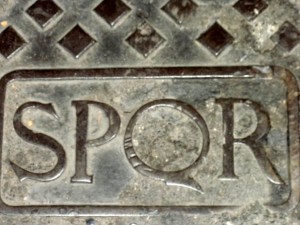 Not sure what a Roman would make of this. This was an inchoate, revolutionary social change in the making. Probably no one could see it who was not seeing it up close. It was messy, unformed, tentative and very beautiful.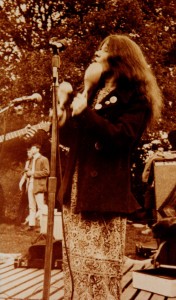 Meanwhile, years later, everything has calmed down, maybe calmed down too much. The Republicans are running everything and they are daily overstepping the bounds of common sense. It won't be long until they self destruct, and so it goes. Elise and Snooky. February 2011.
Ah, did Nature carve such a noble brow?
Or was that Peggy? She knew how.
The eyes recess, the mouth a barrel,
She sculpts with care, with a verve so feral.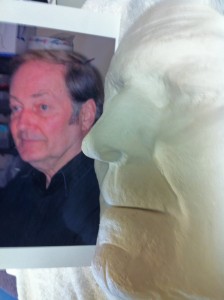 Lester Chambers is an old friend. All of those brothers were so good, amicable. gifted, gentle, happy. Good friends. (Photo: Robert Dries)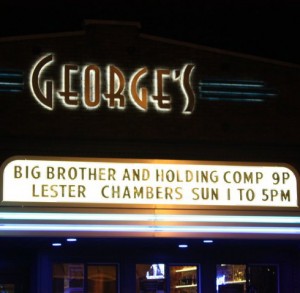 Brad Jenkiins. He added so much to our gig at Geoge's. Played some fine, FINE saxophone, and in general behaved as a gentleman and a wise person. Thank you, Brad, always.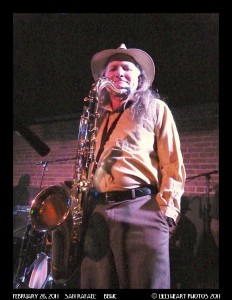 Can you believe how happy and casual Janis looks here? She has on some kind of ribbed top and those silly levis. Long beads and she's happy and on top of it. This is one of her great moments. Sane, really there.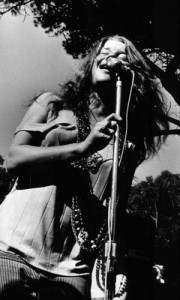 This is a calico kitty and she needs to be reminded every now and then that she CAN be eaten. She is exploring the window by the computer right now even as I write. Elise eats pussy.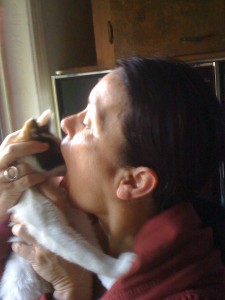 James and I kicking it and happy too.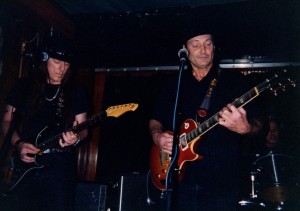 Elise and I are both island people. Significant events in our lives have taken place on islands. I began kindergarten on Okinawa, Japan. Elise was born in the same Honolulu hospital where President Obama was born. We joke that maybe they were even born in the same bed with the same nurse. Hey, that's possible, right? Oh, sorry, I forgot about all you birthers out there, you with your yearnings that the President was born somewhere else. Where was it? Kenya? Idiots. He wasn't born in Kenya, and Mike Huckleberry, or whatever his name is, who recently stated on a Republican talk show that Obama's world view was formed by his upbringing in Kenya is as ignorant as the rest of you. President Obama didn't even visit Kenya until he was in his 20s. He's an Island person too, brought up mainly on Hawaii and then Indonesia.
This is where Elise's father lives. Saipan. It's out in the Philippine Sea, a little to the northeast of Guam. He lives there now. We want to go visit him. He wasn't born in Kenya either.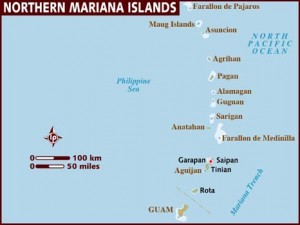 Steve Keyser wears many hats, but this one is very small.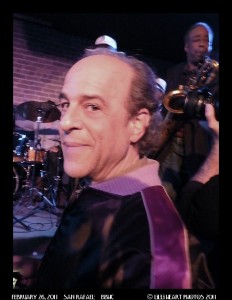 The classical image of Janis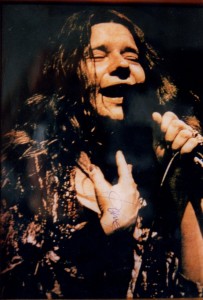 The classical image of Elise.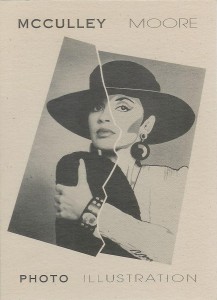 Katharine Boyd. She's MOD.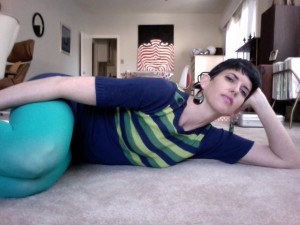 Na'alehu, Hawaii's beautfiul old theatre. We played here one lovely evening.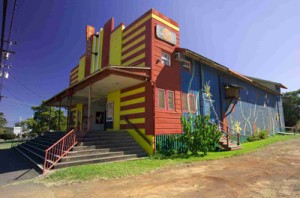 This was typical of the old days. She read the paper, he made the set list.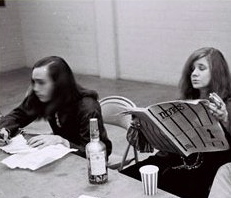 Elise 40th birthday, Baja California. We had such a good time on this trip.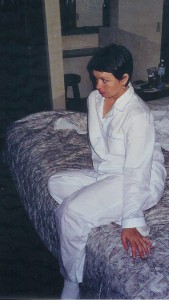 Jerry Miller, red hot, always.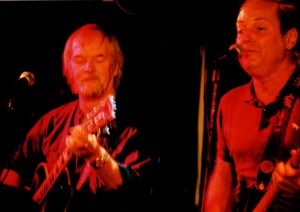 The Gayway. San Francisco. 1939.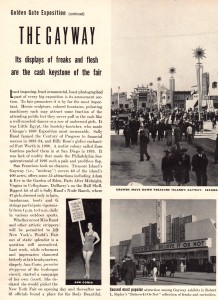 Saipan. Elise and I are island people. We have lived on islands, mostly in the Pacific, although I have lived on the island of Manhattan for the longest time I have lived in one apartment in my life. It was a beautiful life too. The loudest sound I heard in that idyllic Greenwch Village was children playing out in the backyard. I love island living.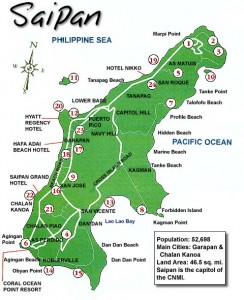 Looks as if Peter is wearing leather pants there.
When I met Elise, these were her friends, mostly artists at the Ringling art school. Sandy Koop, Danielle Glaysher Cobián, Julie Knight, Elise Piliwale and Kathy McNichol.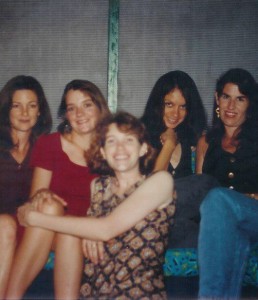 This is what radio interviews look like. A small space, an acoustic guitar. The sound is good and tight. Simple.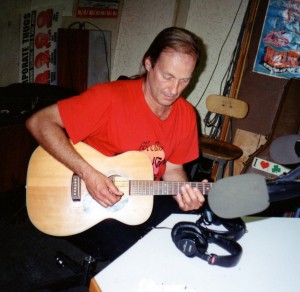 Ry Cooder in Central Park. This is another man who knows islands.

Neurondon and his beautiful daughter Adyson. Don will take the top of your head off. No, I mean literally. He is a neurosurgeon. I asked him once, "How do you do that? What is it like the first time you do it?" And he replied, "Well, it's like you practicing backstage at The Fillmore and then you step onstage. You work up to it." Hmmm. I think there is a slight difference here. I mean, yes, playing Piece of My Heart, for example, is not for the, excuse the expression, fainthearted, but, still, taking someone's skull off and working on what is lying there? And then putting the skull back together? This is a kind of bravery, courage and downright foolhardiness that I can scarcely imagine, and it calls for a boldness and decisiveness that are way beyond the norm. My friend Don. He's a scary guy.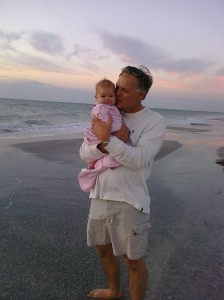 Janis ruminating about THE SET. What songs in what order. At least she has an amanuensis, and I can't believe I just wrote that word.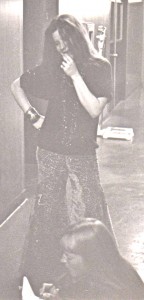 Lilli Heart is taking some really great photographs these days. Her work has a sculptural quality. Everything looks three dimensional. Peter at George's last Saturday night, 26 February 2011.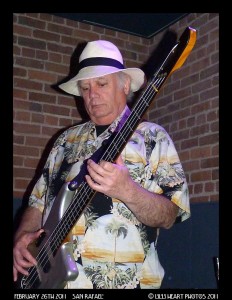 Tom and I, inspired and silly.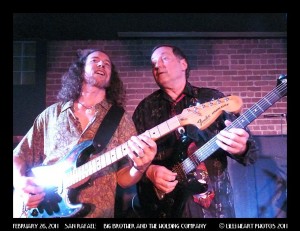 Ben and Sophia. Ben is trying to look up Elise's skirt.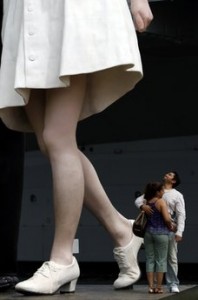 Elise in her modeling days with her cat Murphy and a child.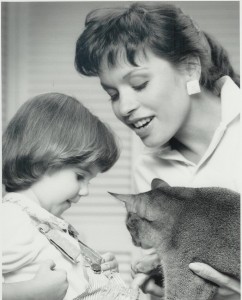 I love this photograph. Unalloyed happiness. Ann Pierson, Karen Lyberger, Peter Albin.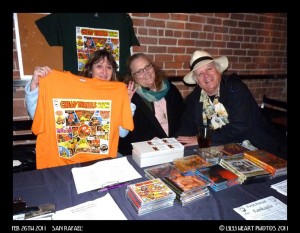 Janis loves George.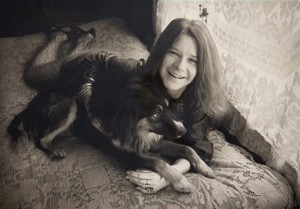 A very typical set of Marin County rocks. There's a lot of serpentine here. Some flint. "Jade," actually chert, some orange carnelian, blue schist. Some granite and basalt. A real mix.
These are all Elise. This is not who she is inside, spiritually, but, hey, that's OK. Photographs can lie and sometimes it's even a good lie.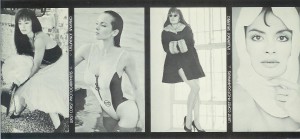 See how much Lynn loves me? She's probably thinking, "Why the hell did he choose Bb for that song? It's WAY too high."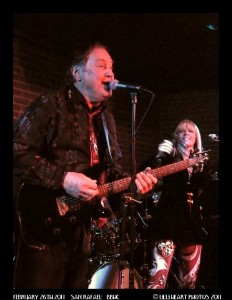 I can't believe how many amplifiers we used then.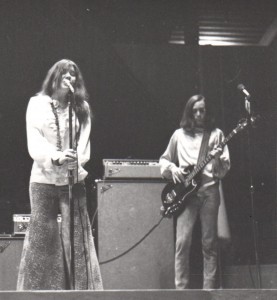 Elise's step mother on Saipan. The Marianas trench just off these islands is the deepest ocean on our planet, so, really, these islands are very, very high mountains.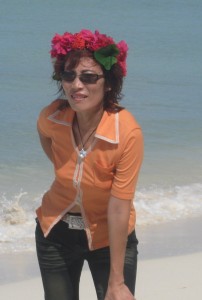 The Sam Andrew Band recording in Sebastopol, California, 1990s. Bill Laymon on bass. Bill Ganaye, guitar. Dave Getz, drums. Ed Earley, trombone.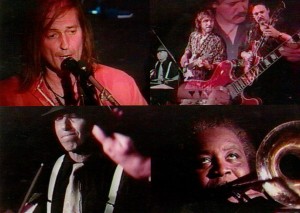 Uh, oh, just about time to go.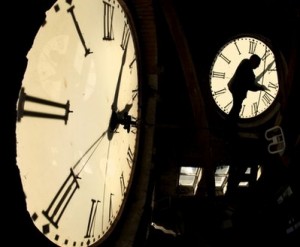 See you next week.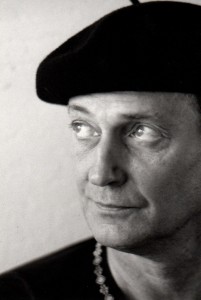 Sam Andrew
Big Brother and the Holding Company
__________________________________________________________