13 November 2011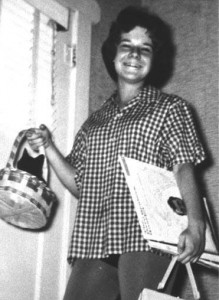 I've occupied Aroma Café for years now. It's a wonderful place.
Photo: Shelley Champine.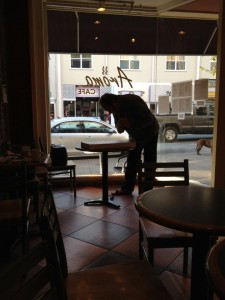 Today we're going to occupy San Francisco.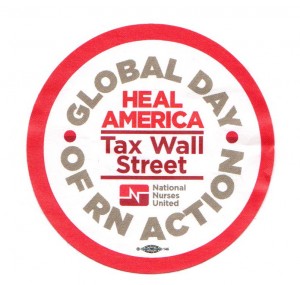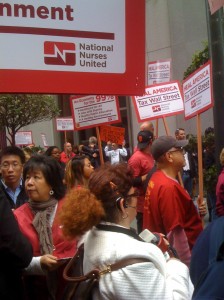 My wife Elise Piliwale is a nurse and she volunteered to Occupy San Francisco, or, actually, the front steps of the Wells Fargo Bank at California and Montgomery, so of course I had to go out of curiosity and, I suppose, empathy.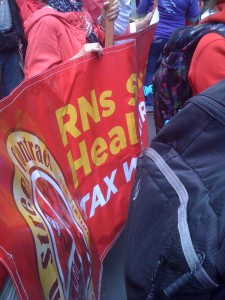 Elise spends many hours of the week at Saint Francis Hospital, 900 Hyde Street, San Francisco. This is one of the Catholic Health Care West hospitals.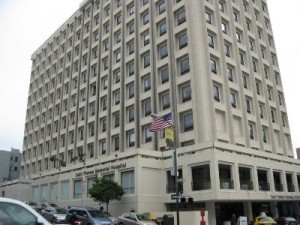 She parks across the street at this garage and then she goes to the tenth floor in the hospital, where she is an oncology nurse.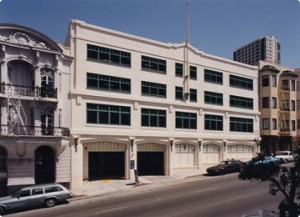 Saint Francis Hospital has a widely varying set of guests. Some of Elise's people are from here.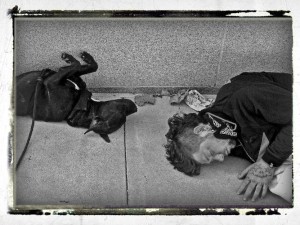 And others, mainly plastic surgery candidates, are from here, Nob Hill, but all have in common that they are very demanding people. Not shy at all about what they want.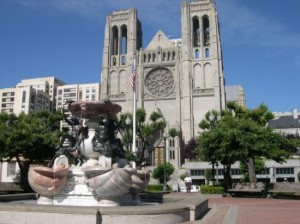 On Thursday 3 November, Elise and I drove to where Market Street meets the Ferry Building and I dropped her off to go and join her fellow protestors at Justin Herman Plaza. I went to park the car, walk down Market Street, and join her. I'm related to Vitales, so of course this hotel caught my eye.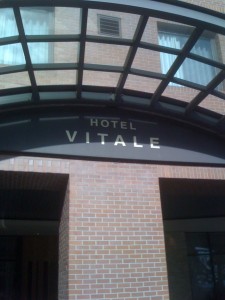 On that walk to meet Elise at the Federal Reserve Bank,101 Market, I thought about a lot of old friends, like Jay Blakesberg and Karen Lyberger.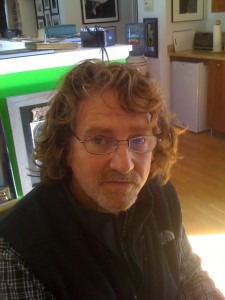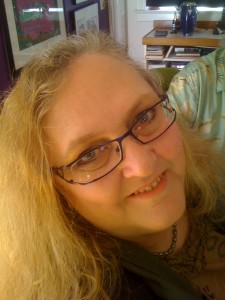 And other old friends too, some of them inanimate but still dear.
This is the Hobart Building, designed by Willis Polk. I used to play guitar on the top floors of this place when I was 18.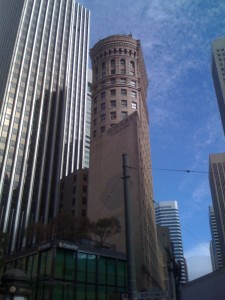 Another old friend, the Mechanics Monument, Market and Battery. Douglas Tilden made this sculpture, commissioned by James Mervyn Donahue in honor of his father Peter Donahue, who created the city's first iron foundry. Oh, if this iron could speak.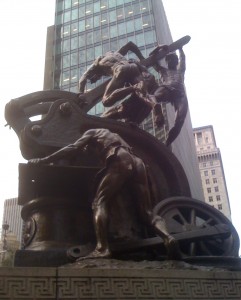 Douglas Tilden, sculptor of this monument, had scarlet fever when he was four. So did I, but I got off easier. Tilden was rendered a deaf mute by the disease. He made many beautiful sculptures all over the City, lovely work, energetic, well done.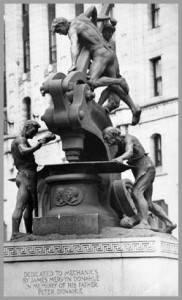 When this Mechanics Monument was installed, all of the narrow minded people of the day decided that the mechanics needed trousers. Ahhh, Republicans. They are so interesting, aren't they? More corrupt than anyone else, yet always demanding a puritanical double standard in public life. Saner forces soon prevailed and the monument exists today as Tilden made it.

I remember this building from walking by her when I was 20, and she is a real survivor. One of her walls was built when the 1906 earthquake happened, and it survived the shake. Then, the engineers dynamited that wall to try to create a fire barrier to save the Palace Hotel. Uh, uh, she wasn't going. The wall withstood the explosives. So, they built the rest of the Monadnock around that wall and here she is today, watching Occupy San Francisco. She will probably survive that too.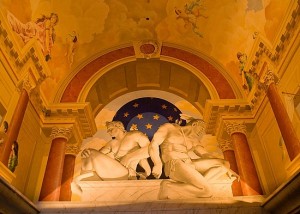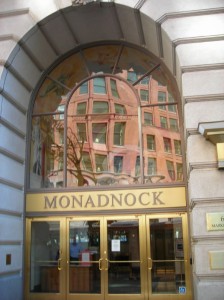 I walked past the Matson Building at 245 Market Street. Clad in glazed tan terra cotta with green accents, she is a beauty. There are a lot of nautical images that relate to the Matson Steamship lines, seashells, fish, anchors and steamships. Ionic capitals outlined by ropes. This is another old lady from San Francisco.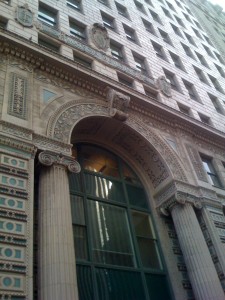 I finally reach the trysting place with Elise, and everyone is here… everyone but Elise.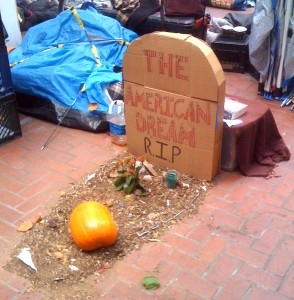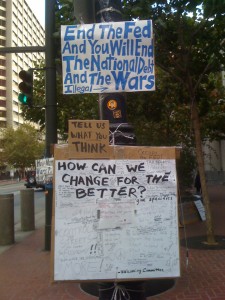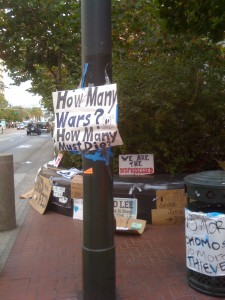 "Where are the nurses?" I asked someone at The Federal Reserve Bank. "Oh, they marched up California Street," she said. "I think they're at Wells Fargo."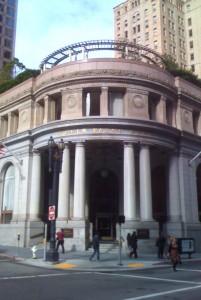 I crossed Market and started walking west up the California Street hill.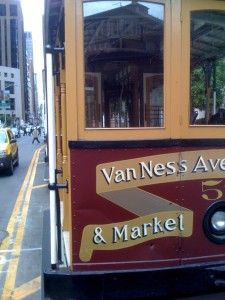 It seems as if every block in San Francisco tells me something about my life in this City. One of my attorneys once had an office on California. i used to come and ask him if I could just look at my money for a second. He usually let me.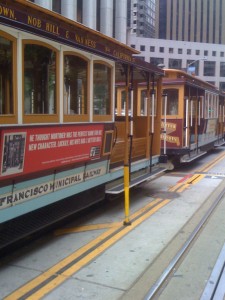 I pass Leidesdorff Alley and think of William Leidesdorff (1810-1848) San Francisco's most prominent early Black citizen. He built a warehouse here at California and Leidesdorff, which was once, hard to believe now, the waterfront. William Leidesdorff was flamboyant, alive, he was only 38. He crowded a lot into that short life. Imagine all the sounds and sights that he experienced in that early San Francisco in this very alley.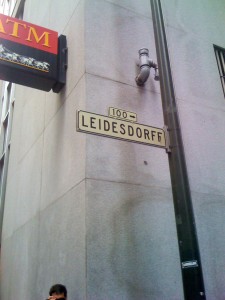 William Leidesdorff served as U.S. Vice Consul during the Mexican rule of San Francisco, and also as city treasurer, councilman and member of the school committee. He is buried at Mission Dolores.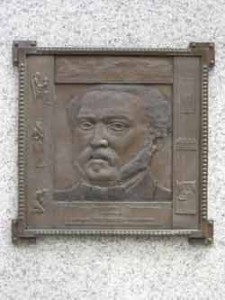 I walked half a block farther west up California Street and there was a crowd of nurses and Elise's bright shining face in the center of them.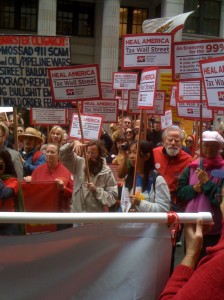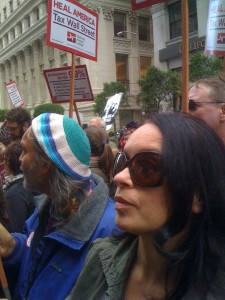 I walk around the crowd to find her and there is Bob King old friend from Aroma Café there with her. Hey, it's a party.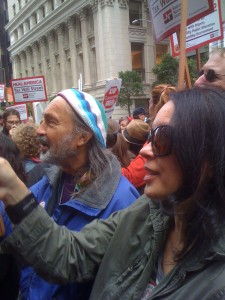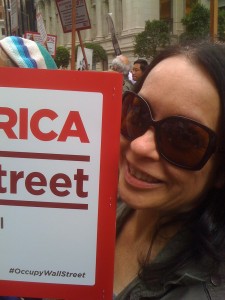 Elise and Bob and a lot of other people are yelling things like this.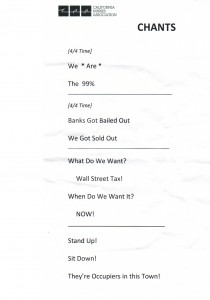 There are speakers at this rally, some quite good, all interesting.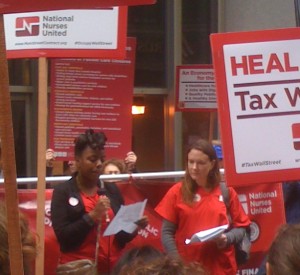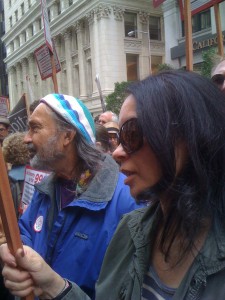 Everyone says, "What do they want, what do they want?" Well, here are a few things they want… some trivial, some essential, some silly, some long, long overdue.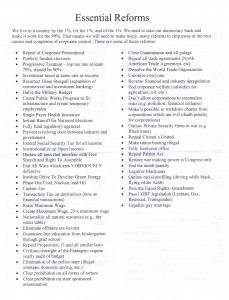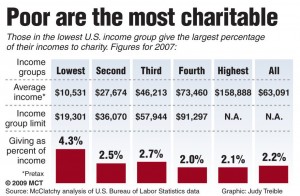 This is Jon Mill who organized the protest, Saint Francis Hospital division.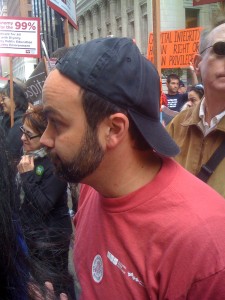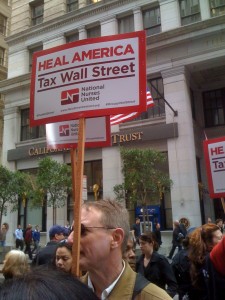 The weather cooperated. In fact, very soon after this was over, the heavens opened and poured down a gentle rain to remind us that god had blessed our cause… or something like that anyway.
Lots of nurses.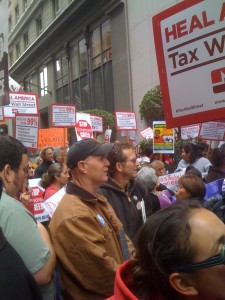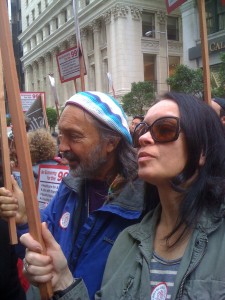 Elise and Bob returning to the starting place, 101 Market Street.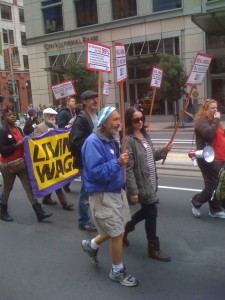 If people are pushed much further, they are going to start voting with their money.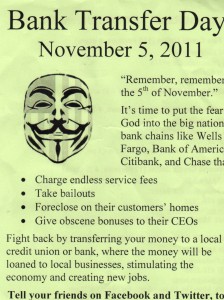 There's the Ferry Building 1896-1898. When I was six, I walked down Market Street, this street, with my parents and I remember this building from then.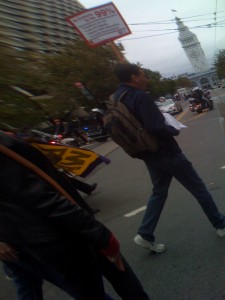 Back at the starting point, Elise sees some old friends and colleagues.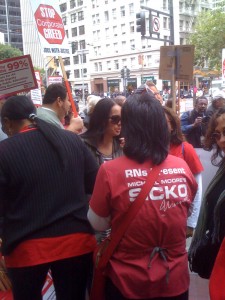 There are many curious similarities to the Tea Party movement, both grass roots, both leaderless, but the adherents of each don't resemble each other at all, in education, dress, anything.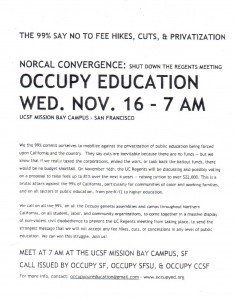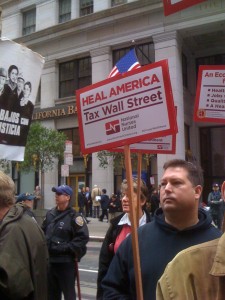 After the party was over, we drove to the Embarcadero and waved goodbye to the Bay Bridge, who is having her 75th birthday this week.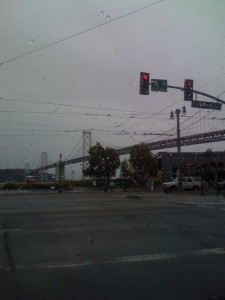 Around the top of San Francisco to get on The Golden Gate Bridge.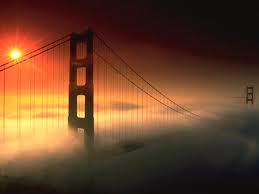 Through the rainbow and into Marin County.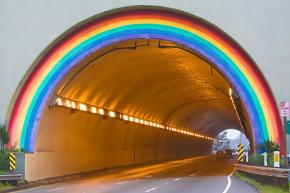 There's Sausalito. Yes, we're on our way home.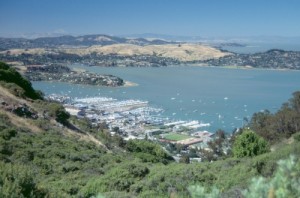 We leave Highway 101 at San Rafael, and get on Third Street which will change into Sir Francis Drake and take us the ten miles to our house.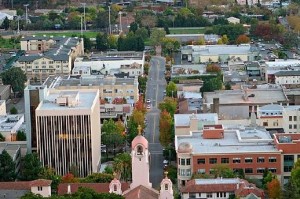 After we pass Fairfax, we get into San Geronimo Valley and see Flanders Farm off to the right.
Now we're home.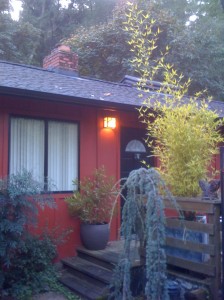 That was an interesting day.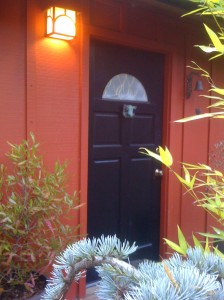 I'll see you next week.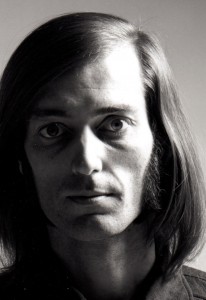 Sam Andrew

Big Brother and the Holding Company
__________________________________________________________