26 September 2010
We fetched up here at The Hotel Arizona, and it was only when I arrived in my room that I realized I had lived here for six weeks when I did Love, Janis in Tucson three or four years ago. It felt as if I was back home again.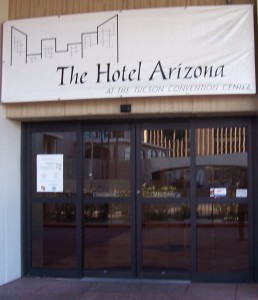 Donna Patterson, bright, cheerful, patient, comes from Paradise, I kid you not.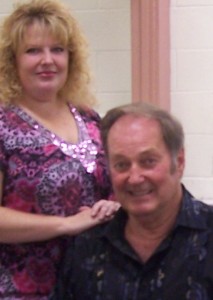 I'm doing a portrait of Ben Nieves right now, in a rather more cheerful aspect than appears here. I show him seeing visions of people and horses. This guy likes to noodle on the guitar a lot. Oh, yes.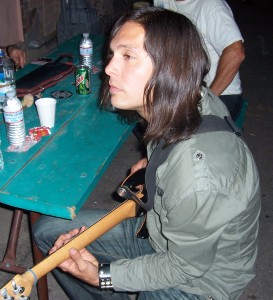 Ben is a horse person, so I am going to steal some of these equine beings to be in Spin of the Sun which is the title of the Nieves portrait. Do I have to add that no less a deity than Pablo Picasso said, "Good artists borrow, great artists steal." A maxim I live by anyway.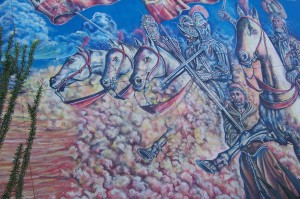 OK, here I am lecturing again. That looks like Janis on the mic there, but I look as if I am living in the 1990s, so I am totally confused (situation normal). That should be James next to me, but it looks more like Chad Quist, which would fit in with the whole 90s scenario. My favorite question is: What was Janis Joplin really like?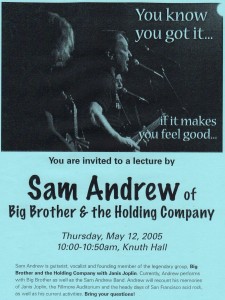 See what I mean about Tucson? The colors are intoxicating. It's that Mexican influence.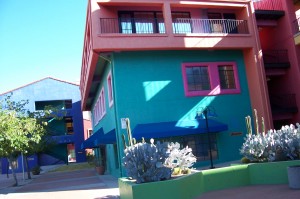 Now, i ask you, who would walk into this store and buy that wig?
Funny sound? Oh, yes.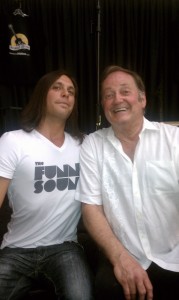 EL GUERO CANELO
Stefanie Keys was kind enough to accompany me to this restaurant. I have a friend Stephen Pringle in San Rafael, California, whom I call "Güero" (honky) or "Vato" (guy), so I need to show him that, among other things, this word "Güero" really exists. I THINK that "El Güero Canelo" means something like Strawberry Blonde. (It actually means "cinnamon blonde," but since we don't say that, I am going with a looser translation.) Good food. Kind people.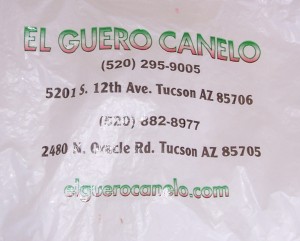 That's a real sky in the background, not PhotoShopped or anything. We are talking naked, stark landscape here. Everything is so vivid.
This is Elise's home town, so we had to brag a lot.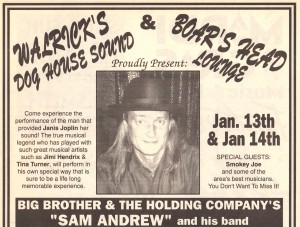 This reminds me that we did an unplugged show at a health foods store/music emporium in Tucson. Dave played on the cajon ("testicle," actually the word means "big box," which is almost as interesting) and we all could hear each other. Stefanie said, "Wow, I didn't realize that you guys were playing all that stuff." Best sound check ever.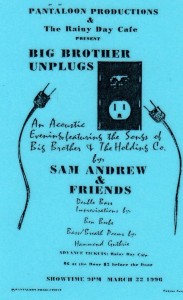 Linda Gravenites. Virgo. Super Talent. True Artist. Big Laugh. Real Friend.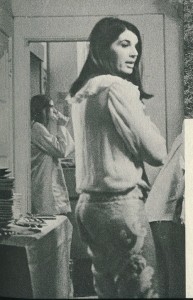 At a laundromat in Zwickau, Germany, playing left handed. God, I'm so talented. Elise took this photo while we were waiting for our 33 minute wash.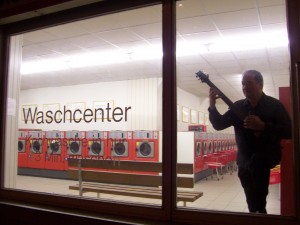 At The Trident. Isn't it jewellike? What a gorgeous place. I love you all, but I bet you knew that already.

Sam Andrew
Big Brother And The Holding Company