15 January 2012
We have black bamboo in our yard, and Elise took some to her friend Yukiko Neibert who specializes in ikebana. Yukiko created this beautiful work of art using our bamboo.
Yukiko's floral design studio is in Kentfield, California.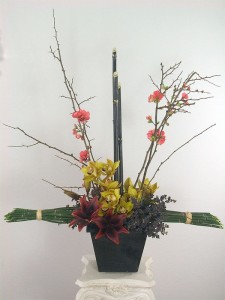 Big Brother and the Holding Company played in Minden, Nevada, on Friday 13 January 2012.
(Minden, oil on panel, work in progress)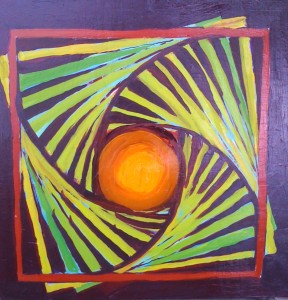 Minden, Nevada, is 4,721 feet high. You can always feel that elevation when you try to sing a high note. It can be difficult to get enough air.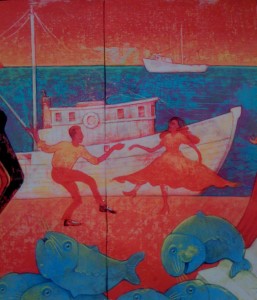 Two thousand, eight hundred and thirty six people live in Minden, which is named after a town in North Rhine-Westphalia.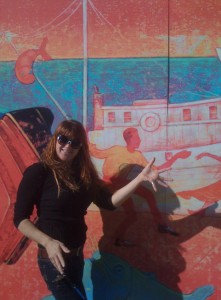 This is one of the top spots in the world for non powered flight. Buoyed by thermals, gliders have sailed here for a thousand miles. You can see why. Minden is in the Carson Valley between two rather ambitious sets of mountains.
The Minden Inn was a favored hangout for people like Jean Harlow and Clark Gable.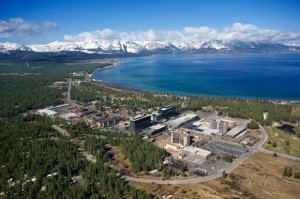 The best way to get to Minden is to take Highway 50, at Sacramento, around the bottom of Lake Tahoe. It is really a beaufiful way to go. Some years past, Elise and I drove to Salt Lake City using this same route. It's the high desert and is most interesting.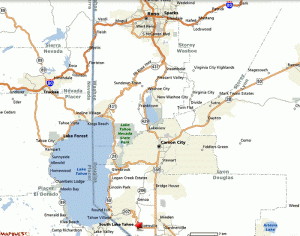 This is the Carson Valley Improvement Club where we played. A very interesting place, part community center, part theatre, and all fun.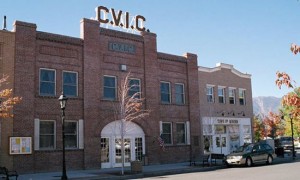 When Stefanie and I arrived in Minden, Karen Lyberger and Peter Albin were regaling the crowd with true, very detailed accountrs of the counterculture in San Francisco, 1965-1970.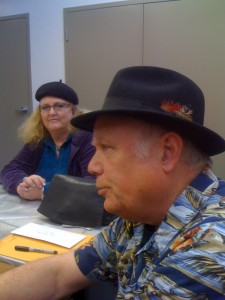 So we sat down and told some lies too. Never let the facts get in the way of a good story. Somebody said that.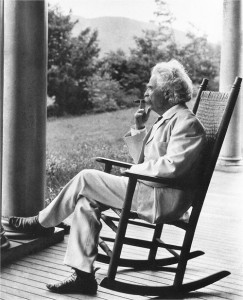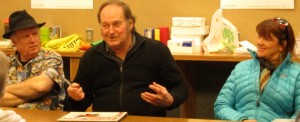 Then, Donna Patterson took Stefanie and me to a magic place for another interview.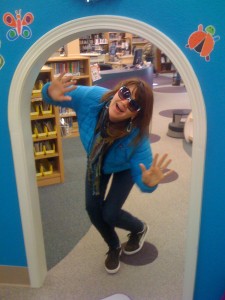 Donna set up the camera and Stefanie interviewd me about Big Brother's 1968 performance at The Carousel Ballroom, which Owlsey Stanley recorded.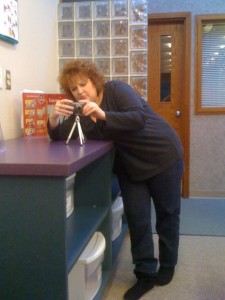 In March 2012, SONY is going to release the concert that Owsley recorded, and they wanted us to talk about him and the Carousel.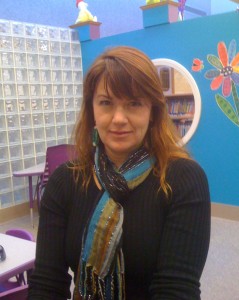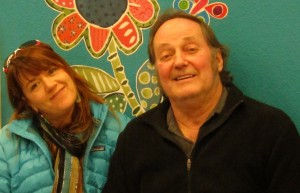 Becky Soderman was there in that Douglas County Library setting, and her intelligence and forthrightness were most welcome.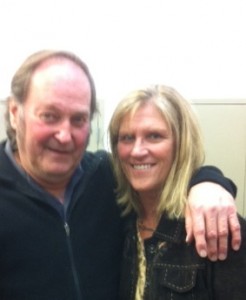 We had a good gig that night. We played Down On Me, Combination of the Two, I Need A Man To Love, Save Your Love, Call On Me, Blindman, Summertime, Bo's Bio, Turtle Blues, Bobby McGee,
It's Cool, Hold Me, Women Is Losers, Piece of My Heart and Ball & Chain.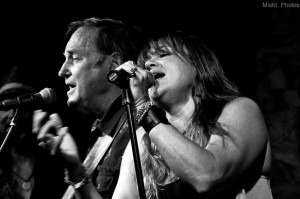 Or… as we put it in Big Brother shorthand: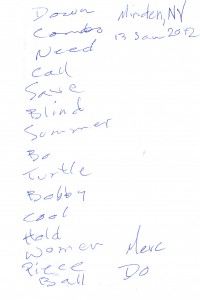 Stefanie loaned me her Mesa amplifier (again). I love it. I have to get one. Well, I already have a (very heavy) Mesa Boogie, but it is nowhere near as good as Stefanie's.
Stefanie could be a star.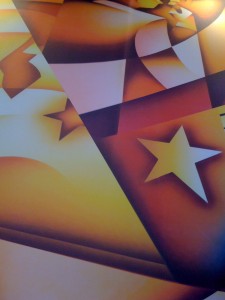 On our last day in Minden, Stefanie needed to see some friends who had just had a baby, Ramses. She left me at a Century Mall, or something like that. There were some VERY interesting people here.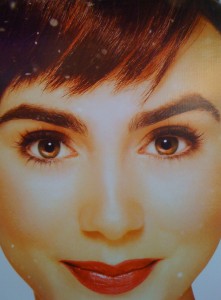 And even horses.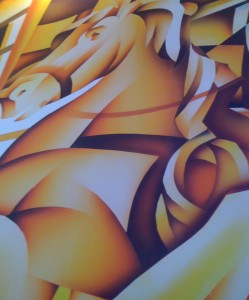 The Farns: John Farnsworth, always a funny, fey, fantastic, formidable personage. I wish he could have been in Minden with us.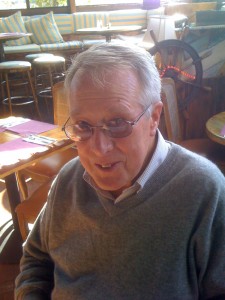 I went to see the film Joyful Noise.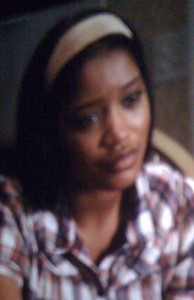 Joyful Noise was all gospel music.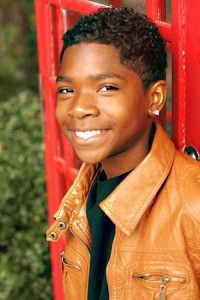 Now, you know this music is always going to open your heart and inspire your mind… and that's putting it mildly.
Keke is such a great singer, and she is a beautiful woman.
I loved this film. The plot line is somewhat conventional, but, the music? The singing? Beyond belief. Just so good and so revealing of the divine truth of music.
This was a bit of a Juliet and Romeo story. Jeremy Jordan, who once was the understudy for Rock of Ages, a musical in which my friend Joel Hoekstra excels, is a good vocalist with a real feel.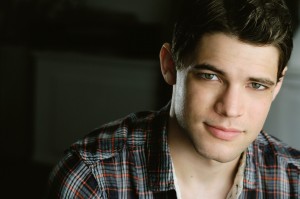 So, now Stefanie comes to pick me up at the cinema, and we leave for home.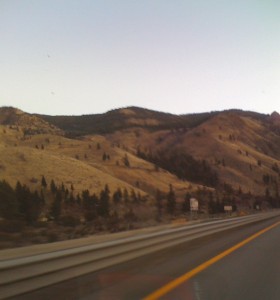 West on highway 80 out of Reno.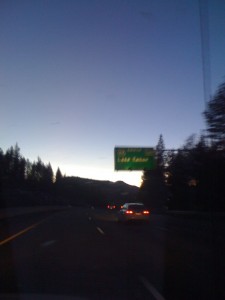 Sitting in the dark night, heading home.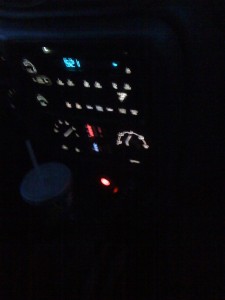 Traveling can be educational.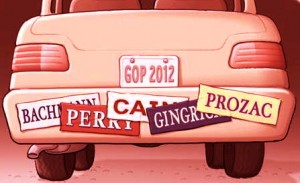 We reach Donner Summit, a place where people truly suffered not so long ago.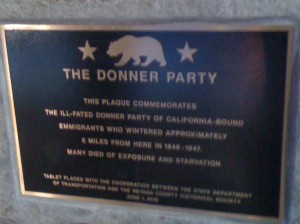 I have traveled this way, a guitar and a bag, since I was eighteen.
I'm so relieved. See you next week?
Sam Andrew

Big Brother and the Holding Company
_____________________________________________________________________________________