28 August 2011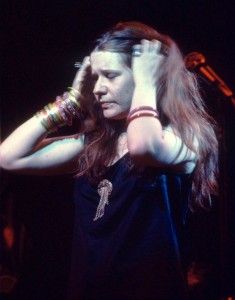 Don Aters took this one.
And Max Clarke took this one: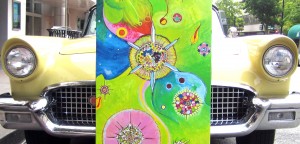 Sam Andrew, Sophia Ramos in Arlington, Washington. (Photo: Howard DeNike)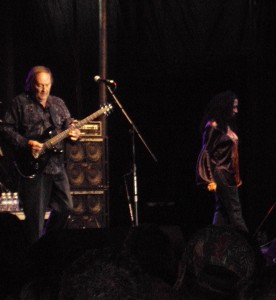 In la Città della Pieve with Szilvia and Veronica e i suoi amici.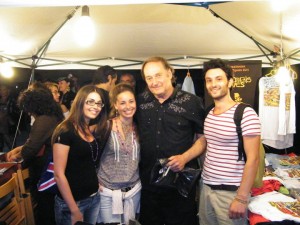 Crossing your arms will make you less apt to be approached. (Photo: Don Aters)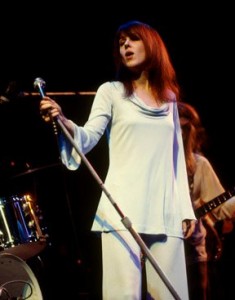 Albert King opening for The Kozmic Blues Band at Fillmore East. Don Aters took these photographs too.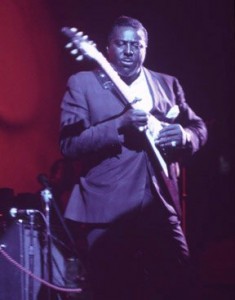 No new animals have been domesticated in the last 4,000 years.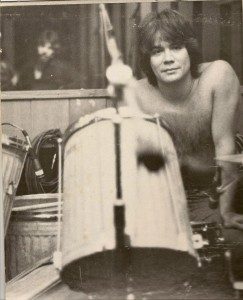 Peggy Pettigrew Smith's glass sculpture, soon to be completed.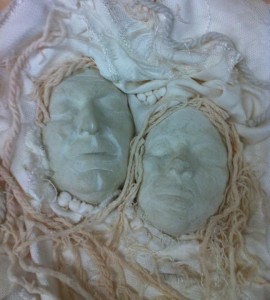 Sholem Aleichem was a great Yiddish writer, maybe THE Yiddish writer. I read his stories in German, very close to Yiddish, when I was young. Here he is with his grandaughter Bel Kaufman. Bel wrote a 3 1/2 page short story called Up The Down Staircase, and she was encouraged by her publisher to expand it to novel size. The story was made into a film starring Sandy Dennis and TIME called Up The Down Staircase "the most popular novel about US public schools in history." Hmmm, well, OK, I wonder about Salinger, but we'll let that stand. It's a very good narrative. A Separate Peace?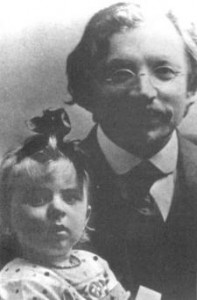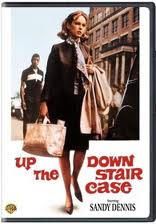 Clark Walker's depiction of la Marilyn and the boys of Habana.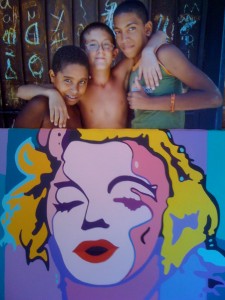 Arianna Antinori in l'Aquila.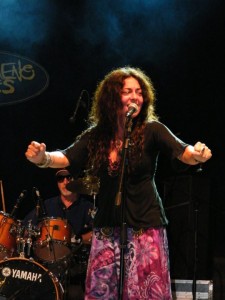 Sam Andrew Band at The Last Day Saloon, Clement Street, San Francisco. Peter Tork takes a solo.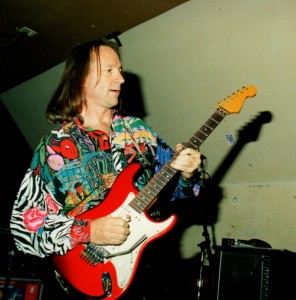 The fat molecules in goat's milk are five times smaller than those in cow's milk.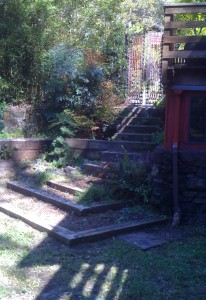 Three very kind people: Baron Wolman, Victoria Smith and Robert Altman.
Great shot of B.B. King by Don Aters.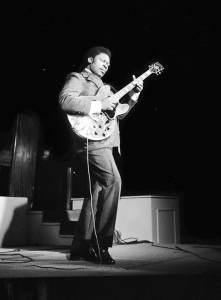 This explains a lot:
The farthest point from any ocean is in China.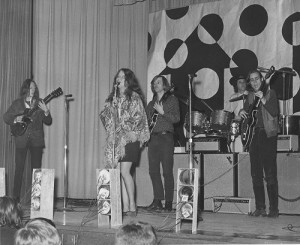 Dennis Nolan drew this beautiful Big Brother poster.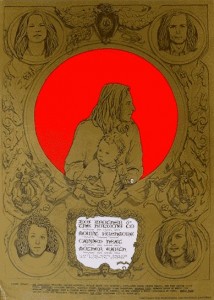 I played with two of these bands this day. Big Brother and Moby Grape.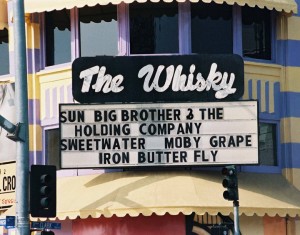 The effusive, fuchsia Janis Joplin photographed by Don Aters.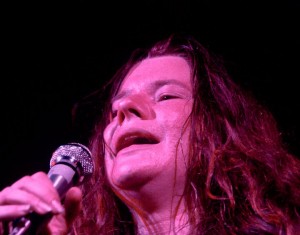 Carl Peachman and friend in the wilds of New Jersey.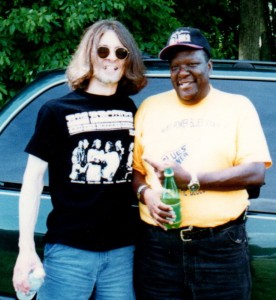 Spoonerism:
The cat popped on its drawers.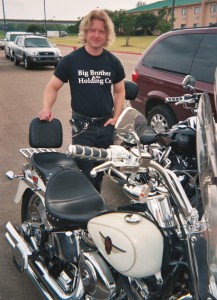 Iguanas, koalas and Komodo dragons all have two penises.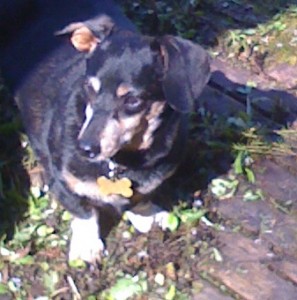 Aircraft carriers get six inches to the gallon.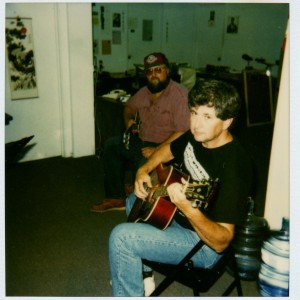 Isaac Asimov is the only author to have a book in every Dewey decimal category.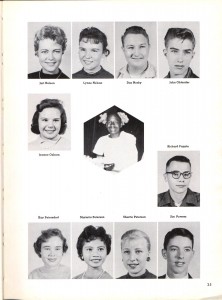 Should this happen, I am sure that i will have enough presence of mind to remember this:
To escape the grip of a crocodile's jaws, push your thumbs into its eyeballs. It will let you go instantly.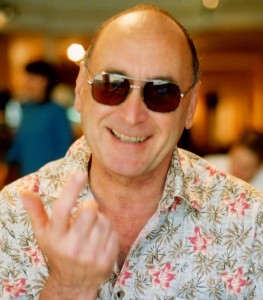 Dava… sitting in Aroma Café.
Elvin Bishop, Carmen and Don Wehr.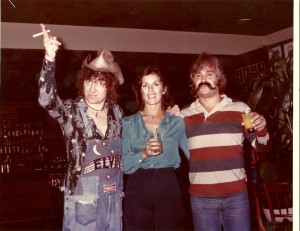 Cum Tacet Clamat (His Silence Is A Scream) Photo: Max Clarke.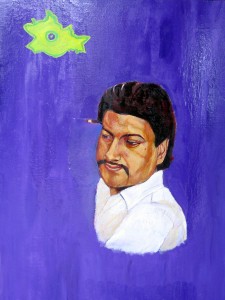 And they also keep people away, or maybe vampires anyway. Oh, wait, no, that's garlic which is as good as ten mothers, according to Les Blank, or maybe even eleven mothers:
Onions are low in calories and a good source of vitamin C, calcium, potassium and fiber. They also help circulation.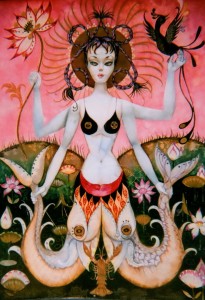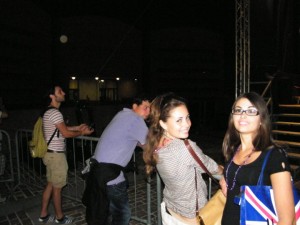 Eugene Skuratowicz has managed Canned Heat, John Lee Hooker, Zero and Sam Andrew.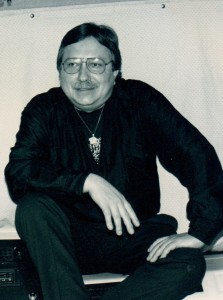 Using cedar shoe trees will increase the life of your shoes by fifty per cent.
Ezio Guaitamachi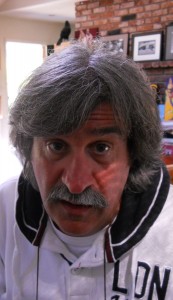 A great Robert Altman photograph of two San Francisco characters:
George Michalski and Chet Helms. That wouldn't be a check in George's hands, would it?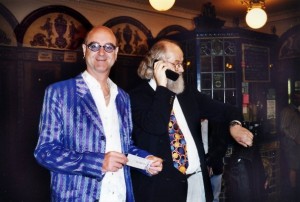 Left handed ex paratrooper. Photo: Don Aters.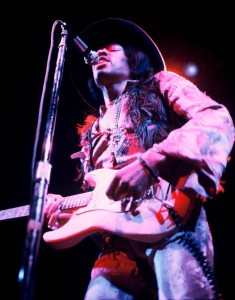 Almonds are a member of the peach family. They are the oldest, most widely cultivated and extensively used nuts in the world.

Kat Patterson, midair.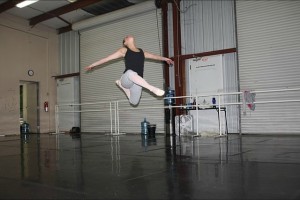 Before he wrote Bobby McGee. Even before he met my brother Lee, and WAY before he met me or Janis Joplin.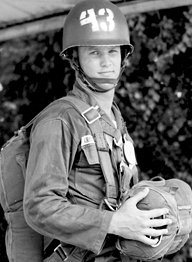 With Laura Joplin, Austin.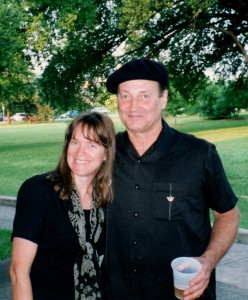 Lisa Mills, Peter Albin, Marty Balin, Elise Piliwale and Sam Andrew.

John Wayne and Ronald Reagan were draft dodgers in World War II, but Kirk Douglas was a lieutenant in the U.S. Navy and saw action in the Pacific before internal injuries suffered in combat led to an early discharge. Actions speak louder than words.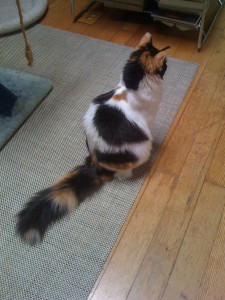 My parents with my sister Lillian's daughter Emily Bullis Rollins.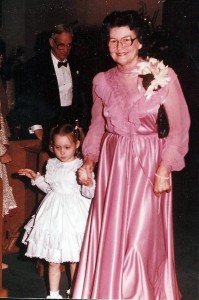 Working on Death Shall Have No Dominion.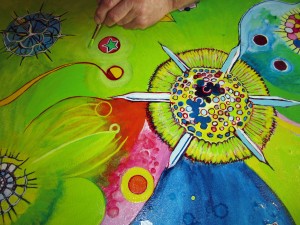 Some of the Love, Janis people in Arizona. I see Sophia Ramos, Jim Wall and Joel Hoekstra.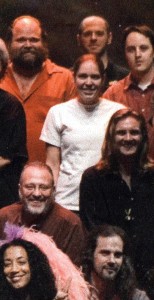 In 2003, we did a show in Central Park with fifteen or so women all doing Janis Joplin songs, and to back them up were members of Big Brother and the Holding Company and the Kozmic Blues Band. Here are Maury Baker, drums, and Brad Campbell, bass, from the Kozmic Blues Band with a Danish singer.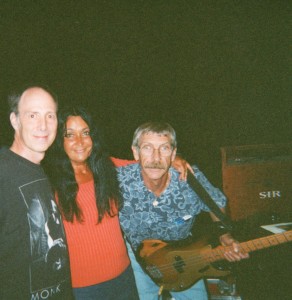 Somehow the foreground of this photograph is so much more interesting than the background.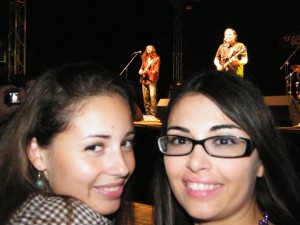 Mary Bridget Davies' father had a band in Cleveland. He is second from the right.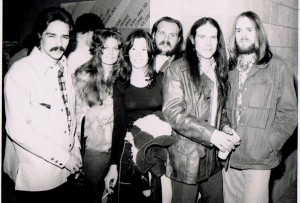 My friend Michael J. Fox is a public defender in San Francisco and a helluva nice guy.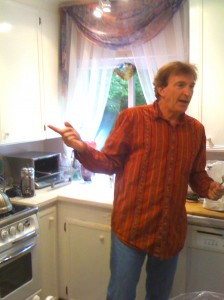 Robert Altman captured Mickey Hart really looking like Mickey Hart.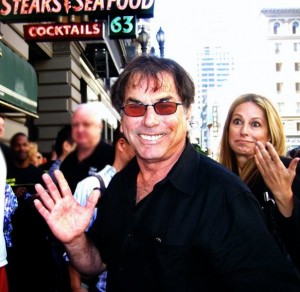 Scientists say that hydrogen is the most common atom in the universe.
Frank Zappa says that stupidity is more common and who can gainsay that?
Andrea e Veronica.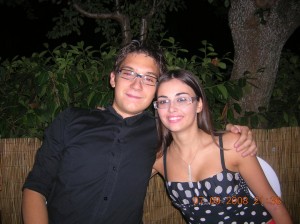 Mary Wallace and Peter Levi early one morning at Aroma Café.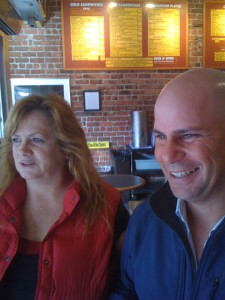 Peter Tork setting up for a gig with The Sam Andrew Band.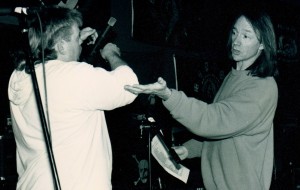 I've known Vesper since she was in the womb. She's going to be the mayor of San Rafael one of these days. This is her first date. (Photo: Max Clarke)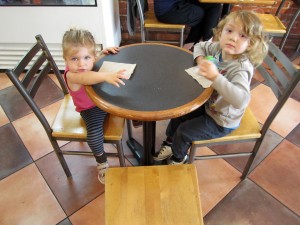 Peanuts are cholesterol free, and they are one of the ingredients in dynamite. It takes more than five hundred peanuts to make one twelve ounce jar of peanut butter.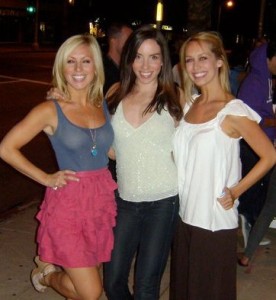 Help! A DVD almost as big as a car! (Photo: Max Clarke)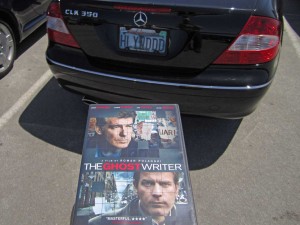 I must have been in a funny mood that day.
Rich Saputo, Topanga Canyon. Rich is a fine photographer and a great human being.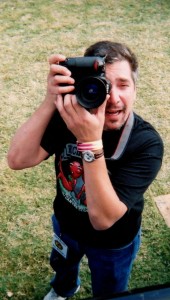 Kate Russo's friend.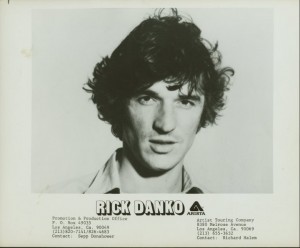 The only real food U.S. astronuts are allowed in space are pecan nuts. This wouldn't be because they train in Houston, would it? Lots of pecan nuts around Houston. What real food can Russian astronauts eat in space? I bet it isn't pecan nuts. Maybe it's something that is found plentifully around Moscow? Some kind of liquid, perhaps?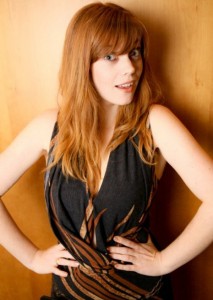 Is this a great photograph of Tom Finch or what?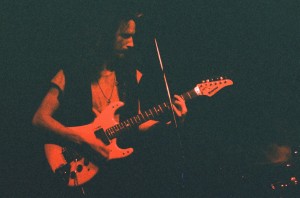 Eggplant is a member of the thistle family, keep in mind. "Aubergine" is the word in French and German and it's "melanzana" in Italian, rather more graceful names for the vegetable. Of course, you could always call it a purple penis plant, but that might not work for the marketing department.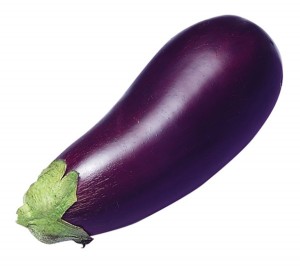 Janis Joplin and John Till.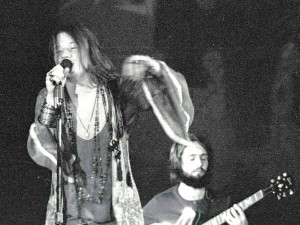 And this was my family on Okinawa, Japan. Alfred Rogers (second from left, bottom row) was a talented cartoonist and illustrator. He could do anything, It is revealing to me that he is wearing a bow tie here. I often wonder what became of Mr. Rogers?
Tom Powers (first row, left) had integrity, dignity and a sense of fun, AND he was a fraternal twin of Jim Powers. This is a duality you often meet in life, the one who is the straight A student and does everything by the book, and then the other one, Tom, who had powers derived obviously from the fun side, was perhaps a bit looser and more creative?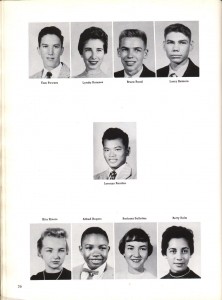 La bella Szilvia.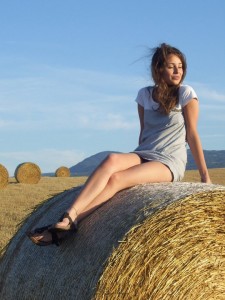 In summer, walnuts get a tan.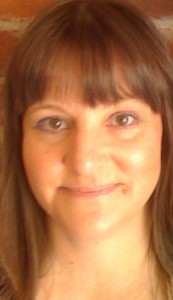 Tristan Avakian, truly good guitar player.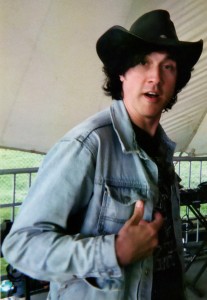 Vinnie and Carmine Appice. Can you imagine playing with your BROTHER in a rock band? There's that, and then when I lived in New York, we didn't say a "Guido," we said a Vinnie, Carmine, Bruno or Pepi. That was our shorthand for really talented guys from Long Island who, let's say, were not ignorant of Past' e Fagiol', a dish that was basically pasta and beans and was delicious and even iconic. Do I love these guys? Oh, yeah.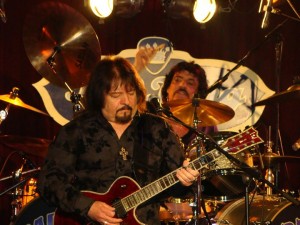 Linda e Szilvia.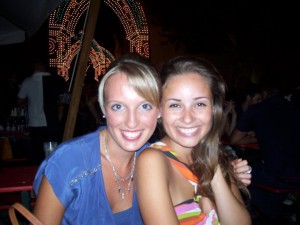 Well, if I make bail, I'll see you next week.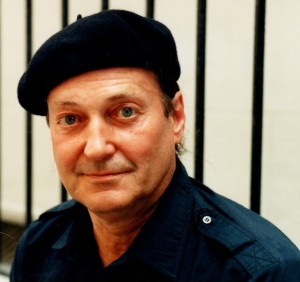 Sam Andrew
Big Brother and the Holding Company
__________________________________________________________