2000 – 2001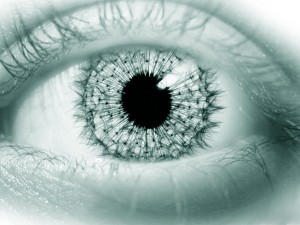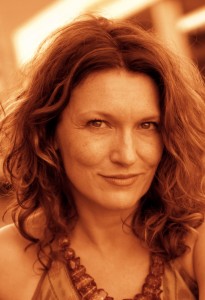 2000-2001 Lisa Mills. You think she looks good, you should hear her sing.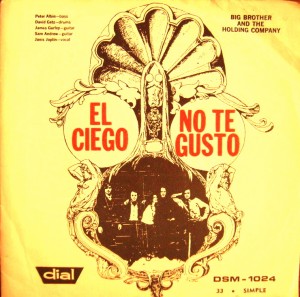 El Ciego is Blindman and No Te Gusto is Down On Me, but that seems like not such a good translation. No Te Gusto means you don't like me, and the song means much more than that. Well, No Te Gusto means I Don't Please You, if you please, but "looks like everybody in the whole round world… DOWN on me" is a whole different kettle of fish. More, kozmic, cosmic, universal… beyond YOU don't like ME. More like the whole damn world don't like me. And stronger than that, is DOWN on me.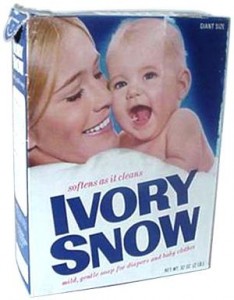 There IS another meaning to Down On Me, as I was to learn with Marilyn Chambers.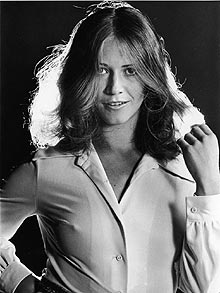 We were going to go on the road together and she asked me to play Down On Me and she was going to sing it. She took the song literally and began acting out the down on me part. That was interesting.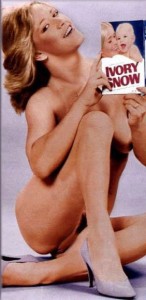 22 January 2000 Six Rivers Brewing Company McKinleyville California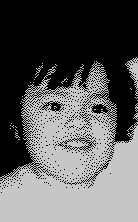 Elise Piliwale in Hawaii, sweet baby.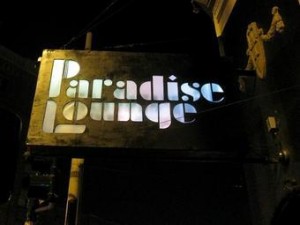 26 January 2000 Paradise Lounge San Francisco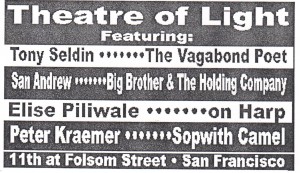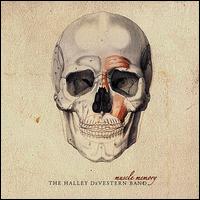 10 February 2000 Halley DeVestern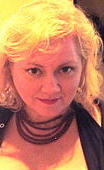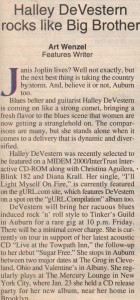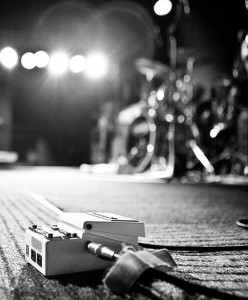 Simone Mo took this photograph of my tuner at the Koko Live Club in Biella Castelletto, Italia.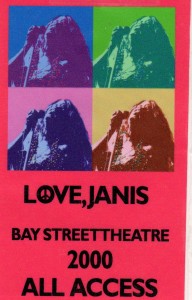 Doing Love, Janis at The Bay Street Theatre Sag Harbor New York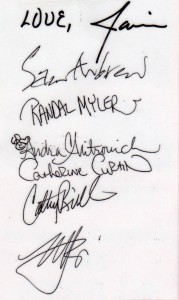 .
Funny writer. I wish I could remember his son and the circumstances.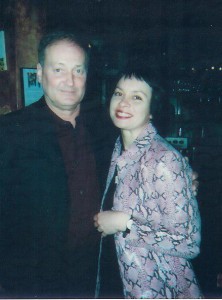 Elise and I. Village Theatre, Love Janis.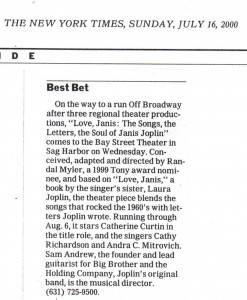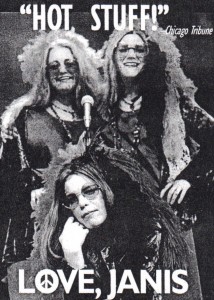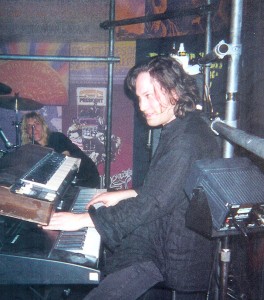 Rob Clores, and there is Joe Stefko in the back.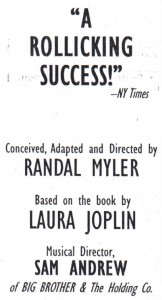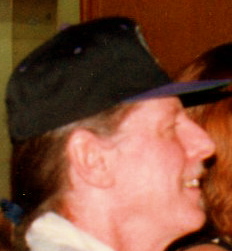 James Gurley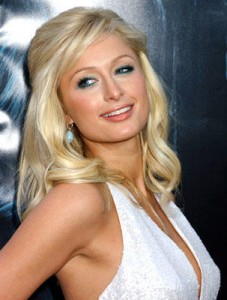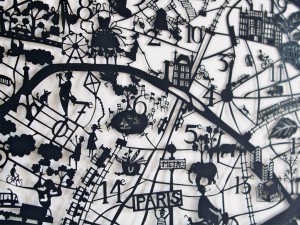 I spent February-March in Paris writing songs and recording with Janice de Rosa and Martyn Ingle.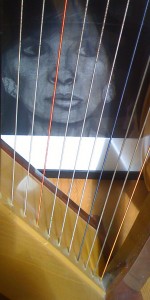 Elise self portrait charcoal and strings.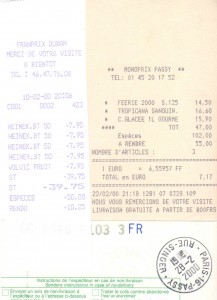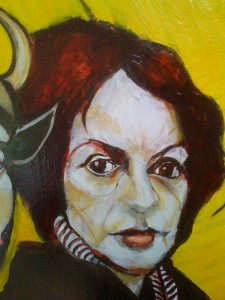 Elise's favorite self portrait.

2 April 2000 Record Convention Pittsburgh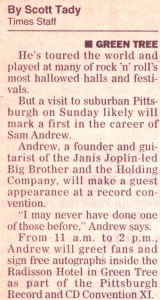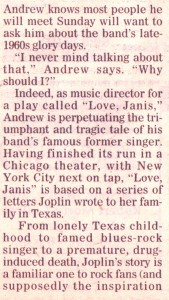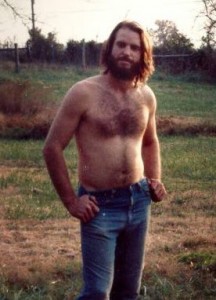 My handsome brother Dan Andrew.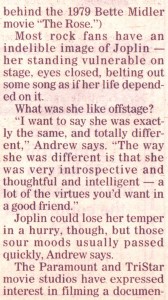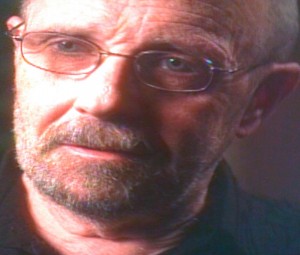 John Till Good guitar player, good man.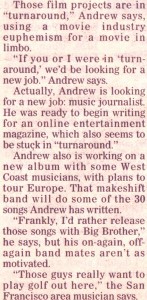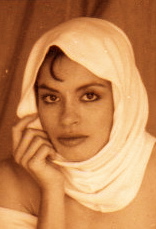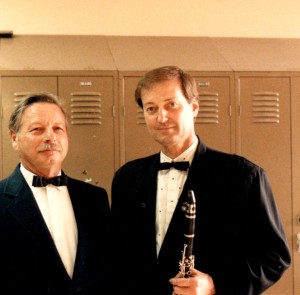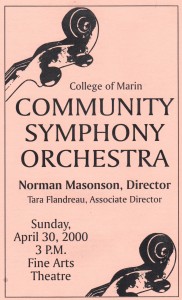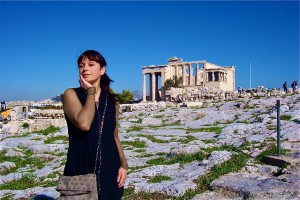 Elise at the Acropolis.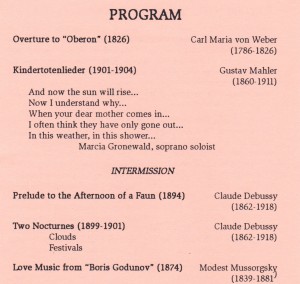 In Austria, I sometimes stay in a town called Klagenfurt where Gustav Mahler had a Komponierhäuschen, a little composing house, on Lake Wörther.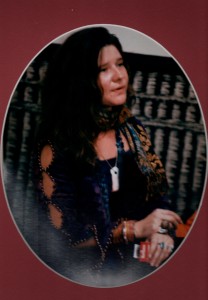 Don Aters took this photograph.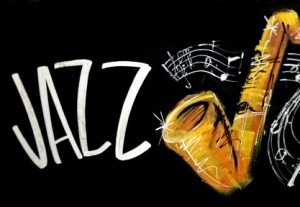 26 May 2000 The Valley Grill Great Valley New York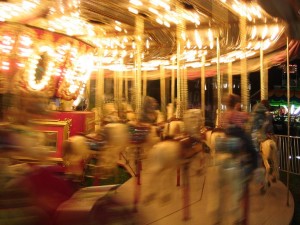 27 May 2000 AM JAM Biker Festival Cobleskill Fairgrounds Cobleskill New York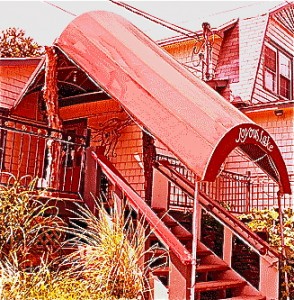 28 May 2000 Joyous Lake Woodstock New York

17 June 2000 Medicine Park Music Hall Medicine Park Oklahoma Lance Dresser

Lisa Mills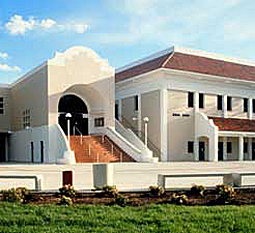 24 June 2000 Cuesta College San Luis Obispo California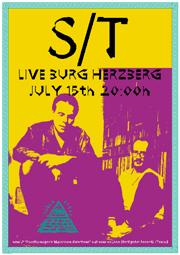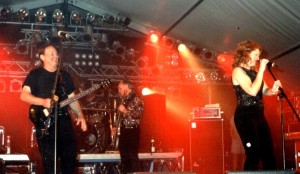 15 July 2000 Burg Herzberg Open Air Festival Hof Hühnstadt Germany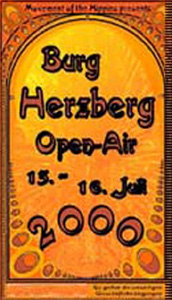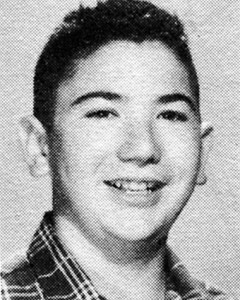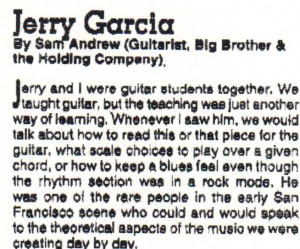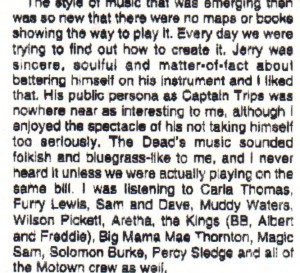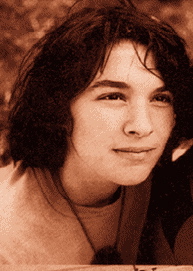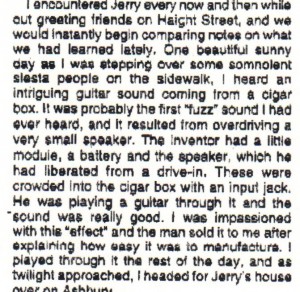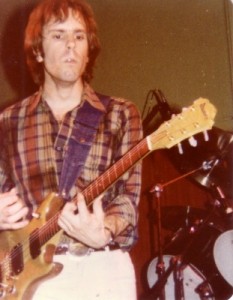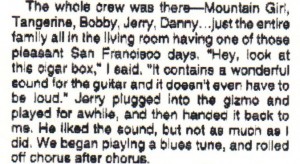 31 July 2000 Writing about Jerry for Relix Magazne.
19 August 2000 Westover Winery Castro Valley California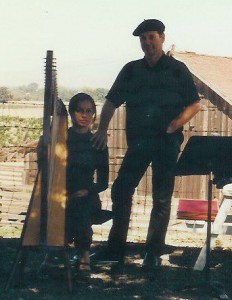 Elise Piliwale Sam Andrew Westover Winery Castro Valley Gig 2000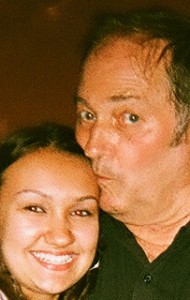 25 August 2000 Kelsey's New Albany Indiana
26 August 2000 Motown Harley Davidson Taylor Michigan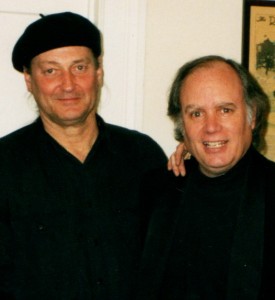 Sam Andrew Peter Albin
29 August 2000 The Combat Zone Toronto Ontario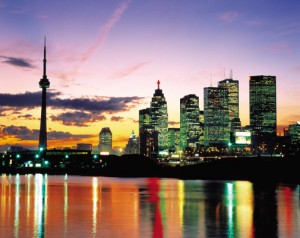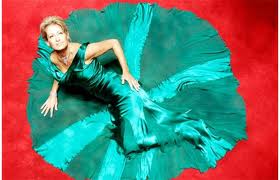 30 August 2000 The Ottawa Bar Windsor Ontario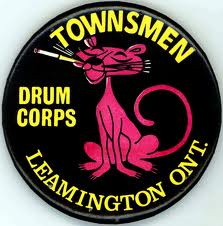 31 August 2000 The Village Inn Leamington Ontario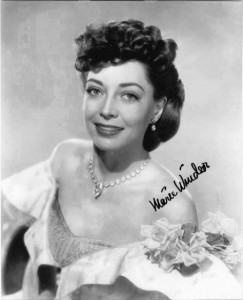 1 September 2000 Classic Fest 2000 Windsor Ontario
2 September 2000 Rockin' Rhythm & Blues Fort Erie Racetrack Ontario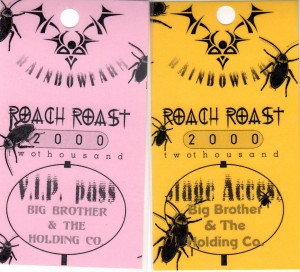 3 September 2000 Roach Roast Festival Rainbow Farm Vandalia Michigan
8 September 2000 State Capital Steps Sacramento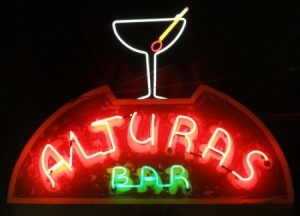 22-23 September 2000 Alturas Night Club Reno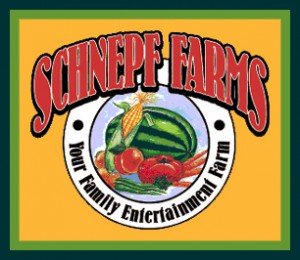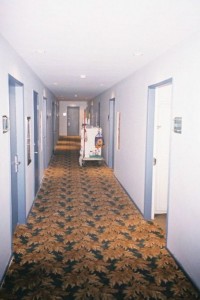 4 October 2000 The Landmark Hotel, hallway to room 105 Los Angeles Photo: Howard Sounes
7 October 2000 Schnepf Farms Festival Site Queen Creek Arizona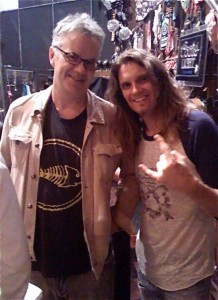 Tim Robbins Joel Hoekstra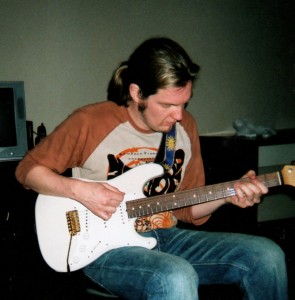 Joel has a large "extra" part in Rock of Ages. He holds his own with Russell Brand in the Strip being destroyed scene, and that is saying something because Russell is very talented and he has the divine spark of energy in him… something that cannot be taught or learned, but is innate. And Joel holds his own. He commands as much attention in that scene as Russell does.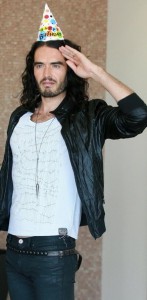 Another Englishman who could be destined for greatness. I hope so anyway. He deserves it.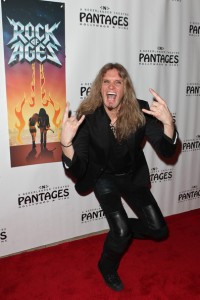 Joel Hoekstra is probably the best guitarist I have ever known. Not the retiring type either. He did it the easy way. He practiced eight hours a day for twenty years. Anybody can do that, right ? OK, let's see you do it. It's time for him to stop doing that hand gesture, though.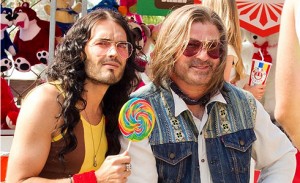 OK, full disclosure. Alec Baldwin and Russell Brand fall in love and KISS ON THE MOUTH in this film. Since Brokeback Mountain, all the Hollywood dudes have to do this. It's right at the top of their resumé: Am willing to kiss same sex on mouth. Actors are such hams. They'll do anything for a little exposure, or cash, or, preferably, both.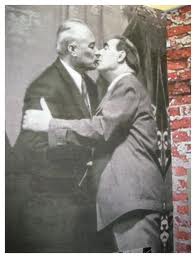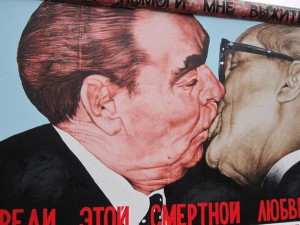 Reminds me of Brezhnev and Honneker, but at least they have the excuse that they're commies and godless fellow travelers. I bet no one paid them for this. Shame, shame. Oh, well, that's life under communism for you. You never get paid for having fun.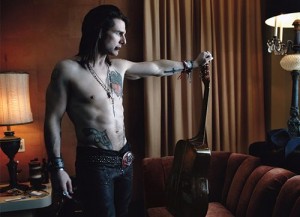 Tom Cruise can do anything… except stay married… ooh, ouch, no, I didn't say that, praise god, no, I didn't say that. This Rock of Ages film is extreme, excessive, poppy, ridiculous and silly, of course, and it has NOTHING to do with being a musician and playing rock and roll for living, but it's stupid and dumb and I love stupid and dumb movies, so I'm a fan, definitely. Oh, yes, did I mention TOO LOUD.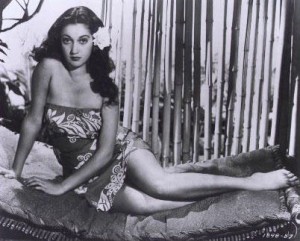 Whatever happened to the guy in the suit singing "I'm In The Mood For Love" to the simpering young girl ? Ahhh, those days may be gone forever… Moonlight becomes you, it goes with your hair, you certainly know the right things to wear… They just don't write'em like that anymore. I had to sing these lines in a play once. I thought, wow, someone got paid for writing this ?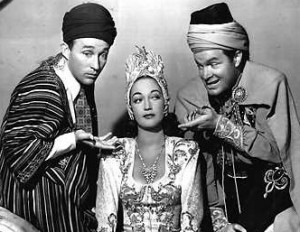 Elise and I saw Rock of Ages in the theatre too, before we saw the film, and that helps. How, I'm not quite sure.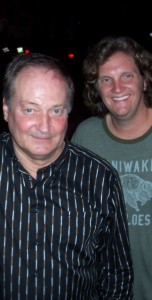 13 October 2000 Mississippi Coast Harley Davidson Anyway, Joel was on this gig with us in BillLUCKsee, Biloxi, Mississippi.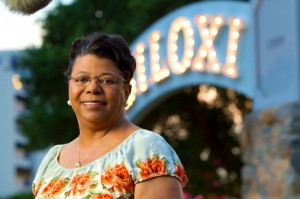 People from the Northeast say "OreGON" and "BiLOXee," probably thinking that here on the Gulf Coast there are lox to be found. Lachs is the German word for "salmon" and that's where "lox" came from. BUT, in the West they say ORegon and in the South they say BiLucksee.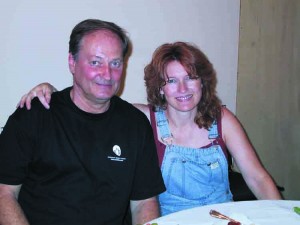 Sam Andrew Lisa Mills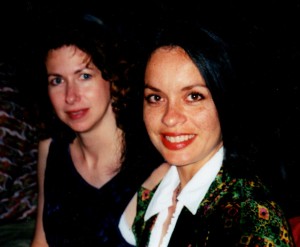 Wendy Causey Elise Piliwale Biloxi Gig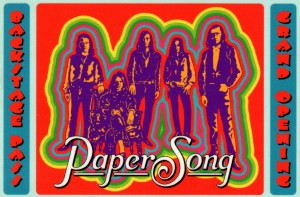 25 November 2000 Paper Song Oakland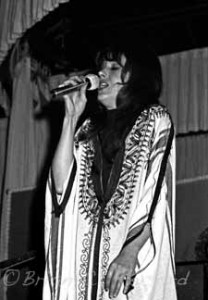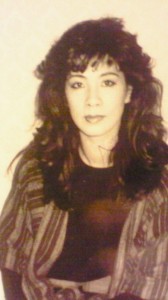 Daphne Graham
25 November 2000 Swan Marketplace Oakland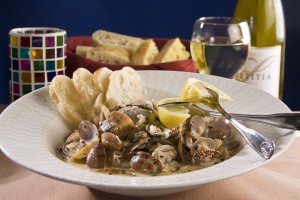 3 February 2001 Paradise Beach Inn Grover's Beach California Clams from Pismo Beach.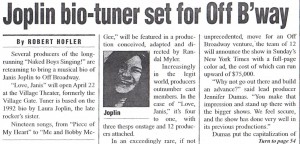 23 February 2001 Bio tuner ? I love that. It's so Variety. Slang from the 1940s.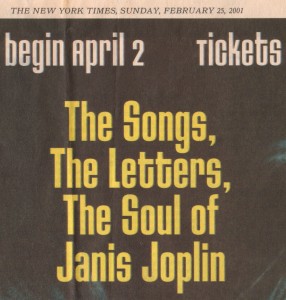 25 February 2001 We put a lot of work into this one.
24 March 2001 Schnepf Family Farm Queen Creek Arizona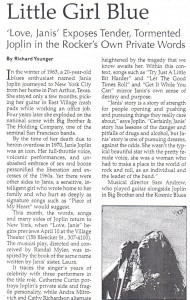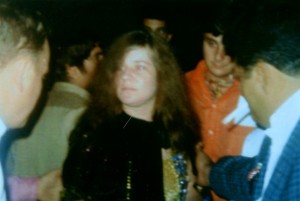 Janis Joplin.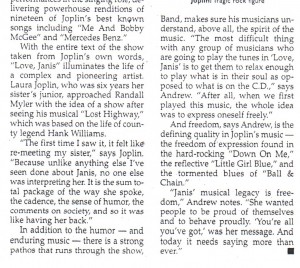 26 March 2001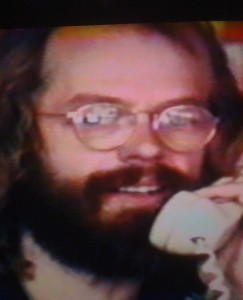 Chet Helms

Musicians in the New York version of Love, Janis.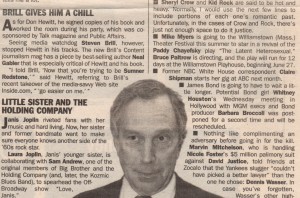 6 April 2001 New York Daily News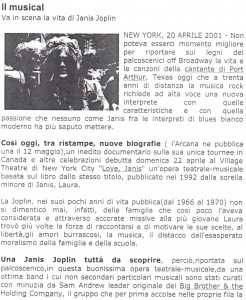 23 April 2001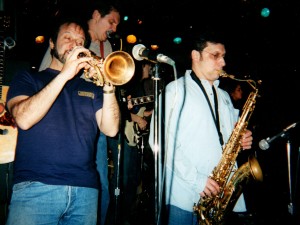 Larry Etkin Joel Hoekstra Dan Cipriano 23 April 2001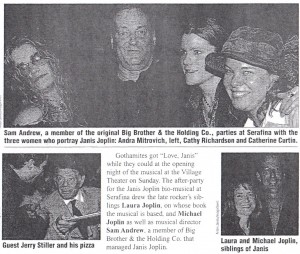 26 April 2001 The after party for the New York Love, Janis.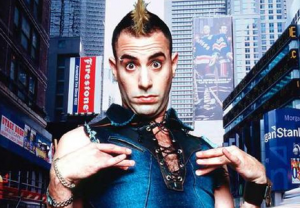 27 May 2001 Ashkenaz Berkeley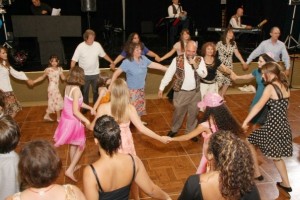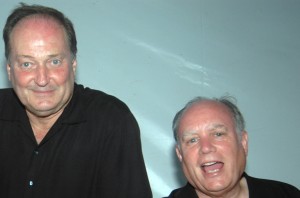 1 June 2001 Sedgwick County Zoo: chimpanzee division Wichita Kansas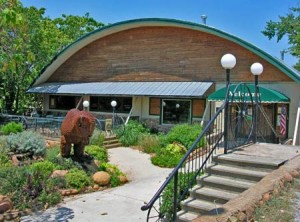 2 June 2001 Medicine Park Music Hall Medicine Park Oklahoma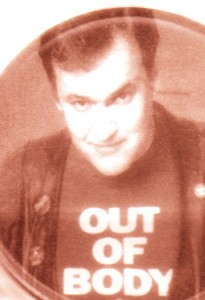 Bill Ganaye.
4 June 2001 Heathrow, what a great name..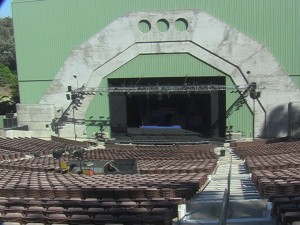 16 June 2001 Starlight Amphitheatre San Diego This is in Balboa Park, a lovely place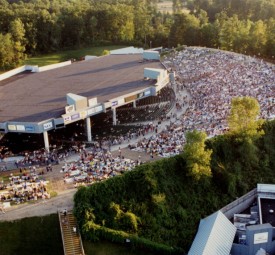 17 June 2001 Pine Knob Auburn Hills Michigan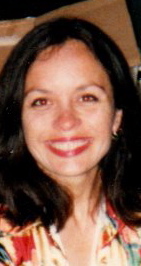 Elise Piliwale 1996.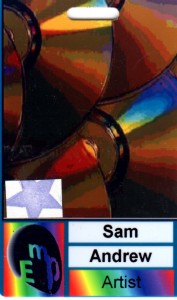 20 June 2001 Experimental Music Project Sky Church Seattle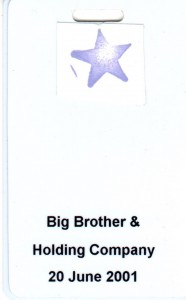 22 June 2001 Keswick Theatre Philadelphia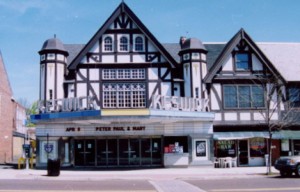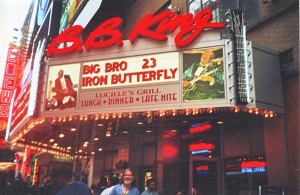 23 June 2001 B.B. King's Blues Club New York City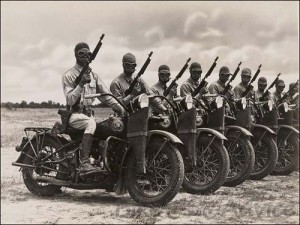 1 July 2001 Battlefield Harley Davidson Festival Gettysburg Pennsylvania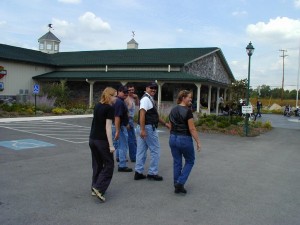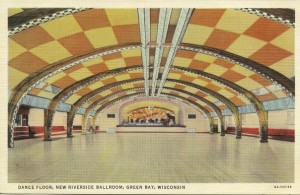 13 July 2001 Riverside Ballroom Green Bay Wisconsin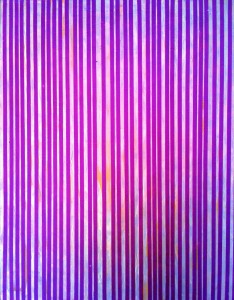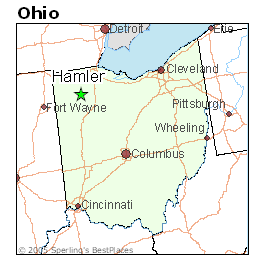 14 July 2001 Angel's Saloon Hamler Ohio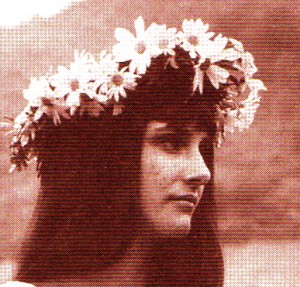 Mimi Fariña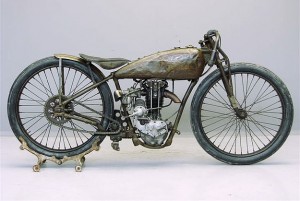 15 July 2001 Motown Harley Davidson Taylor Michigan
18 July 2001 The Borderline London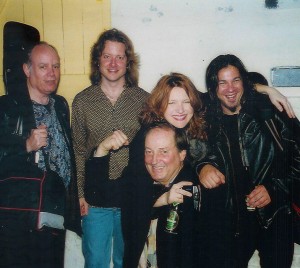 Peter Albin Chad Quist Sam Andrew Lisa Mills Todd Vinciguerra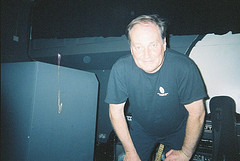 19 July 2001 The Masque Liverpool Anthony Edman took this photograph.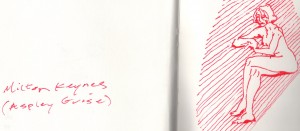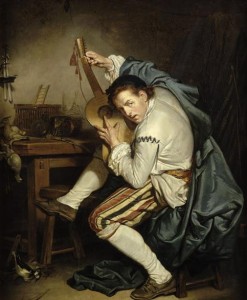 You can tune a guitar…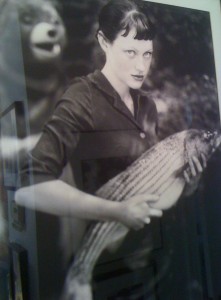 … but you can't tuna fish.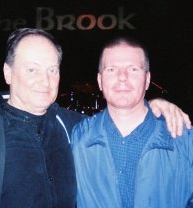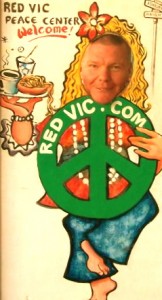 20 July 2001 The Brook Southampton with Anthony Edman
21 July 2001 Open Air Festival Burg Herzberg Germany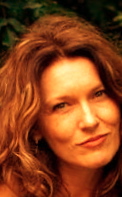 Lisa Mills.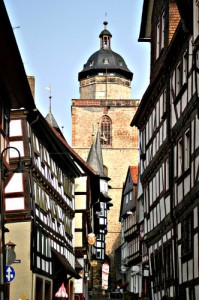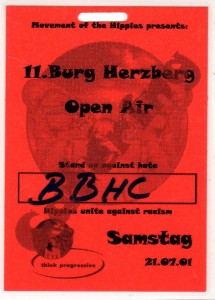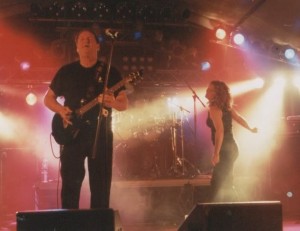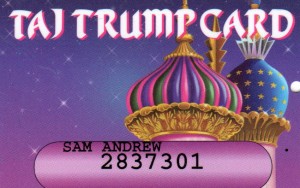 11 August 2001 Trump Taj Mahal Atlantic City New Jersey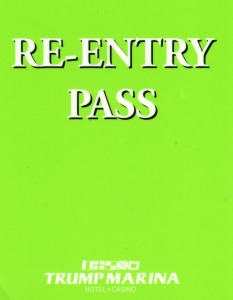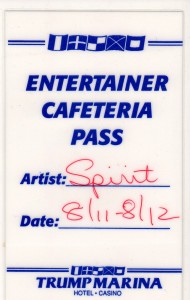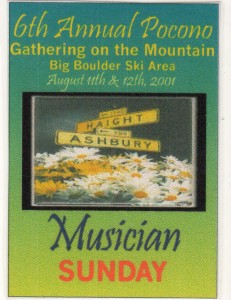 12 August 2001 Gathering On The Mountain Blakeslee Pennsylvania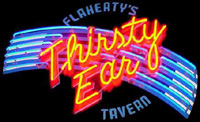 17 August 2001 The Thirsty Ear Tavern Columbus Ohio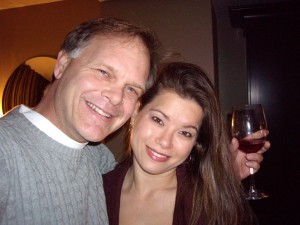 Don and Sarah Graham.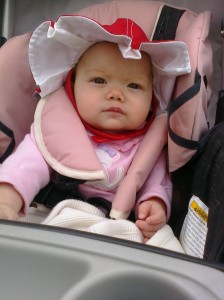 Addyson Graham
18 August 2001 Lapeer Days Festival Lapeer Michigan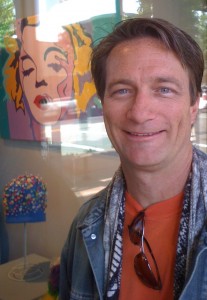 Clark Walker.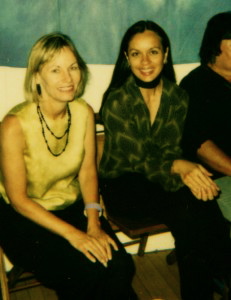 Jan Sullivan Elise Piliwale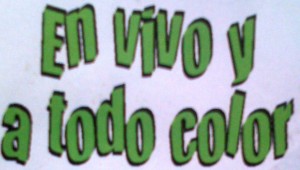 19 August 2001 Emerald Queen Casino Tacoma Washington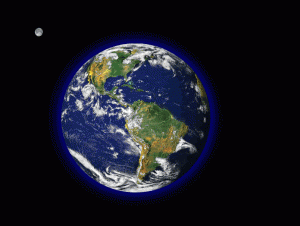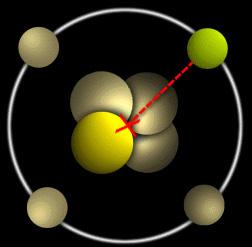 24 August 2001 The Orbit Club Boynton Beach Florida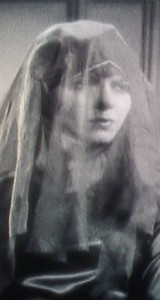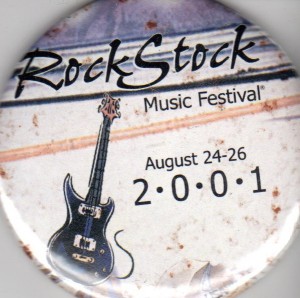 26 August 2001 Rockstock Toole Utah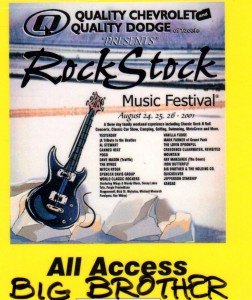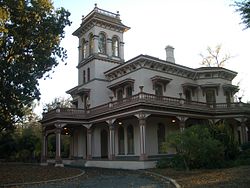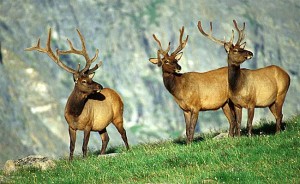 14 September 2001 Elks Lodge Chico California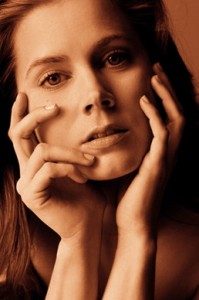 16 September 2001 Westover Winery Castro Valley California
Kikeriki, unsere goldene Jungfrau ist wieder hie.
20 September 2001 Beth Hart, Jon Nichols standing behind her, Todd Vinciguerra on drums. I never had Beth sing in Big Brother. She's the only one I missed.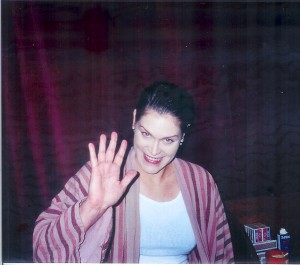 Beth Hart, we would love to have you come sing with us if you ever have the time.
Doodling, always doodling.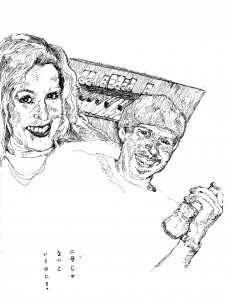 I drew Kacee Clanton and Jon Nichols at the Love, Janis rehearsal.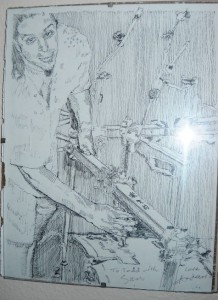 And Todd Vinciguerra, the drummer.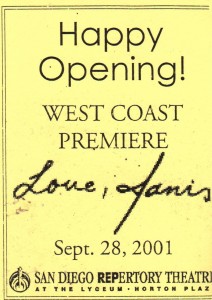 28 September 2001 San Diego opening of Love, Janis.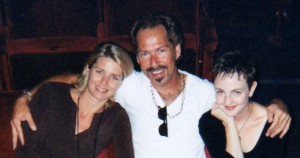 Dana Anderson Jon Nichols I wish I knew her name.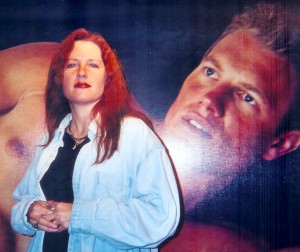 I met Kacee Clanton on this show. Oh, happy day.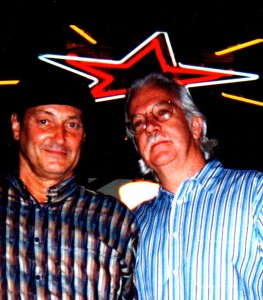 Randal Myler, good friend and straight shooter, wrote this play based on Janis' letters home to her family.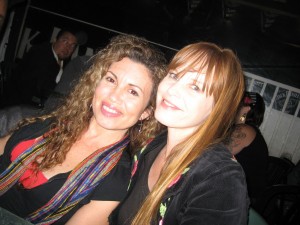 Iz Mi Hope DeBorse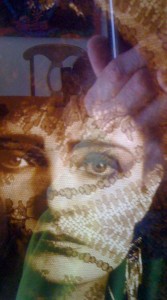 29 September 2001 Redwood Empire Fairgrounds Ukiah California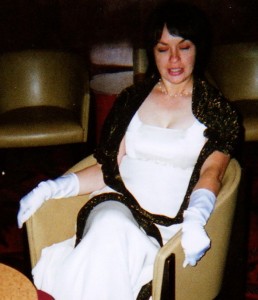 2 October 2001 Elise and I are married in Las Vegas. Smartest thing I ever did.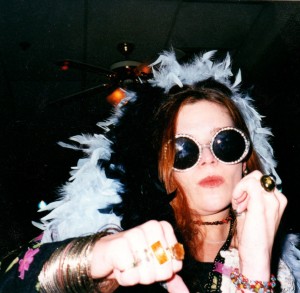 When she was very young, Mary Bridget Davies sent me this photograph of her Hallowe'en costume, little realizing that she would spend a great deal of her time dressed this way while we were doing Love, Janis.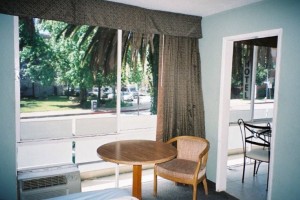 4 October 2001 The Landmark Hotel, room 105 Table by the window Los Angeles Photo: Howard Sounes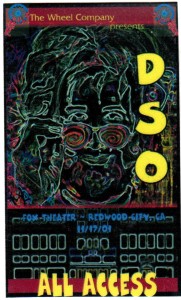 17 November 2001 Fox Theatre Redwood City California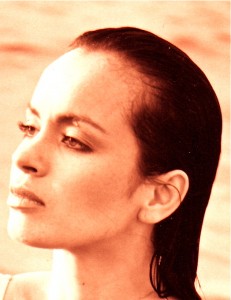 21 November 2001 Cyndee-Sue's Saloon East Bethel Minnesota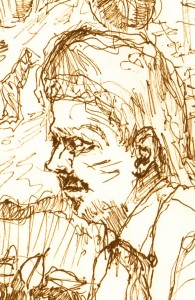 23 November 2001 On Broadway Springfield Illinois Clark Walker's home town.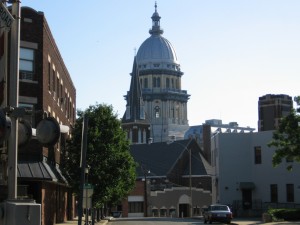 Clark Walker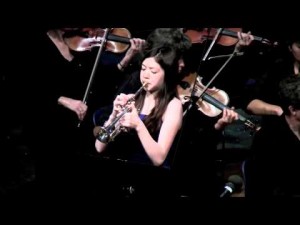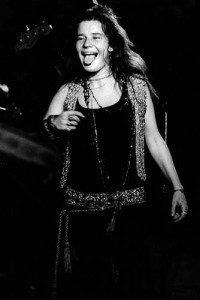 I hope your week is a happy and successful one.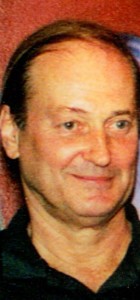 Sam Andrew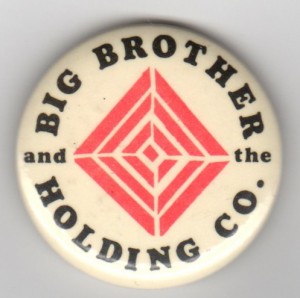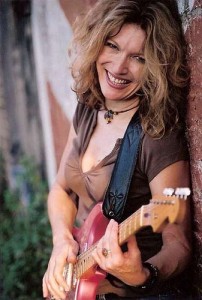 Lisa Mills
____________________________________________________________